Breaking Down the Buzz: Mississippi State
Mississippi State fans are excited about the ongoing expansion of Davis Wade Stadium.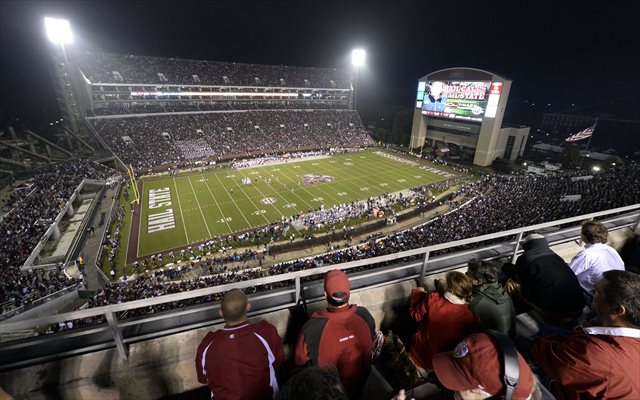 Each Monday, Wednesday and Friday, the Eye on College Football examines what current hot topic the fans of one BCS team are obsessing over -- rationally or not. Today's team: the Mississippi State Bulldogs .
What they're talking about is ... the Davis-Wade Stadium expansion. Cruise past the first couple of pages at the Bulldawgs247 forum or the front of Six Pack Speak and you'll find a wide, wide variety of Mississippi State-related -- and unrelated -- topics under discussion. One does tend to recur a few times, though, namely the ongoing expansion of Davis Wade Stadium. The venerable venue is celebrating its centennial season by undergoing a $75 million renovation, one that will see several thousand seats added to its north end zone.
As we've already seen earlier in this series with Baylor, the combination of the offseason (in Mississippi State's case, one that hasn't been punctuated by a big college hoops season) and the imminent arrival of a much-improved college football gameday experience has yielded a bounty of interest. State athletic director Scott Stricklin hosted a live Internet chat Wednesday morning, and here's three of the first four questions:
Scott, where are y'all with reseating? How long will it take?
are any of seats in Scoreboard Club partially obstructed by guardrails etc
Is there going to be a chart for the west side or is it going to be done by phone like the club level?

Etc.
What they're saying is ... everything looks swell! Nearly all the chatter in the expansion-related threads is positive, as you'd expect. Not too much of real interest, except for this comment in a Six Pack Speak thread titled "About time for another stadium thread," as part of a discussion about further potential future improvements:
Perhaps we are going to install somethings like this,
the largest bell in the world. We should clearly have the largest cowbell in the world and make it ringable by our celebrity of the game, etc.
Great publicity for something like this if we would make it happen.
YES. Do make this happen, Mississippi State. Fred Smoot ringing the World's Largest Cowbell as the Bulldogs run out of the tunnel on a Thursday night? What's not to love? 
What we think is ... Bulldog fans have a right to be excited. From this blog's original post on the expansion (back in August 2012), it's clear that Davis Wade deserved to be expanded more than some other SEC stadiums that are rumored to have a few more seats added:
The new capacity pushes Davis-Wade Stadium past Ole Miss ' Vaught-Hemingway Stadium (capacity: 60,580) among SEC venues, an important bragging-rights victory in and of itself, even if the post-expansion capacity will make Davis-Wade just the 12th-largest edifice in the conference out of fourteen ... Sorted by percent of capacity, though – an actual statistic tracked by the NCAA – MSU fans made Davis-Wade the most over-stuffed stadium in the league last year, exceeding official capacity in every home game, even the ones against Louisiana Tech and Tennessee-Martin. Season tickets for 2012 have sold out for the third year in a row.
It became four years in a row in 2013. So good on you, State fans. Enjoy the expansion.
Show Comments
Hide Comments
Ranking the best draft-eligible college football players in the 2017 draft class

Taking a closer look at what went down during one of the biggest weekends of spring football...

The Wolverines will get a unique education in Italy, and maybe that's all that matters
Fitzerald is already the program's leader with 77 wins

Darryl Rudolph was just 55 years old

The Michigan coach nearly caused an international incident throwing a football