Breaking down the schedules: ACC, Notre Dame
Strength of schedule is supposed to be important to the selection committee. This is the first of a series looking at strength of schedule by conference.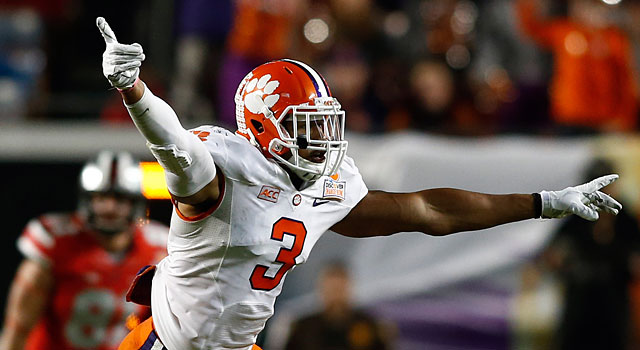 The selection committee has said that one of the biggest factors they will consider when putting together their weekly rankings is strength of schedule.  Those rankings will be used to select and seed the playoff, as well as populate the other CFP bowls.
The major problem with this so far is that the committee hasn't said how they intend to measure strength of schedule, and it doesn't look like they ever will.  SOS will just be this vague concept. Nobody will know how they are being judged.  That's a serious misjudgment by the committee if that remains true.
However, with that in mind, I'm going to take a conference-by-conference look over the next few weeks at some of the more interesting schedules.  First is the ACC, along with Notre Dame.   The Irish now have a scheduling agreement with the league and will play four ACC teams this year.  They also participate in the league bowl structure, so it makes sense to include them here.  In fact, let's start with...
Notre Dame -- The Irish will face arguably the toughest schedule in the country this year.  Ten of their twelve opponents played in bowls last year.  Five of those teams finished in the BCS top 25, including defending national champion Florida State.  Stanford, Arizona State, Louisville, USC, and Michigan also appear.  Even Rice, which you might not think much of, is the defending champion of Conference USA.  There aren't a lot of weeks off.  If the Irish can somehow manage a 1-loss season, you have to believe they would be strong contenders for the playoff.
Strength of Schedule
School
SOS
Notre Dame
1st
Miami
2nd
Virginia
10th
Syracuse
12th
Clemson
19th
Florida State
21st
Wake Forest
22nd
Boston College
27th
North Carolina
31st
Georgia Tech
47th
Virginia Tech
50th
N.C. State
63rd
Pittsburgh
64th
Louisville
77th
Duke
87th
Note: Based on the old BCS SOS formula using last year's data for current year opponents. The SOS ranking is overall for all 128 FBS schools.
Miami -- The Hurricanes have a road non-conference game with Nebraska, plus cross-divisional games with Florida State and Louisville.  Cincinnati, one of the favorites in the American conference, visits as well in non-conference play.  In the division, Duke and North Carolina will have to play at Miami, so that helps in the race for a spot in the ACC title game.
Florida State -- Nobody can accuse the defending champ of resting on their laurels.  There isn't a major conference team playing a tougher trio of non-conference foes than Oklahoma State, Notre Dame and Florida.  In the league, they get Clemson at home, but have to travel to Miami and Louisville.

Clemson -- The Tigers aren't taking it easy either.  They play at Georgia and host South Carolina in non-conference play.  There's a road game against the national champs in the league, but they get North Carolina and Georgia Tech in the cross-division games, so that helps.
Duke -- Can the Blue Devils defend their division title?  Maybe.  They could even win ten games again if they can navigate a tough opening to their conference schedule.  They play four of their first five ACC games on the road, including the opener at Miami.  The Blue Devils should be 4-0 entering that game though.  Their non-conference slate of Elon, Troy, Kansas and Tulane won't scare anyone.

Louisville -- The Cards get welcomed to the league with a schedule front-loaded with conference games, including the season opener at home against Miami.  Their first season in the ACC will be done by November 8th, after which they play at Notre Dame and host Kentucky.  Florida State will also visit, but they will have to travel to Clemson.
Virginia -- Mike London's job might be on the line after a couple of rough years.  This schedule won't help.  Like Miami, they have cross-division games with Florida State and Louisville.  They play at BYU outside the league and host UCLA.  The Hoos better get those chin straps buckled up.
Notes: Every team in the league is playing one game against an FCS team....Only Wake Forest and North Carolina State are not playing non-conference games against another major conference team.
Show Comments
Hide Comments
Twenty-eight of 95 early entry prospects went undrafted

The SEC and Michigan each had great weekends in the 2017 NFL Draft

Rawleigh Williams III left the field on a stretcher after a neck injury
Jim Harbaugh wants more college football programs to embrace the international trip

It seems there's a lot of talent in the SEC

There are all sorts of drafts out there and these are my favorites