Brian Kelly blames cut blocks for injuries to Irish defenders
Brian Kelly says he approves of playing fewer service academies going forward after blaming their cut-blocking schemes for a wave of Irish injuries.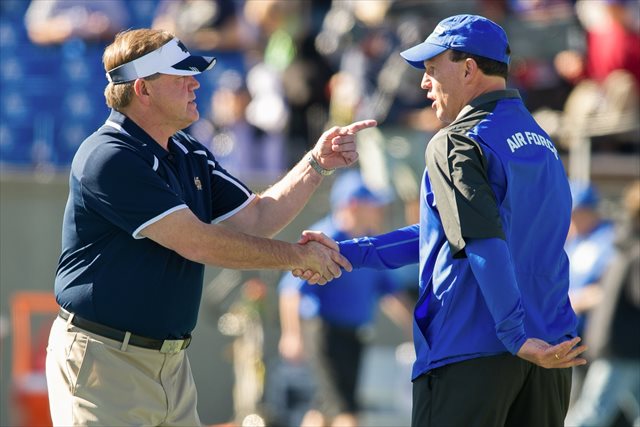 Playing the service academies has been good for Brian Kelly's win-loss record at Notre Dame, at least; after thumping Air Force two weeks ago and surviving Navy this past Saturday, Kelly has won his last six meetings with either Army, Air Force or Navy, with all but the most recent win over the Midshipmen coming by at least 24 points.
But Kelly said Sunday that he'd nonetheless like fewer games scheduled against the academies. Why? Because he also blamed the cut-blocking schemes employed by both the Falcons' and Midshipmen's triple-option attacks for a flurry of Irish defensive injuries. From a transcript of his Sunday interview provided by Notre Dame:
Q. Coach, I was curious, a lot of leg injuries the last two weeks; how much do you attribute that to the cut blocks?

COACH KELLY: I can attribute it to Kona Schwenke's injury. He got cut, and it caused that injury. I can contribute it to Ishaq Williams' ACL. He was cut, and it caused that injury. And Sheldon Day, his reinjury, all of them contributed specifically to those. You know, it's unfortunate. It's the style of offense that the academies play. It is what it is.
Schwenke has suffered a high-ankle sprain and will miss the Irish's game this week against Pitt; Kelly said Williams' knee problem will force him to spend this week in an "immobilizer," but that he should return for the Irish's Nov. 23 game against BYU. Kelly said Day may be able to return from his own high-ankle sprain this weekend.
Cut blocks --as opposed to chop blocks, 15-yard infractions for engaging a defender both above and below the waist -- are legal, and have been a staple of option offenses (as well as a number of individual plays in playbooks across college football) for years.
But with the Irish already suffering from injuries across the defensive front -- junior linebacker Ben Councell has been lost for the season with an unrelated knee injury, Kelly said -- that none of the losses he blamed on cut blocks is season-ending didn't result in much symapathy. Asked if it "made sense" to stop playing "more than one [academy] in a year" over the issue, Kelly said it did.
"There is no question that as you look at our schedule moving forward, I don't believe that both [Navy and Air Force] appear on our schedule for quite some time," Kelly said.
That statement might prick up a few ears in Colorado Springs. The Irish and Falcons had originally agreed to play a neutral-site game in 2015 as part of a four-game series, but the Irish's scheduling pact with the ACC meant that game was already at risk of long-term postponement or even cancellation. 
"Bottom line, I don't think that game is going to go on in the immediate future," Air Force AD Hans Mueh told the Colorado Springs Gazette in October, though the Falcons remained hopeful something could be worked out.
And that something might still be. But based on Kelly's comments Sunday, it won't come with the approval of Notre Dame's head coach.
Show Comments
Hide Comments
It seems there's a lot of talent in the SEC

There are all sorts of drafts out there and these are my favorites

It's time to say goodbye to so many great players
What colleges and conferences had the most first-round picks in the 2017 NFL Draft?

Myles Garrett and Leonard Fournette were top-rated prospects coming out of high school

Ohio State and Washington will play in Seattle in 2024 and Columbus in 2025