Careful, bowl games: You could be without a team
The college football bowl system will get bloated in 2014, and fringe bowls with power conferences will have to adjust
• 6 min read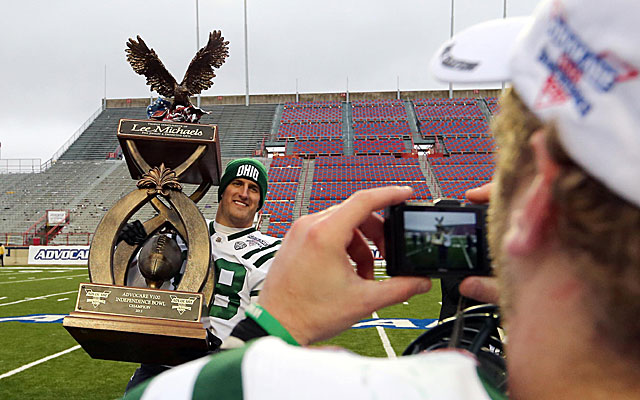 Let's call it the bowl system's dirty little secret.
Unless the NCAA continues the selection process that allows 5-7 teams to go bowling if there aren't enough teams, lower-tier bowls might simply go dark certain years.
Here's why:
• Conferences are announcing huge lineups for 2014-19 that they might have trouble filling.
• The looming College Football Playoff absorbs 12 bowl-eligible teams compared to the BCS' 10-team lineup.
• Smaller conferences plan to create a handful of new bowls in part to avoid the clumsy at-large selection process if power conferences can't fill all their spots.
Most bowls aren't affected by these factors. But for the fringe bowls, the ones on the back end of a power-conference lineup, they better have a sound business plan before making their hospitality suite plans.
"My fear is that if there is a bowl that doesn't have a solid backup plan, that you could have one team at the site ready to play and not have an opponent," Football Bowl Association executive director Wright Waters told CBSSports.com. "I think that is the worst scenario that could happen. Then you've got a team from no fault of their own not able to play. You've got a community that has invested in a game and doesn't have a game suddenly. That's very difficult."
Added a conference commissioner who spoke on condition of anonymity: "It's a danger. It's a risk."
The FBA stands ready to help conferences and bowls work through any potential issues if they arise. But you can do some simple math to understand Waters' position.
For example, the SEC on Monday announced a nine-bowl lineup, which is really more like 10 or 11 or 12 when factoring one (or two) semifinal sports for the league, plus the Sugar Bowl in years when the game isn't in the semifinal rotation and the Orange Bowl a minimum of three times during the 12-year playoff contract.
Even the most balanced SEC performance among its 14 members would have trouble filling 12 bowl games. Nine SEC teams went bowling in 2012-13.
In the past, bowls such as BBVA Compass (Birmingham) and AdvoCare V100 (Shreveport) -- which will be last in line for the SEC lineup starting in 2014 -- would have a smaller-conference school on tap if their league affiliation couldn't field enough bowl-eligible teams.
But the smaller conferences plan to subsidize their own bowl games so they can get top billing instead of waiting to replace a spot. This is a way for leagues to guarantee spots. Remember 9-3 Louisiana Tech missing out on a bowl last year? With its own games, a league could avoid this.
After talking with a high-ranking source from a smaller conference, the overseas bowl concepts (Dubai, Ireland) won't be workable, but sites still on the table are Bahamas, Miami, Boca Raton, Orlando, Little Rock, Montgomery, Charleston, Los Angeles.
These games would likely include combinations of the American Athletic Conference, Mountain West Conference, C-USA, MAC and Sun Belt.
That's a lot of spots that in the past could have served as replacements for when the power conferences couldn't carry a full lineup.
SMU played in Birmingham in 2012 as part of C-USA, which is working on a Boca Raton bowl and could be involved in more start-ups.
See where this is going.
Most bowl officials are anticipating a more bloated version of the current 35-bowl lineup. Think 37 or more.
These bowls must consider the risk-reward of aligning with a power conference knowing the fill-ins might not be there.
 "We are mindful in making sure that our game will have teams participate," BBVA Compass Bowl executive director Mark Meadows said in a e-mail. Meadows adds, "In the event an SEC team does not have enough qualifying schools," the bowl will have a back-up plan.
One is with the ACC, which, if it has teams available, provides Birmingham with a second conditional pick behind the Beef O'Brady's, according to the Birmingham News. But the ACC already has a minimum of nine guaranteed bowl spots, according to the paper.
The numbers game becomes a juggling act, Waters said, and the lineup under the 2014-19 agreements will be no different. In August 2012, the NCAA currently has a multi-tiered selection process that permits 5-7 teams to save empty bowls if there aren't enough teams at .500 or better.
But Waters said bowls shouldn't assume the NCAA extends that plan in a few years because it's too early to tell.
That's why there's been talk among smaller-conferences officials about balance – how many start-up bowls vs. replacement spots to satisfy all parties involved.
With the FBS mushrooming to 129 teams by 2015, perhaps there will be enough winning to accommodate every bowl. And many bowls have the backing of ESPN, which always helps.
But the potential for wild cards such as last year, when bowl staples Penn State, Miami and UNC missed the postseason because of NCAA investigations, could place more strain on the new lineup.
"What will marketplace handle? It's very difficult to know," Waters said. "For nine out of 10 bowls, this isn't an issue. And if it becomes one, I think the bowls are so important to local communities and the local communities have always stepped up."
If the end game is the NCAA cracking the door wider on 5-7, fans might not share the same excitement as coaches who would appreciate the extra practice time.
Other SEC news
The SEC meets with its athletic directors in Orlando this week, but a conference football schedule for 2014 likely won't be finalized during the meetings, a league official said. There are a few non-conference games that need to be moved or repackaged to complete it.
The league appears dedicated to an eight-game schedule until at least 2015 under a 6-1-1 format: six divisional games, one permanent cross-divisional rivalry and one roaming cross-divisional game.
Expect Arkansas-Missouri and Texas A&M-South Carolina to be permanent crossover rivals starting in 2014.
Coveted transfer
Most of the transfer churning is over as teams are well into camp, but a potentially explosive offensive player remains: former Texas receiver Cayleb Jones, who looks to restart his career after a troubled stint in Austin.
The Longhorns suspended him for a felony aggravated assault charge for allegedly hitting and breaking the jaw of a UT tennis player, according to reports. The charges were dismissed and reduced to a misdemeanor.
As the Jones family approaches a decision, I'm hearing Arizona and UNC are still firmly in the mix for Jones' services.
Arizona just picked up former Texas quarterback Connor Brewer, who is friends with Jones.
Jones was expected to compete for a starting spot at UT this year, so the coaches involved in his re-recruitment know he's a serious talent.
East Carolina could be an option. His brother, Isaiah Jones, plays for the Pirates. His dad – former Cowboys linebacker Robert Jones – is in the ECU hall of fame.
Arizona just picked up former Texas quarterback Connor Brewer, who is friends with Jones.
Show Comments
Hide Comments
Have fun with this, SEC defenders

Making plays on the over/under for all 12 teams in the Pac-12

Mike Gundy and the Cowboys know there's one monster they have to contend with in their own...
The initiative has been put forth to offset the burden of declining freshman enrollment

How will the Big 12 shape up in 2017? Let's take a team-by-team look

Kush went 176-54-1 in 22 seasons at Arizona State