Checking QB battles: Bama looking at 2-man system; Ash in at Texas
Looking around at QB battles, Alabama may use some kind of two man system, while Texas is set on David Ash. Remember Gunner Kiel? He's the man at Cincy.
• 4 min read
Conference previews: ACC | Big Ten | Big 12 | Pac-12 | SEC
Several of the country's top programs have unresolved quarterback issues. The next 10 days will separate the future stars from the future transfers. Here's a breakdown of 10 top QB battles with insights and reporting on how they might shake out.
Alabama candidates: Jacob Coker, Blake Sims
Analysis: Florida State transfer Jacob Coker has garnered preseason hype, and though he's got serious talent, the reality is this is going to be -- for lack of a better Sabanism -- a process. Coker hasn't exactly torn up every practice in crimson. The race is still on. But if Alabama turned to Blake Sims, they'd basically have to retool the Tide's pro-style offense. Sims is a runner who would thrive in a different scheme. He's not really a natural drop-back guy. That's why I think Saban will strongly consider a two-quarterback system -- or at least a package for Sims. Navigating this quarterback battle is one of Saban's biggest challenges at Bama, where he's had serious quarterback stability.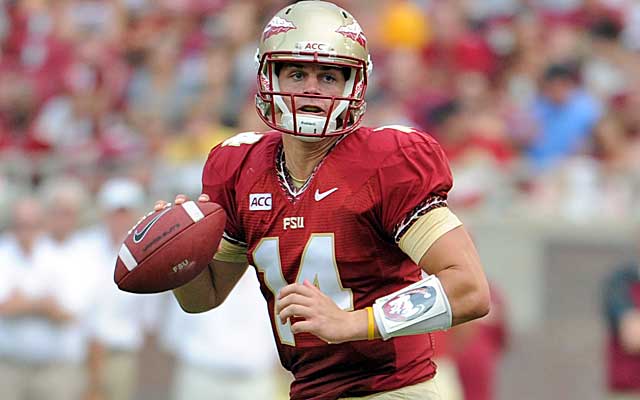 Texas candidates: David Ash, Tyrone Swoopes
Analysis: Before camp, Texas announced Ash would be getting the first-team reps and he has delivered. A Texas source says there's really no race unless something drastic changes -- Ash has made clear he's the guy with his "great" play in camp. After concussions derailed his 2013 season and a foot fracture did the same to spring ball, Texas had reason to be uneasy about the position. If you need evidence, look no further than Max Wittek, the former USC quarterback the Longhorns tried to recruit for a transfer. Wittek didn't graduate in the spring and will likely end up at Hawaii, where he'll sit a year. But it appears Ash has quelled some of those concerns.
Wisconsin candidates: Joel Stave, Tanner McEvoy
Analysis: McEvoy had momentum in spring ball, but a source says Stave (13-6 career as starter) clearly has performed better this month. That source would be surprised if Stave's not named the starter for the opener against LSU. McEvoy doesn't seem like he's ready to be the passer Wisconsin needs right now. But don't be surprised if Wisconsin has a package for McEvoy, a talented athlete. Badgers fans have questioned Stave's uneven performance last year, but another year in Andy Ludwig's system might minimize the erratic throws.
LSU candidates: Anthony Jennings, Brandon Harris
Analysis: If Les Miles truly doesn't know who the best option is yet, he's smart in waiting to decide. As where Texas A&M announced Kenny Hill as starter last week because their no-huddle offense is about rhythm in the passing game, LSU can rely heavily on its imposing running game while a new quarterback gets comfortable with the nuances of Cam Cameron's offense. Two-quarterback systems have worked for Miles, so don't be surprised if Jennings and Harris are trading snaps in September. Jennings has more experience while Harris, a freshman, is a confident player.
Virginia Tech candidates: Michael Brewer, Mark Leal
Analysis: Brewer, a Texas Tech transfer, seemed the logical choice to take over, but I'm told senior Mark Leal has made the decision very difficult. He's improved this offseason. Tech once planned to make a decision shortly after last weekend's scrimmage but now needs this Wednesday's scrimmage to figure it all out. Brewer is considered an accurate passer and will need to show that on Wednesday. My guess is he wins it.
Miami candidates: Jake Heaps, Brad Kaaya
Analysis: Heaps sat out Monday's scrimmage to rest his arm, according to the school. Either Miami doesn't want to injure its new starter or Heaps is legitimately hurt. Heaps, at his third major school in three years, is a stopgap until Ryan Williams returns from a torn ACL. The Canes are high on Kaaya, a freshman who seems to have the poise Al Golden wants.
Arizona candidates: Jesse Scroggins, Jerrard Randall, Connor Brewer, Anu Solomon
Analysis: If Arizona combined the best traits of each QB, the Wildcats would have an unbelievable starter: Jesse Scroggins' poise, Jerrard Randall's athleticism, Connor Brewer's game-management skills and Anu Solomon's raw ability. But this race is still unresolved because nobody's creating separation. "Might take two games to figure it out," an Arizona source said.
North Carolina candidates: Marquise Williams, Mitch Trubisky
Analysis: Larry Fedora is patient on naming a starter. Asked when he wanted to make a decision between Williams and Trubisky, Fedora replied, "Aug. 29." Should be an interesting 10 days in Chapel Hill. Williams has experience, isn't terribly accurate but his skill set is tailored for Fedora's offense. Clearly Fedora likes Trubisky's game or this call would have been made a while ago.
Cincinnati candidates: Gunner Kiel, Munchie Legaux
Analysis: This is Kiel's job to lose. Cincinnati probably will announce a quarterback decision sometime after this weekend's scrimmage. Legaux is competing for the job but Kiel, the Notre Dame transfer, is taking first-team reps and was impressive in the early part of Saturday's scrimmage. Don't discount Legaux, who fought back from a gruesome knee injury and is looking to reclaim his starting job.
Illinois candidates: Wes Lunt, Reilly O'Toole, Aaron Bailey
Analysis: The three-way competition has been strong all camp but expect Lunt to hear his name when coach Tim Beckman announces a starter midweek. Lunt, an Oklahoma State transfer, has natural arm talent tailored for Bill Cubit's pass-happy offense. Bailey was a decorated prep star but can be used in running packages to complement Lunt's arm.
Show Comments
Hide Comments
Taking a closer look at what went down during one of the biggest weekends of spring football...

The Wolverines will get a unique education in Italy, and maybe that's all that matters

Fitzerald is already the program's leader with 77 wins
Darryl Rudolph was just 55 years old

The Michigan coach nearly caused an international incident throwing a football

Using college stats and math to determine which FBS quarterbacks will be the most successf...