Chick-fil-A Bowl adds 'Peach' back to name after playoff inclusion
Another bowl game has restored its traditional name, with the 2014 edition of the Atlanta game to be named the Chick-fil-A Peach Bowl.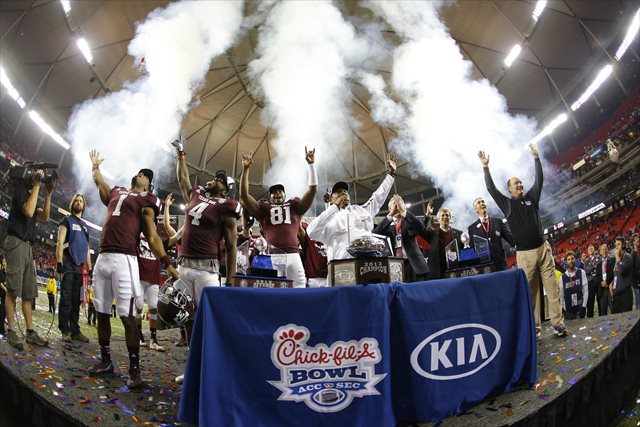 More Playoffs: FSU the '14-'15 favorite | Dr. Pepper to sponsor new trophy
There's never been a four-team playoff in college football before the upcoming 2014 season. But at least the playoff is also bringing something back to Atlanta that's been gone for a while: the state fruit's prominent placement in the local bowl's official name.
Chick-fil-A Bowl officials confirmed to the Atlanta Journal-Constitution Friday that the game's "Peach Bowl" name will be restored, with the game's full title -- "Chick-fil-A Peach Bowl" -- falling in line with the name of the other five College Football Playoff bowls, all of whom retain both title sponsors and their original (sponsor-less) names.
"It got down to what is our history, what is our heritage, what is our tradition and how can we pay homage to that in our name," bowl president Gary Stokan told the AJC.
The Peach Bowl was founded in 1968, brought on Chick-fil-A as its sponsor in 1998, and dropped the "Peach" part of its name to become the Chick-fil-A Bowl in 2006. Through its affiliation with the SEC and ACC, burgeoning payouts, and Chick-fil-A's increased presence as a major college football sponsor, the game has grown in influence in recent seasons -- eventually trumping the likes of the Holiday Bowl and Capital One Bowl for the final playoff rotation spot alongside the Rose, Sugar, Fiesta, Orange and Cotton bowls.
With "Chick-fil-A Bowl" quite obviously a different animal, name-wise, than its playoff brethren, speculation has swirled for months that the game would regain its "Peach Bowl" moniker. But Stokan told the AJC that officials floated other potential names and did research to ascertain which one "had the best fit for Atlanta, college football and the future."
Not surprisingly, that research settled on the "Peach Bowl" -- making the game the second this offseason to return to its traditional name, with the Independence Bowl also restoring its pre-sponsorship title after changing sponsors from AdvoCare100 to Duck Commander.
It's hard to imagine any college football fan -- which almost by definition value tradition -- being unhappy with the move back toward's the postseason's roots. And now if the sport can just get the Capital One Bowl back to being the Citrus Bowl, it'll really be making some progress.
Talking season continues with the Big Ten, and Dennis Dodd sets your expectations

Corral is Florida highest-rated QB commit since Jeff Driskel

The Buckeyes are big favorites to win the Big Ten's East division as well as the conference...
A look at the where the Nittany Lions stand five years later through the eyes of four unique...

Freeze resigned as Ole Miss coach, and the insider team at OMSpirit.com breaks down the im...

Freeze left a fastball over the plate and The Oxford Eagle took advantage of it