Chip Kelly's return to college -- ahem, Texas -- not that complicated
Sources tell CBSSports.com that a perfunctory appearance before the NCAA's infractions committee may be all that stands between Kelly and a return to college.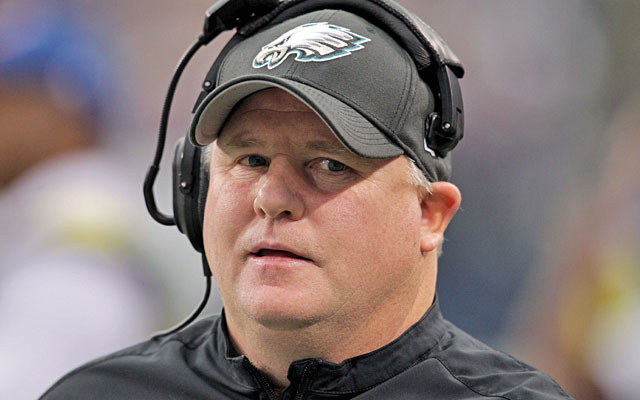 If Texas  -- or any other school -- wanted to pursue Chip Kelly, his return to college football may have just gotten a little easier.
A quiet sort of anniversary passed Thursday for the former Oregon and current Philadelphia Eagles coach. It is now less than a year until Kelly's 18-month show-cause order administered by the NCAA expires. Merry Christmas 2014, Chip. The order -- which could potentially limit his ability to be hired at a college program -- runs through Dec. 25, 2014.
Kelly seems nothing but happy in the NFL, though earlier this month his name was reportedly "prominent" among those considered by Texas to replace Mack Brown. Kelly reacted by saying he wasn't involved in the search of any vacant college coaching jobs.
However, to get back into the college game for the '14 season it might require only a perfunctory appearance before the NCAA infractions committee, sources told CBSSports.com.
An infractions committee appearance for a returning coach is custom in such cases -- sort of like a parole board hearing. However, Kelly's NCAA violation in the Willie Lyles case -- failure to monitor -- wasn't that serious and his former employer escaped a lack of institutional control charge in the high-profile case that stretched back to 2008. 
"I don't think it would be that severe," said compliance expert John Infante regarding any possible limitations put on Kelly if he returned before Christmas 2014. "Maybe off the [recruiting] road until the end of the show-cause or can't recruit off campus."
For a prize such as Kelly, Texas might be able to endure such a sanction. Obviously, money wouldn't be an issue and until the school hires a successor to Brown speculation will continue to linger. With each passing day it seems obvious that Texas is waiting for the end of the bowls or the NFL playoffs to hire its new coach. Would it go as far as hiring a coach penalized by the NCAA?
Kelly was considered one of the college game's top coaches when he was hired by the Eagles in January 2013.
His return to college football could be merely a paper transaction, according to one of three sources who spoke to CBSSports.com regarding Kelly's situation. The sources all have intimate knowledge of the NCAA compliance and enforcement process. Only Infante of athleticscholarships.net is identified.
"The specific penalties or conditions to be imposed on the coach ultimately would be up to the Committee on Infractions," one source emailed. "Texas and/or the coach could suggest the penalties or compliance conditions to be imposed. The COI could accept, reject, or add to them. This all could be done on the paper record. It likely would require a hearing before the COI only if the COI imposed penalties/conditions that Texas or the coach opposed and Texas/coach wanted the opportunity to make their case."
A show-cause order is considered the NCAA's scarlet letter. The NCAA defines it as "an order that requires a member institution to demonstrate to the satisfaction of the Committee on Infractions why it should not be subject to a penalty or additional penalty for not taking appropriate disciplinary or corrective action with regard to an institutional staff member ... found by the committee as having been involved in a violation of the NCAA constitution and bylaws."
Kelly was charged in the Oregon case with failure to adequately monitor the program regarding compliance. In the June 26 report issued by the infractions committee, Kelly avoided the more serious charge of unethical conduct and agreed with the NCAA's findings.
While a show-cause may not specifically prohibit a school from hiring a coach, it frequently scares off administrators who don't want to appear before the NCAA to explain why they are hiring a coach found guilty of NCAA violations.
There are exceptions. Kent State hired Rob Senderoff as its basketball coach after the former Indiana assistant was given a 2½-year show cause that included recruiting restrictions. Louisville assistant Clint Hurtt was retained by AD Tom Jurich in October despite an unethical charge stemming from the NCAA in the Miami-Nevin Shapiro case.
"While it's rare for a coach to be hired under that sort of show-cause order, that's the balance the school that is hiring him might want to strike," Infante said. "You don't know what penalties are going to be but you can be confident [in the case of Kelly] that it's only going to be around for about a year."
Because Kelly's show-cause penalty was non-specific -- there were no specific restrictions applied -- he and/or the hiring school could propose penalties/restrictions themselves if he returned. In Kelly's case those might involve something as simple as stricter compliance monitoring.
In its public report, the infractions committee said of Kelly, "If any member institution seeks to hire the former head coach in an athletically related capacity, it and the former head coach shall appear before the Committee on Infractions to consider which, if any, of the show-cause procedures could be imposed upon him."
Kelly was handed the show-cause penalty well after he had taken the Eagles job. Oregon's cooperation with the NCAA seemed to be a key to the investigation. In fact, for a time, Oregon was in line for summary disposition of the case. In that situation, both sides essentially agree on the findings and penalties without an appearance before the infractions committee.
Show Comments
Hide Comments
Ousted by a school despite not being charged with a crime, Faulk is clawing his way to the...

Sometimes spring practice is about avoiding the negatives as much as it is building moment...

Baylor is moving to dismiss the lawsuit, filed in January, on a two-year statute of limita...
USF senior Hassan Childs was injured in a shooting on Saturday night

It looks like LSU is moving towards having a beer garden for its home games

HB1249 would allow Arkansans with a certain permit to carry guns almost anywhere in the st...