Cincinnati confirms Mekale McKay transfer
On Monday Arkansas coach Bret Bielema said receiver Mekale McKay would be transferring to Cincinnati. On Wednesday Cincinnati coach Tommy Tuberville confirmed it.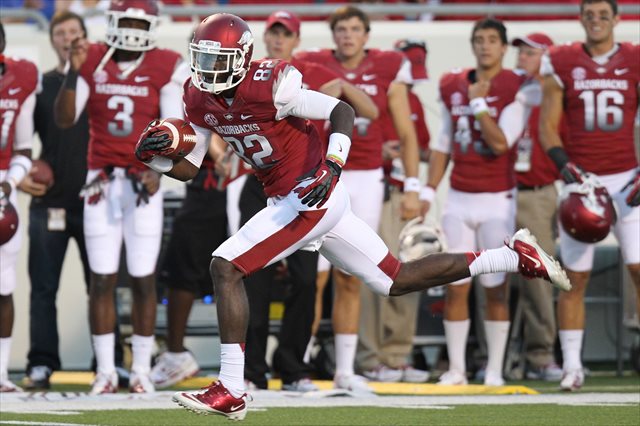 Wide receiver Mekale McKay's transfer to Cincinnati is official as the school announced it in a release on Wednesday.
"We are glad to welcome Mekale to the Bearcats family," said Cincinnati coach Tommy Tuberville. "He's very talented and has shown the ability to be a down field threat. Looking at him on film, he's a heck of an athlete and will make our receiving corps better."
McKay's old coach, Bret Bielema, said the former Arkansas receiver would be transferring to Cincinnati on Monday.
McKay would have been Arkansas' leading returning receiver in 2012, as he caught 21 passes for 317 yards and two touchdowns during his freshman season. McKay dealt with some injuries this spring and found himself off of Arkansas' two-deep after spring practice ended.
Per transfer rules McKay will have to sit out the 2013 season but he'll have three years of eligibility remaining for the Bearcats beginning in 2014.
Show Comments
Hide Comments
Our Latest Stories
The Huskies look like the best team in the Pac-12, but can they sustain their success at O...

The Pac-12 North could very well be decided on Friday night in Seattle

The Hurricanes' helmet will feature a 'JF 16' decal for Saturday's game against Georgia Te...
There should be some close games in Week 5, so let's pick the winners

The Bulldogs' star running back is unlikely to play against the Vols on Saturday

Get ready for a busy Week 5 with our best bets for Northwestern-Iowa, North Carolina-FSU and...