Clemson confident of setting new crowd noise record vs. Seminoles
Clemson athletics says the Tigers hope to break the newly set Guinness world record for crowd noise Saturday vs. Florida State.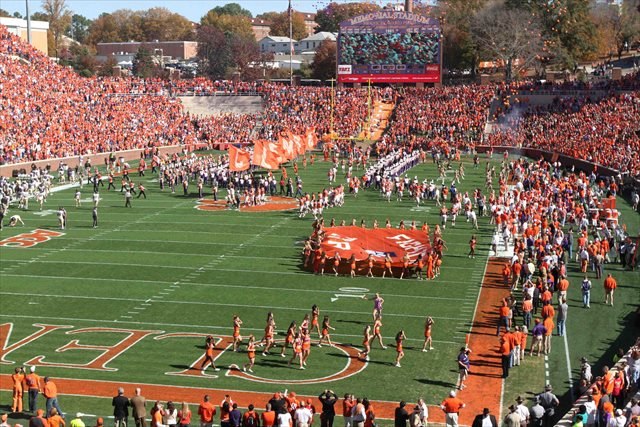 The current Guinness World Record for Loudest Crowd Roar at a Sports Stadium is all of three days old. But that's not stopping Clemson from squarely taking aim at it when Florida State pays a visit to "Death Valley" this Saturday.
The Tigers' athletic department issued a statement Tuesday calling on fans to attempt to break the current crowd noise record of 137.5 decibels on "the first defensive snap of the night" in the team's clash with the Seminoles. The current record was set Sunday by fans at the Kansas City Chiefs' Arrowhead Stadium, and previously belonged to Seattle Seahawks fans at CenturyLink Field.
But Clemson official Mike Money was confident the sellout Memorial Stadium crowd will bring the record to the college ranks.
"We have seen numbers approaching the World Record previously, but with the magnitude of this game, the size of the crowd and the passion of Clemson fans, there's little doubt we will be able to set a new record," Money said.
It certainly won't be a shock if Clemson does, given the massive stakes and "Death Valley"'s reputation for noise ... but wouldn't a better plan for breaking the record be to pick a pivotal play late in the game, rather than the Seminoles' very first offensive snap? There's little doubt the noise will be more needed in the third or fourth quarters, and asking the fans to reach their very loudest volume in the first might leave a few hoarse voices by the time the game's decicing plays roll around.
Then again, as there's no guarantee either the 'Noles or Tigers won't turn the game into a runaway and suck the life out of the stadium by halftime -- as unlikely as it seems -- maybe going with the designated first play is the right move. In either case, we look forward to whichever stadium hosts next Saturday's biggest game making its big push for the record. This is, as they say, not the last we're going to hear of this.
HT: SBNation
Show Comments
Hide Comments
There are all sorts of drafts out there and these are my favorites

It's time to say goodbye to so many great players

What colleges and conferences had the most first-round picks in the 2017 NFL Draft?
Myles Garrett and Leonard Fournette were top-rated prospects coming out of high school

Ohio State and Washington will play in Seattle in 2024 and Columbus in 2025

Kirk Merritt claims 'jock itch' was the reason he exposed himself to two tutors