Coaching Changes Daily: Ranking the top 10 coaching hires
Texas' Charlie Strong comes in a No. 5 on the ranking of the top 10 coaching hires of this offseason. Southern California and Louisville are in the bottom half.
• 2 min read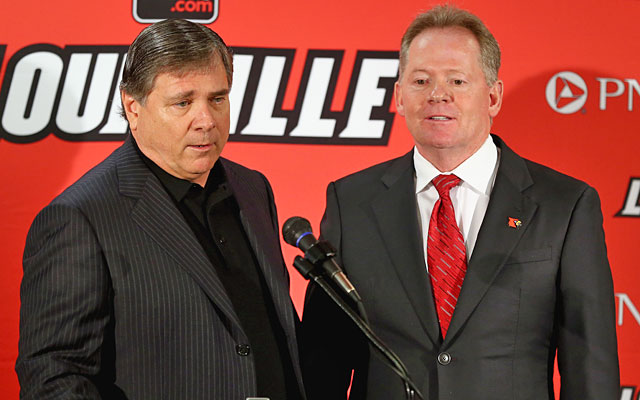 More on CFB: 2013-14 college football coaching changes
Once James Franklin takes over at Penn State, there will have been 16 FBS-level jobs filled by my count. Below are 10 of the best jobs from that crop, ranked in order of strongest hires. Texas barely cracks the top five, while Southern Cal and Louisville are in the bottom half.
1. Chris Petersen, Washington: Detractors say Chris Petersen hasn't recruited at a BCS level, can't deal with the media or won't be dominant outside the Idaho comfort zone. But the rebuttal is this: If you needed to pick three coaches to go win one game, Petersen would be on many lists. Not many maximize talent better.
2. Bob Diaco, Connecticut: Yes, UConn. Diaco might not be a savior, but he's exactly what the Huskies need. Some non-BCS programs need a marketer/CEO as much as a good ball coach, though the latter is imperative. Diaco has the potential to do both very well. He's energetic and well-prepared.
3. James Franklin, Penn State: Assuming Franklin had no wrongdoing in the Vandy rape case -- and from what I've gathered PSU likely won't find any glaring problems -- Franklin leaves little to complain about. He's good enough with people to assuage the lingering post-Paterno tension at PSU. He's 16-4 in his past 20 games at Vandy. Please repeat that last sentence before deciding if this is a good hire.
4. Craig Bohl, Wyoming: Wyoming got Craig Bohl? That was my first question when I saw the news. This is like when Jermaine Dupri landed Janet Jackson. Probably shouldn't have happened. Bohl could have had a Big Ten job. Now he's in Laramie. Still a bit shocking.
T-5. Charlie Strong, Texas: Strong does two things Texas needs -- he acquires talent and, more importantly, he evaluates talent properly. Still needs to prove he can handle UT's political beast, though the way he massaged the Red McCombs "position coach" issue is a good start. This is a very good hire, not truly great until proven otherwise.
T-5. Dave Clawson, Wake Forest: This is right in Wake's comfort zone, an unassuming, overachieving MAC coach who has thrived on the small private-school circuit. Bowling Green's spanking of Northern Illinois in the conference title game was impressive. Could have gone Clawson or Ball State's Pete Lembo and either would have been solid.
7. Steve Sarkisian, Southern California: Sark rebuilt Washington but he never carried the Huskies to a breakout season. Eight wins was the ceiling. This should be a mild concern despite Sark's obvious recruiting prowess and a personality. Sark can thrive as long as USC is ready to play every week. No repeats of Washington's curious blowout loss to Arizona State.
8. Bryan Harsin, Boise State: Harsin was born in Boise, played at Boise, coached at Boise. He is Boise. A natural hire. He's eighth on this list only because most of these hires have been good and Harsin is relatively unproven after his 7-5 debut with Arkansas State.
9. Jeff Monken, Army: Runs the option, relatively diverse coaching background, 38-16 record at Georgia Southern including a win in The Swamp -- a good hire, overall. Not spectacular, but good. Low on this list because of the competition ahead of him.
10. Bobby Petrino, Louisville: Louisville had several chances at a great hire. Instead, it reverts to its C-USA/Big East days to rehire a coach with a track record of insincere behavior who's on his seventh job in 14 years and can't be trusted with state funds or buyout clauses. Tom Jurich garners enough clout to be trusted, but sheesh, what an unimaginative hire.
It's not great, but it isn't necessarily bad, either

From bio pics to comedies and documentaries, here are the college football movies you can't...

Suspended junior Grant Perry pleaded guilty to resisting arrest
Pepsi will limit its usage of blue -- outside of its logo -- on Utah's campus for Holy War...

Will Sunderland allegedly stole and tried to sell video game systems

National powerhouse Alabama joins the throng of schools trying to lure five-star QB Justin...