Coaching Changes Daily: Texas eyeing Mora? The Schiano effect
Texas is reportedly talking with UCLA's Jim Mora. If Greg Schiano doesn't get the Penn State job, will it make college-to-pros coaches rethink the process?
• 2 min read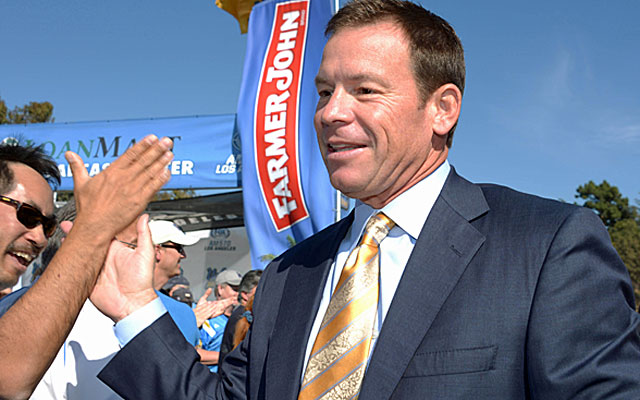 1. Texas and reps for UCLA's Jim Mora have talked about the Longhorns' coaching job, per ESPN's Adam Schefter.
Mora is a solid talent evaluator and makes good halftime adjustments, two key components for a job where your local dentist could recruit well because of the built-in talent/resource advantage.
Texas continues to cast a wide net, looking at Louisville's Charlie Strong, Vanderbilt's James Franklin, Michigan State's Mark Dantonio, Baylor's Art Briles and Florida State's Jimbo Fisher.
Mora let it be known recently he's "very, very, very" happy at UCLA after signing an extension in light of the threat of the Washington job last month. But this is Texas, a job that at least requires a response or a phone call.
In two seasons, Mora has conquered Los Angeles but hasn't yet conquered the Pac-12, which could be incentive enough to stay.
2. Coaches thinking about an NFL jump might be watching Greg Schiano's job prospects closely.
As Steve Spurrier and Bobby Petrino proved, coaches with unsuccessful NFL stints often have a clean landing strip back in college.
The same could be true for Schiano, but as of today there's been no movement with Penn State and the former Bucs and Rutgers coach, according to a source.
Schiano would make sense at Penn State -- understands the culture there, a good rebuilder -- but if he's not in that mix it's still uncertain what awaits him in the college game.
There are enough young, exciting college coaches that perhaps the jump back into the game isn't as seamless. Just look at the Texas job. There are at least eight coaches the Longhorns could hire and could classify that hire as a success.
Expect Schiano to land somewhere, but no doubt there's at least some level of risk when leaving for the NFL.
Art Briles, take note.
3. If Louisville's Charlie Strong is up for the politics of the Texas job, then Longhorns could be onto something…
Strong's coaching ability and recruiting prowess is unquestioned, but what gave me pause about his UT candidacy is his once-reserved approach to media and being in the public eye -- traits that would qualify as bad fits for Texas.
When Florida's defensive coordinator, Strong was not the most engaging interview. But a source close to Strong said that after four seasons at Louisville, Strong is better equipped to handle a pressure-cooker such as UT.
4. Fresno State is working on a contract extension for coach Tim DeRuyter, who went 20-6 in his first two years and garnered interest on the coaching market last month.
DeRuyter has been offered a contract but all details have not been finalized, per source. This is a chance for Fresno to lock up an ascending coach and push for sustained Mountain West supremacy after Chris Petersen left Boise.
5. Texas never kicked the tires on LSU's Les Miles, per source. Kinda surprised by that.
He could play the UT politics game well and has averaged 11 wins the last four seasons.
Show Comments
Hide Comments
Kush went 176-54-1 in 22 seasons at Arizona State

That's a lotta rock chalk

How will the AAC shape up in 2017? Let's take a team-by-team look
Doing well at an AAC school can lead to a big job, but it's easier to win at some than oth...

A script Ohio showed up in a Michigan fan's lawn when he needed some help with lawn care

Johnson Jr. was cited for marijuana possession and possession of drug paraphernalia in Jun...