College Football Awards: Top 10 Moments
Here's 10 off-field moments that helped make 2013 such a memorable year for college football.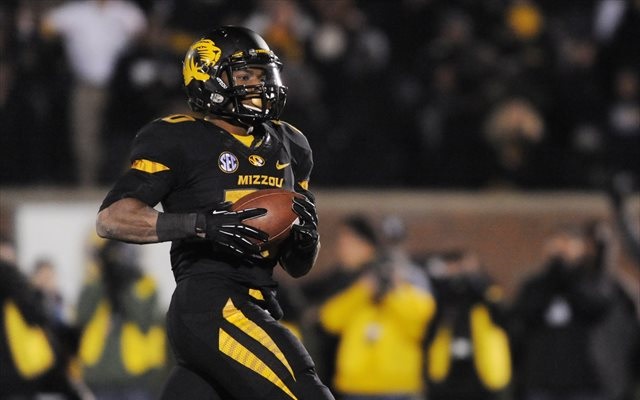 Not everything that makes college football great happens between the sidelines on autumn gamedays. Much of it happens in spring camp, or in locker rooms, or the stands, or even in broadcast booths. They're not plays, as wonderfully thrilling as those can be; they're moments, and if they maybe they don't trigger pounding pulses and fits of screaming like those that do happen on the field between opening kickoff and final whistle, they don't lack for their own just-as-potent set of emotions.
Here's a list of the 10 most memorable from college football's 2013:
1. Jack Hoffman runs for 69-yard touchdown
It was the YouTube highlight heard 'round a world even larger than college football's: 7-year-old brain cancer patient Jack Hoffman, running for a touchdown in Nebraska's spring game:
Hoffman's run led to a visit to the White House, his own trading card, thousands raised for "TeamJack"'s cancer-battling fund-raising efforts, and national headlines when he finished his chemotherapy and -- in the fall -- learned his cancer was in remission.
But the best part about Hoffman's story is that his wasn't the only story that brought out the best in college football. There was 8-year-old Noah Roberts scoring at East Carolina. There was Memphis quarterback Jacob Karam playing piano and duetting with Bree Bercegeay at St. Jude's Research Hospital. There was Zach Dacy sacking Jordan Lynch. There were plenty of other stories besides.
These aren't the sorts of stories you can "rank" in a list. So they're all here at number 1, at the top, waiting for you to watch Hoffman sprint to the end zone again for the first time.
2. Henry Josey gets a game ball
Gary Pinkel had never given out a game ball before Missouri 's season opener against FCS Murray State. But he made an exception in the postgame locker room, because Henry Josey -- the Tigers running back who appeared well on his way to All-America honors in 2011 before a freak knee injury cost him multiple ligament tears, the end of that season, and all of 2012 -- had made his return, rushing for 113 yards and a score.
Here's the scene:
Josey would go on to lead the Tigers with 1,074 yards rushing as they won the SEC East in only their second year of trying. If college football had a 'Comeback Player of the Year' award, Josey would win it in a runaway.
3. Ed Orgeron celebrates beating Stanford in style
It didn't work out between USC and the Trojans' charismatic interim coach in the end. But they'll always have the upset of Stanford, this photo (by USA Today Sports Images) ...
and this amazing GIF:
As fondly as Trojan fans -- and college football fans in general -- will remember Coach O's joy in the wake of the upset over the Cardinal, we really hope USC let him keep the sword. 
4. Daniel Rodriguez scores for Clemson
OK, so this moment did happen on the field, but its impact comes from what Rodriguez did off the field: tours of duty in Iraq and Afghanistan and a wound suffered while fighting the 2009 Battle of Kamdesh, for which he was awarded the Purple Heart and Bronze Star Medal. Watch:
It's safe to say Rodriguez's score took the Tigers' "Military Appreciation Day" to a whole new level.
5. Auburn fans go crazy after beating Alabama
Tiger radio announcer Rod Bramblett said it best: "They're not gonna keep 'em off the field tonight!" And thus began the wildest celebration not only Jordan-Hare Stadium has ever seen, but
the Auburn fanbase has ever collectively experienced -- one neatly summed up in this one four-minute video collecting Auburn fan reactions from across the stadium, coaches' boxes, and living rooms across the country:
6a, 6b, 6c, 6d. Dave Cutcliffe gets a Gatorade bath.
Has any coach ever enjoyed the ceremonial cooler-dumping four times in one season? Probably not, at least until the ACC Coach of the Year was the recipient of that honor this season after leading Duke to a 10-win season and ACC Coastal championship. But hey -- if four single-season Gatorade baths hasn't ever happened before, neither has a season like this at Duke.
From the Nov. 16 win over Miami:
7. Army offensive lineman proposes at midfield
Congrats to the Black Knights' Colin Joy, who popped the question before facing Navy last Saturday:
Prior to the #ArmyNavy game, one of @Army_Football's finest proposed to his GF at midfield http://t.co/GdCGDEIt85 / pic.twitter.com/B6KRTrvb3n

— Sporting News (@sportingnews) December 14, 2013
Maybe it's not quite as dramatic as Ian Johnson's proposal after beating Oklahoma in one of the best college football games ever played, but any time engagement rings and football fields are brought together, we wholeheartedly approve.
8. Jerry Kill, Mark Dantonio show off their locker room dance moves
Jerry Kill might have had to stay off the sidelines for most of the season while managing his epilepsy, but it's a fair guess that nothing was going to keep him out of the locker room after his Gophers beat Penn State to move to 8-2 on the season:
Not to be outdone, here's Rich Homie Quan fan Mark Dantonio getting his dance moves on after his Spartans beat Michigan:
9. Nick Saban, AJ McCarron hug after LSU win
Yes, it's the moment that launched a thousand Internet wisecracks. But it's also memorable for being the most emotional, the most human, the most -- dare we say it? -- vulnerable we've ever Nick Saban on a college football sideline. If the bond Saban obviously shares with his star quarterback isn't one he necessarily shares with every player (something Saban essentially admitted in his post-hug discussion of the moment), it's noteworthy that in spite of his reputation, that bond does exist. Do we really know the man at all? (GIF via @SBNationGIF):
10. Eminem's interview at Michigan-Notre Dame is out there, man
It doesn't have anything more to do with college football than that it took place at a college football game, during a college football broadcast, but the rapper's bewildering conversation with ABC's Brent Musberger and Kirk Herbstreit nonetheless stands out as the most surreal moment for college football television viewers in 2013:
Show Comments
Hide Comments
Kirk Merritt claims 'jock itch' was the reason he exposed himself to two tutors

The former coach weighed in on the new NCAA recruiting rules

Wiggins has played more than 30 games in the ACC and SEC during his career
Our panel of experts drafted the best sports video games that have ever been created

The players allegedly conspired to steal belongings from another student's dorm room

Harbaugh handed the Pope a Wolverines helmet and special shoes