College Football Rewind: Can Ohio State make playoff minus J.T. Barrett?
If Ohio State wins Big Ten Championship, the College Football Playoff Selection Committee faces the question of how to evaluate the No. 6 Buckeyes.
Welcome back to College Football Rewind. This is your first look back at what happens each week and what it means moving forward. Every Saturday night, I will analyze the week's games and the always colorful world of college football. Check back later for analysis of later games.
The number of issues potentially facing the College Football Playoff Selection Committee on Dec. 7 have accumulated throughout the year. Add one more possibility: How to handle a team that loses its second star quarterback of the year, this time in the second-to-last-week of the regular season.
No. 6 Ohio State's loss of quarterback J.T. Barrett during its 42-28 victory Saturday over Michigan could throw a new wrinkle into the committee's top-four picks. Barrett, who had been sniffing Heisman Trophy candidacy, was carted off the field with a fractured right ankle. He is out for the season -- a tough blow for a fine player and a twist for the CFP committee if it's looking to put Ohio State in the top four.
Of course, first thing's first in this debate: Ohio State must beat Wisconsin or Minnesota next week over an entire 60-minute game with its third-string quarterback, Cardale Jones, and perhaps wide receiver Jalin Marshall taking some direct snaps at quarterback. The Buckeyes lost preseason Heisman Trophy candidate Braxton Miller to a season-ending injury in August.
Winning a Big Ten title after losing two star quarterbacks would be a remarkable achievement for the Buckeyes and speak to Meyer's ability as a coach. But should it get OSU in the playoff given the enhanced competition moving forward?
Say Ohio State wins next week in Indianapolis. Then what for the committee? Obviously other results across the country would factor into this debate. It's worth noting that Ohio State was already not helping itself Saturday by struggling to put away Michigan even with Barrett.
Would the committee award Ohio State for continuing to win without two elite quarterbacks? That's no small achievement. Or, more likely, would the committee need to see a strong performance from the Buckeyes without Barrett to believe they would be a representative playoff team on Jan. 1?
"I didn't think of it until you said it," Meyer told reporters when asked Saturday if Barrett's loss impacts the Buckeyes' resume. "We won the game. I think it's all going to be how we play next week. And I think we're going to have Cardale ready to go next week."
The NCAA men's basketball tournament faced a similar situation in 2000 when Cincinnati star Kenyon Martin broke his leg during the Conference USA Tournament. The Bearcats were headed for one of the four No. 1 seeds but instead the committee gave Cincinnati a No. 2 seed. Cincinnati lost in the second round. The difference here is the Barrett case goes to selection in the playoff, whereas Martin dealt only with seeding.
The CFP's committee has modeled itself after the basketball committee in many ways. According to the football committee's principles, it will consider "key injuries that may have affected a team's performance during the season or likely would affect its postseason performance." Translation: The committee may have to project how Ohio State would perform without Barrett, who leads the nation in total touchdowns (45).
Barrett may not be the only key injury around the country. Quarterback Bryce Petty left Baylor's 48-46 win over Texas Tech with a concussion. Might Baylor face similar quarterback questions next week as well? At least in Baylor's case, backup Seth Russell has played a decent amount.
In August when Ohio State lost Miller for the year, committee chairman Jeff Long was asked the hypothetical question that now looms: What if a key player for a playoff-contending team is injured during or shortly before a conference championship game?
"Certainly there is a discussion about the backup quarterback could step and lead them to a championship," Long told CBSSports.com's Dennis Dodd at the time. "We've seen those examples in our history and then we've seen teams that weren't quite the same when a star player goes out. That's something that humans can do that the computers and polls don't necessarily take all of that into account."
The committee is 60 minutes away from having to answer that question about a third-string quarterback.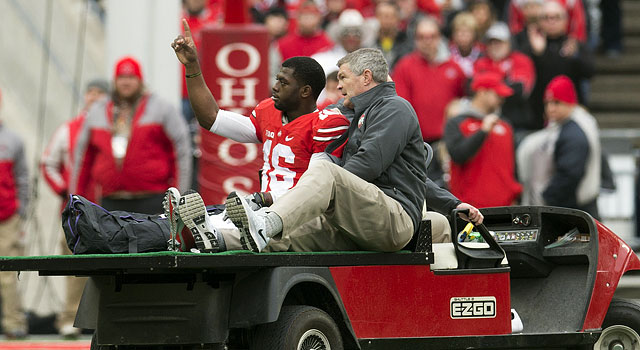 J.T. Barrett is carted off the field after fracturing his right ankle. (USATSI)
What We Learned in Week 14
1. There may not need to be a TCU vs. Baylor debate. For weeks, the question loomed over the committee: When (or if) would it put Baylor ahead of TCU because of the head-to-head result? Ole Miss' victory over No. 4 Mississippi State could make that playoff debate moot. There's an increasing chance it could be the Big 12, not the SEC, that puts two teams in the playoff. If Alabama, Oregon or Florida State lose, TCU and Baylor (should they win out) could be battling with Big Ten champion Ohio State (if the Buckeyes beat Wisconsin) for two spots. In the meantime, the Baylor-TCU debate will rage on. If you're keeping score at home, TCU beat Texas on Thursday 48-10; Baylor beat Texas 28-7 on Oct. 4. Baylor beat Texas Tech 48-46 on Saturday; TCU beat Texas Tech 82-27 on Oct. 25. Of course, Baylor could hold the ultimate trump card: a 61-58 victory over TCU on Oct. 11. At the end of the day, head-to-head should be a pivotal factor when both teams have the same number of defeats, unless both Big 12 teams now go. But Baylor didn't help itself, just like TCU didn't help itself barely beating Kansas a couple weeks ago. Stay tuned. There's lots of drama ahead.
2. Florida State and Florida are who they are. The final sequence of the Will Muschamp era symbolized his time there. Without a drop-back quarterback or receivers who can catch the ball, the Gators went with a chuck-it-deep offense with enough time left for a more methodical approach. Florida State's 24-19 victory is like a rout for the Seminoles given how often they've had to come from behind late. Jameis Winston played his worst game of the season by throwing four interceptions and the Seminoles still won. There's one test left before the playoff and it's a significant one next week. Good luck preparing for Georgia Tech's option offense on a week's notice. If the Seminoles end up undefeated, they will have earned it next week. Florida State-Georgia Tech may be the most intriguing conference championship game.
3. Deshaun Watson will be a 2015 Heisman favorite -- if he's healthy. Clemson snapped its five-game losing streak to bitter rival South Carolina thanks to freshman sensation Deshaun Watson, who was 14 of 19 for 269 yards and two touchdowns. Oh, by the way, Watson played with a partially-torn ACL. Clemson coach Dabo Swinney told reporters Watson suffered the injury on Nov. 20, two days before Clemson played Georgia State. Swinney said Watson will play in Clemson's bowl game, have surgery, miss the spring with rehab and return in the summer, according to The Charleston Post-Courier. "He is a mental and genetic freak," Swinney told reporters. "I don't know how else to say it." Here's hoping Clemson knew what it was doing by playing Watson with knowledge of this partially-torn ACL and it won't impact him moving forward.
4. Boise State controls its destiny for Group of Five bowl. Boise State easily took care of Utah State on Saturday, leaving the No. 23 Broncos in position to get the Group of Five bowl bid if they beat Fresno State (6-6) in the Mountain West conference championship game. No. 24 Marshall's wild 67-66 loss to Western Kentucky ends the Thundering Herd's chances. If Boise State gets upset, the bid becomes wide open and could go to Memphis or Northern Illinois. Neither of those teams were ranked last week, meaning it's Boise State's bid to lose.
What Were They Thinking?
The annual trend of college football awards releasing finalists before the season ends reached embarrassing proportions this season. The Butkus Award, given to the nation's top linebacker, somehow didn't have Arizona's Scooby Wright among the top five finalists. UCLA's Eric Kendricks, Washington's Hau'oli Kikaha, Miami's Denzel Perryman, Michigan's Jake Ryan and Notre Dame's Jaylon Smith are all fine candidates. Wright entered this week as the only FBS player to rank in the top 25 in tackles, tackles for loss, sacks and forced fumbles. On Friday against Arizona State, Wright had 13 tackles, five tackles for loss and forced a fumble. Not only should Wright be a Butkus Award candidate, he could be a Heisman Trophy candidate.
Stat of the Week I
Missouri won consecutive SEC East titles while beating one SEC team with a winning conference record (Georgia 2013). Mizzou has no reason to apologize. This is more of an indictment on the SEC East than Missouri, which now has as many SEC division titles in three years as Mississippi State, Ole Miss, South Carolina, Vanderbilt and Kentucky have division titles combined. The ACC went 4-0 against the SEC East on Saturday with Florida State edging Florida, Louisville beating Kentucky, Clemson defeating South Carolina and Georgia Tech knocking off Georgia in overtime.
Stat of the Week II
Louisville safety Gerod Holliman tied the FBS record for single-season interceptions by picking off his 14th pass during Saturday's game against Kentucky. Holliman ties the record set by Washington's Al Worley in 1968. In a year with fringe Heisman Trophy candidates after Marcus Mariota and Melvin Gordon, Holliman deserves a few votes as a defensive player.
Stat of the Week III
UAB, whose program may soon be shut down, is bowl-eligible for the first time since 2004 after beating Southern Miss on Saturday. But there is no guarantee the Blazers will actually play in a bowl. Conference USA has eight teams with at least six wins, but the conference is only guaranteed five postseason spots. There's a possibility for another bowl spot if the SEC or ACC can't fill a team in the Independence Bowl. What's the incentive for C-USA to put UAB in a bowl without knowing if the Blazers are going to continue playing football? It would be a shame for UAB's coaches and players if the last real football game in school history occurs with them getting bowl-eligible without any bowl to attend or support from their administration.
This Week in Tempo
My occasional look at the evolving trends, successes, failures and all-around moaning about up-tempo offenses.
With the season nearly over, FBS teams have run 71.9 plays per game — the exact same figure as in 2013. If this year's number doesn't tick up, it will be the first time since 2009 that plays per game haven't increased. Nine teams are averaging 80 plays or more: Baylor 89.6, West Virginia 85, Washington State 84.5, Colorado 83, California 81.3, East Carolina 81.2, Arizona 81, Arkansas State 80.1 and Idaho 80.1.
Plays per game by conference: Pac-12 76.0, Big 12 75.7, Sun Belt 73.4, Mountain West 72.2, MAC 71.2, AAC 70.8, SEC 70.8, ACC 70.4, C-USA 70.4, and Big Ten 69.9. The top 10 in this week's Associated Press poll reflects a hodgepodge of uptempo and slower teams. No. 1 Alabama is up 9.2 plays per game to 72.7 in 2014, whereas No. 2 Florida State sits at 68.1. No. 3 Oregon, the original master of tempo, is down 2.1 plays per game to 72.7. No. 4 TCU (79.6) and No. 5 Baylor (89.6) reflect the tempo seen in the Big 12.
The biggest increases in plays per game from 2013 to 2014: Colorado +13.7, Texas State +12.4, TCU +11.1, UAB +11.1, West Virginia +10.7. The biggest decreases: Utah State -11.3, Texas Tech -11.1, North Carolina State -11.1, Utah -9.3 and Ole Miss -8.3. Before this season, TCU hired Texas Tech offensive coordinator Sonny Cumbie to run the Horned Frogs' offense.
Score of the Week
USC 49, Notre Dame 14. Remember when Notre Dame was in the playoff conversation after nearly beating Florida State? Since that tight loss on Oct. 28, the Irish lost five of its past six games, including the final four, to finish 7-5. The ultimate embarrassment was getting blown out by the Trojans on Saturday. USC quarterback Cody Kessler completed 32 of 40 passes for 372 yards and six touchdowns. Notre Dame's defeat was its second-worst ever to USC behind only USC's 38-0 shutout in 2007.
Week 15 Questions
1. What's the most compelling conference championship game? It feels strange to say this, but it looks like the ACC. Florida State vs. Georgia Tech should be a fascinating game. Georgia Tech is coming off an emotional overtime win over Georgia. Will the Seminoles play with fire one too many times? If so, Georgia Tech is more than capable of beating Florida State and disrupting playoff scenarios.
2. Can Arizona knock off Oregon again? The only rematch among Power Five conference championship games takes place in the Pac-12. Arizona knocked off Oregon in Eugene back in early October. The Ducks' offensive line was banged up at the time and has gotten healthier. Arizona survived the Pac-12 South, arguably the toughest division in the country outside of the SEC West. Marcus Mariota is clicking as the Heisman Trophy frontrunner and it will be difficult, although not impossible, for Arizona to win again and make a case it belongs in the playoff.
3. How many passing yards will the Big Ten championship game produce? Look for a running affair in Indianapolis. Ohio State is down to its third-string quarterback. Wisconsin often really struggles to throw, although quarterback Joel Stave threw for 215 yards and two scores in a 34-24 win over Minnesota. Barrett's injury has opened the door even more for Wisconsin and Melvin Gordon to possibly capture the Big Ten title.  
4. Does Missouri have a prayer against Alabama? Missouri's best chance is controlling the line of scrimmage on defense with its strong defensive line led by Shane Ray, getting some turnovers by Blake Sims, and hitting a few big pass plays against Alabama's suspect secondary. Still, after Alabama survived the Iron Bowl, it's hard to see the Crimson Tide losing in Atlanta to an inferior team with a playoff spot on the line.
5. Who wins the Big 12? The Big 12's "One True Champion" motto will get put to the test. TCU, Baylor and Kansas State are all tied for first. TCU plays Iowa State at home, and Baylor gets Kansas State at home. People forget, but it's still possible for Kansas State to be a co-Big 12 champion.
6. Who's in and who's out? Next Sunday at 12:45 pm ET, we'll know the selection committee's final rankings. The campaigning by coaches and schools will intensify as the drama picks up over the final week. Once the picks are released, the screaming begins.
Quote of the Week 
"There's a chance. You ever seen the movie Dumb and Dumber? 'So you're telling me there's a chance.'"
— Arizona coach Rich Rodriguez on the Wildcats' chances of making the College Football Playoff.
Show Comments
Hide Comments
Have fun with this, SEC defenders

Making plays on the over/under for all 12 teams in the Pac-12

Mike Gundy and the Cowboys know there's one monster they have to contend with in their own...
The initiative has been put forth to offset the burden of declining freshman enrollment

How will the Big 12 shape up in 2017? Let's take a team-by-team look

Kush went 176-54-1 in 22 seasons at Arizona State