Colorado St. RB Donnell Alexander asks for release
The Rams' leading returning rusher, junior Donnell Alexander, is looking to transfer.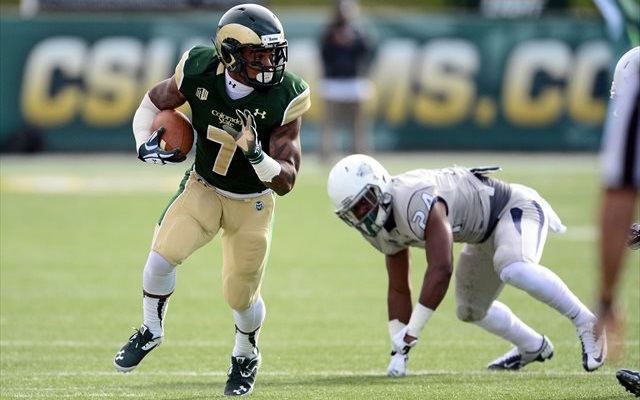 If Colorado State is going to repeat its postseason berth, bowl championship and winning season from its highly productive 2013 season, it will likely have to do so with a major question mark at running back.
Rising junior Donnell Alexander has asked for and will receive his release from the program, Ram coach Jim McElwain said Saturday, per the local Reporter-Herald. McElwain had said just the previous Thursday that Alexander would be taking a leave of absence from the team due to personal reasons.
McElwain left the door open for a potential return, saying Alexander would remain on scholarship for the time being. But he also confirmed that initial transfer paperwork has already been sent to one other school through the Colorado State compliance office.
"It's my responsibility to be there to support you," McElwain said he told Alexander, adding that the Kansas City native said he was "unhappy" with unspecified in a meeting between the two. "I won't ever do anything but support him in every way I can that he can find peace and be happy."
If Alexander does depart, the Rams have a large hole in their backfield. Superstar Kapri Bibbs left for the NFL Draft, Alexander was the only running back returning from the 2013 roster with more than six carries, and even that six-carry back -- Davon Riddick -- is working at corner this spring.
McElwain's swift resurrection of the Rams suggests he may be able to find an answer regardless. But it's noentheless going to weigh heavily on the minds of CSU supporters -- and, likely, McElwain himself -- until the fall arrives.
HT: MWC Connection
Show Comments
Hide Comments
Ranking the strength of schedule for each of the 12 teams in the Pac-12 entering the seaso...

Thomas Tyner will reportedly re-start his college football career at Oregon's biggest riva...

Collin Johnson needs to do this in a game or all of this was for nothing
The Bulldogs are upping the game in the ever-changing facilities arms race

Five things I want to do as nothing more than a college football fan

The United Airlines Coliseum is the richest naming rights deal in college football