Complaint filed against attorney used by NCAA in Miami scandal
The Florida Bar alleged that Maria Elena Perez violated regulations regarding competence, diligence and candor toward the tribunal in the Nevin Shapiro case.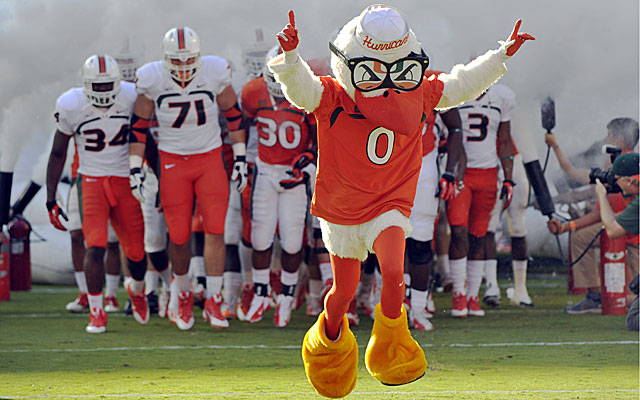 More college football: Dennis Dodd | Jeremy Fowler | Latest news
The third-party attorney central in the Nevin Shapiro/Miami/NCAA enforcement scandal has been charged with three violations of the rules and regulations of the Florida Bar.
In a complaint filed Monday, the Florida Bar alleged that Maria Elena Perez violated regulations regarding competence, diligence and candor toward the tribunal in the Shapiro case.
Proceedings in the case could take up to a year but typically last three to six months, Florida bar spokesperson Francine Walker told CBSSports.com. Walker also said sanctions "could threaten per practice." On the lighter end, the complaint could result in nothing more than a letter of reprimand.
The NCAA's Shapiro investigation was halted when it came to the attention of the NCAA that Perez had been improperly used to obtain information. She proposed to the NCAA in September 2011 that she could use her subpoena power in a Shapiro bankruptcy proceeding to gain information the NCAA could not otherwise obtain.
The NCAA has strict regulations about who can obtain information in a formal investigation. After her involvement was determined by an external review, the NCAA -- supported by the Florida Bar -- showed that NCAA enforcement staff proceeded with Perez' assistance despite warnings from the NCAA legal staff.
Former enforcement director Julie Roe Lach obtained permission to spend about $20,000 to use Perez in getting information outside of the NCAA's control.
According to the complaint, the NCAA's No. 2 officer, COO Jim Isch "felt the University of Miami investigation was important enough to set aside a budget of about $15,000 for a potential expenditure of funds."
Lach was fired in February 2013 for using Perez. Isch was not disciplined. Perez eventually billed the NCAA for more than $65,000. She received a final payment of $18,325 from the association.
A review of invoices showed that Perez billed the NCAA for paralegal services as she was billing at an attorney rate, according to the complaint.
NCAA president Mark Emmert announced an external review Jan. 24, 2013, after the questions surfaced about the enforcement staff's use of Perez. Eventually, Emmert announced that 20 percent of the information gathered in the case to that point was thrown out.
Former enforcement officer Ameen Najaar was fired during the investigation. Another high-ranking enforcement staffer, Rich Johanningmeier, retired before the case was completed in October 2013.
After an investigation that stretched more than four years, the NCAA accepted Miami's self-imposed two-year bowl and removed a few scholarships. Shapiro is serving 20 years in federal prison for his role in a Ponzi scheme. The NCAA alleged he lavished cash and improper benefits upon Miami recruits and players.
A competence charge by the Bar means that the attorney in question "requires the legal knowledge, skill, thoroughness and preparation … for representation," according to the Bar website. A diligence charge means a lawyer shall act with "reasonable diligence" in representing a client.
"Candor toward the tribunal" means an attorney shall not make a false statement or offer false evidence toward the Bar's investigating body.
Perez has no prior disciplinary history with the Florida Bar. She told CBSSports.com at the time of the NCAA's external review, "There is nothing wrong."
None of the information presented Monday warranted an emergency suspension of Perez, Walker said. Perez did not immediately return a call seeking comment.
It's not great, but it isn't necessarily bad, either

From bio pics to comedies and documentaries, here are the college football movies you can't...

Suspended junior Grant Perry pleaded guilty to resisting arrest
Pepsi will limit its usage of blue -- outside of its logo -- on Utah's campus for Holy War...

Will Sunderland allegedly stole and tried to sell video game systems

National powerhouse Alabama joins the throng of schools trying to lure five-star QB Justin...