Congress to hold hearing on Northwestern union ruling
A House committee will hold a hearing May 8 about the NLRB's initial decision that Northwestern football players are employees. The committee chairman says unionizing athletes represents "a radical departure from longstanding federal labor policies."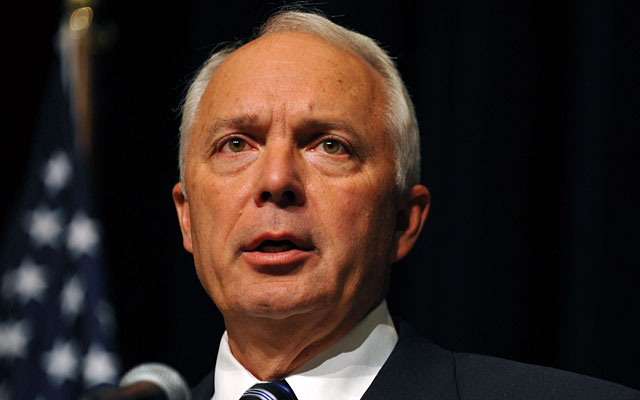 Northwestern football players' attempt to form a union has drawn the attention of Congress -- the latest interest from the federal government to examine the state of college sports.
A House committee will conduct a hearing May 8 to discuss the recent decision by a regional chairman of the National Labor Relations Board to allow football players to unionize. The Education and Workforce Committee will hold a hearing titled "Big Labor on College Campuses: Examining the Consequences of Unionizing Student Athletes," according to a committee news release. 
"The NLRB's decision represents a radical departure from longstanding labor policies," committee chairman John Kline (R-Minn.) said in the release. "Classifying student athletes as employees threatens to fundamentally alter college sports, as well as reduce education access and opportunity. The committee has a responsibility to thoroughly examine how the NLRB's decision will affect students and their ability to receive a equality education."
The identifies of the hearing's witnesses have not been announced. 
Last week, Northwestern football players cast their votes on whether to form a union. The NLRB impounded the ballots and they are unlikely to be revealed until the full board's ruling based on a request by Northwestern.
Increasingly, Congress has shown interest in college sports as the NCAA and its conferences face legal threats on several fronts. Two separate bills have been introduced within the past year related to reforming college sports and both were assigned to the committee holding the hearing next week. 
Rep. Tony Cardenas (D-Calif.) sponsored a bill requiring universities that generate $10 million or more in sports media rights to establish requirements related to financial aid, medical expenses and concussion testing. The bill has five original co-sponsors, according to the NCAA's Division I Board of Directors agenda from last month.
A separate bill brought by Rep. Charlie Dent (R-Penn.) and Rep. Joyce Beatty (D-Ohio would restrict Title IV funds to colleges that are a member of an athletic association that fails to establish minimum requirements for health and safety, financial aid and the infractions process. That bill has nine co-sponsors, the NCAA reported in April.
"As written, both of these proposals will only become law through amending the Higher Education Act of 1965," the NCAA wrote last month. "Therefore, we will be keeping a close eye on the reauthorization process. While we expect that a number of proposals related to the Higher Education Act will be introduced, it is widely believed within the higher education community that the reauthorization process will take substantial time to complete."
Also, Beatty previously introduced the Concussion Awareness and Education Act. If it passed, the Secretary of Health and Human Services would create a national system for monitoring sports-related concussions for people between the ages of 5 and 21.
Show Comments
Hide Comments
Ranking the best draft-eligible college football players in the 2017 draft class

Taking a closer look at what went down during one of the biggest weekends of spring football...

The Wolverines will get a unique education in Italy, and maybe that's all that matters
Fitzerald is already the program's leader with 77 wins

Darryl Rudolph was just 55 years old

The Michigan coach nearly caused an international incident throwing a football