Cornea transplant lets Bishop Sankey's grandfather watch him play
Washington tailback Bishop Sankey's grandfather will be able to watch his grandson for the first time after a cornea transplant.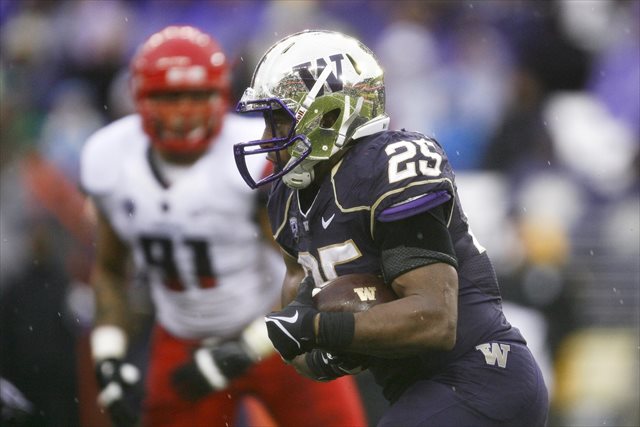 There's not a Washington fan alive who's not excited to see what Steve Sarkisian's apparently much-improved Huskies can do in their first major test of the 2013 season, Saturday's road trip to No. 5 Stanford. But Albert Sankey will likely be the most excited of all.
The Seattle Times reported in an excellent story this week that the Stanford game will mark the first time Sankey, grandfather of Huskies tailback Bishop Sankey, will be able to watch his grandson play for Washington. And not just "in person" -- Albert recently received a cornea transplant to his right eye that restored his sight after five years of glaucoma-induced blindness.
"I can't wait to hug him," Albert said of his grandson, "and see his face."
"I'm pretty excited," Bishop told the Times Wednesday. "He'll be there, and it'll be his first game seeing me in college. I know he's excited."
So far, Bishop's 2013 season would be reason enough for Albert to be excited all on its lonesome. The junior from Spokane leads the nation at 151 yards per-game and is averaging a robust 5.8 yards per-carry. Another big performance against the lockdown Cardinal defense -- particularly one in a Huskies victory, a victory that would propel them into the national title conversation -- could thrust Sankey's name squarely into the Heisman Trophy conversation.
Of course, it's also fair to say that Sankey will have one fan in attendance in Palo Alto who's not going to be all that concerned with stats or trophies, either.
HT: EDSBS
Show Comments
Hide Comments
What colleges and conferences had the most first-round picks in the 2017 NFL Draft?

Myles Garrett and Leonard Fournette were top-rated prospects coming out of high school

Ohio State and Washington will play in Seattle in 2024 and Columbus in 2025
Kirk Merritt claims 'jock itch' was the reason he exposed himself to two tutors

The former coach weighed in on the new NCAA recruiting rules

Wiggins has played more than 30 games in the ACC and SEC during his career