Countdown to Florida at Florida State: Gators hope for clear skies in Week 2
CBS Sports will give an update on the biggest rivalries in the country every week. Looking at who has a leg up leading up to the Florida-Florida State game on Nov. 29.
• 2 min read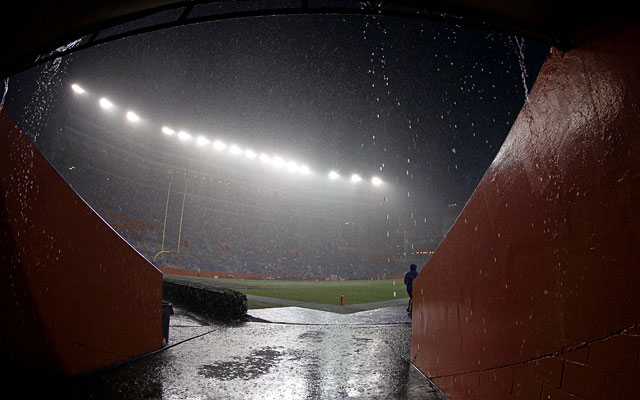 The 59th meeting between Florida and Florida State will take place on Nov. 29. (Florida leads the series, 34-22-2, but Florida State has won three of the last four meetings). As the two programs progress towards rivalry week, we'll take a weekly look at current trends, and the current state of hostilities, between the Gators and the Seminoles.
Days until game: 88
Florida last week: The Gators season-opener against Idaho was "terminated" due to lightning and inclement weather. The game has been declared a no contest and won't be played until 2017.
Florida State last week: The Seminoles jumped to a 17-0 lead on Oklahoma State but allowed the Cowboys to get within a field goal twice and got out of North Texas with a 37-31 victory. 
2014 Florida-FSU power index: 1. Florida State 2. Florida
Florida this week: vs. Eastern Michigan, 4:00 p.m. (Florida -38)
Florida State this week: vs. The Citadel, 7:30 p.m. (Off the board)
Florida storyline: While a makeup date for Florida-Idaho is discussed between the respective athletic directors, Will Muschamp and his staff have refocused their energy towards Eastern Michigan for the "Take 2" of the season opener. The Gators have reinstated three players who were suspended for the opener, but many of the same storylines from last week linger. How will Jeff Driskel look in the new offense? The Gators are favored by 38, but Florida never scored 38 points in 2013 and has done so just twice in its last 25 (completed) contests.
Florida State storyline: It's a lot of nitpicking for a team that just held off a frisky, and well-coached, Oklahoma State squad; but Jameis Winston made some mistakes, the rushing attack was inconsistent and the Seminoles were just 4-of-14 on third down. Some are treating the 37-31 win as a "wake up call," which is exactly what Citadel doesn't want to hear heading into Saturday. Florida State could probably sleep through a wake up call and sleepwalk to a win against Citadel -- FSU has dominated FCS foes under Jimbo Fisher -- but the fans and coaches will want a cleaner performance with Clemson coming to town on Sept. 20. 
Moment in hatestory: November 22, 1997
Since Steve Spurrier wasn't in his usual "I just finished 18 and might run it back" mood after losing to Texas A&M last week, so we decided to flash back to a rivalry moment that would bring a smile to the face of the Ball Coach. In what many consider one of the best Florida performances ever in The Swamp, the Gators won 32-29 on a game-winning drive highlighted by a 62-yard Jacquez Green reception and capped by a Fred Taylor score. (Bonus: In the video below, then-CBS announcer Sean McDonough comments how Jane Seymour, of Dr. Quinn, Medicine Woman, has a hard act to follow. Dr. Quinn and Chuck Norris on Saturday nights; the glory days of CBS programming.)
Hate tweets
I hope Florida doesn't fall victim to the plague of terrible new uniforms. FSU's are awful, Miami's are awful. If it aint broke don't fix it

— The ATL Gator (@TheATLGator) September 2, 2014
LMAO scared of Eastern Michigan RT @Pete_Volk: Florida unsuspends players after 1-play Idaho game http://t.co/M3seklFFjo

— Matt Charles (@matthewpcharles) September 1, 2014
Give us your thoughts on the Florida/Florida State rivalry below, or on Twitter via @EyeOnCFB. If your tweet is selected for "Countdown to Florida at Florida State" next week, you'll likely hear it from the opposing fan base, or at least #FSUTwitter.
Show Comments
Hide Comments
Jim Harbaugh wants more college football programs to embrace the international trip

It seems there's a lot of talent in the SEC

There are all sorts of drafts out there and these are my favorites
It's time to say goodbye to so many great players

What colleges and conferences had the most first-round picks in the 2017 NFL Draft?

Myles Garrett and Leonard Fournette were top-rated prospects coming out of high school