Dana Holgorsen would like to see WVU, Pitt renew 'Backyard Brawl'
It might not be likely, but a renewal of the 'Backyard Brawl' rivalry between Pitt and West Virginia has a supporter in Dana Holgorsen.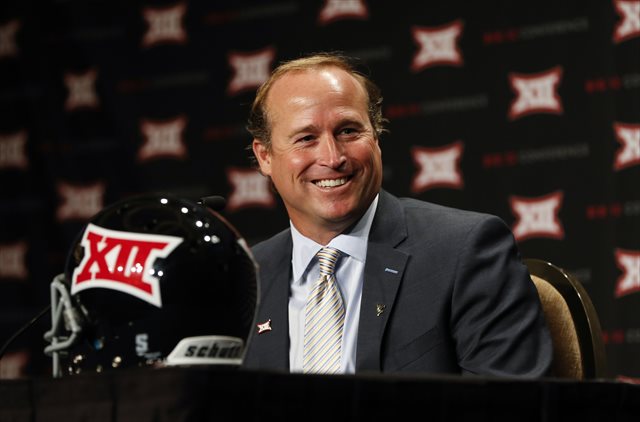 More college football: Jon Solomon | Dennis Dodd | Jeremy Fowler | Latest news
Pitt 's in the ACC and playing eight conference games a year. West Virginia 's in the Big 12 and playing nine conference games a year.
So the Panthers and Mountaineers agreeing to bring back the "Backyard Brawl" might not happen anytime soon no matter how much support the idea generates. But at least there's one very prominent voice that now has provided that support, namely none other than Dana Holgorsen.
"I would welcome back Pitt and the Backyard Brawl any time that they want it," Holgorsen said at Tuesday's Big 12 media days, per the Pittsburgh Post-Gazette. "I think that'd be good for not only Morgantown and the state of West Virginia, I think it'd be good for Pittsburgh and western Pennsylvania as well."
Perhaps even more important than Holgorsen's endorsement, the Mountaineers coach said WVU athletic director Oliver Luck is also "most definitely" in favor of renewing the rivalry, which began in 1895 and was played every year between 1943 and 2011.
There's just two problems, the second likely even bigger than the first:
1. getting Pitt on board, too
2. finding a spot on the teams' nonconference schedules, which even Holgorsen admitted was "tricky."
Even that might be underselling it. Between the Big 12 round-robin, the ACC's Notre Dame agreement, and both teams' traditional preference for big-name out-of-region opponents -- in 2014 alone, West Virginia will face Alabama and Pitt hosts Iowa -- carving out space for another Power 5-grade nonconference game seems extremely difficult.
But where there's a will, as they say, there's a way. And as long as Holgorsen and Luck are in Morgantown, it appears there's some measure of that will.
Show Comments
Hide Comments
The three players attempted to rob a fellow student but claimed it was a prank gone wrong

Unique Brissett was pretending to be a WR with scholarship offers from multiple Power Five...

These are the players who college football coaches simply can't live without
Welcome to the world, Flynt Anderson-Foster Pruitt

Baylor should value faith over football and do what's right in the wake of seven Title IX...

The conference will adopt two divisions when it becomes a 10-team league in 2018