Don't need six: Jameis, Tre and AJ enough for this Heisman ballot
Six Heisman finalists? We don't need to take up that much room on the stage. After winner Jameis Winston, there are two clear runners-up.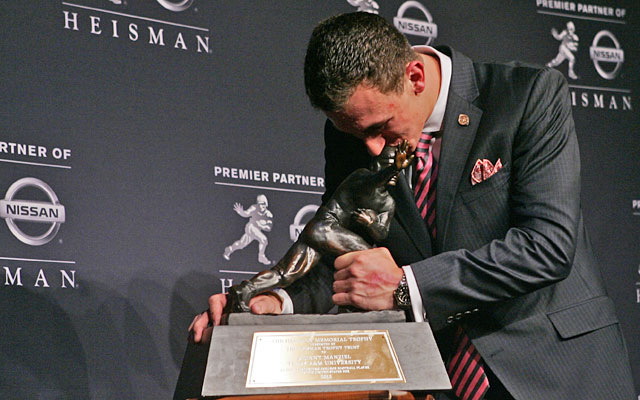 If the Heisman Trust was in the business of saving money -- perish the thought -- the list of finalists for this year's award doesn't go far beyond one.
Jameis Winston, then ...?
It gets a bit cloudy after that. To accommodate everyone -- and I do mean everyone -- the Heisman Trust invited six finalists. That's not a Heisman ceremony, that's a depth chart.
Hard to say anyone got shafted. If you didn't get invited, you probably play in FCS. There's so many guys on the list that the SEC needs its own press conference.
AJ McCarron beat Johnny Manziel, who was also beaten by Tre Mason.
What, no one from the Sun Belt?
We all had to cut it off somewhere. After much deliberation, this is how my 2013 Heisman ballot would look:
1. Jameis Winston, QB, Florida State: The college football world was on edge last Thursday when Willie Meggs stood before microphones in Tallahassee. Winston was not charged but the truth is he would have won the Heisman anyway even if the case had lingered.
No one wanted to see that. As it stands, it may be a bit of an uncomfortable ceremony with Winston having to answer all the same questions all over again. Judging from Saturday in Charlotte, he seems up to it.
In football terms, Winston separated himself from the field with one of the best seasons ever by a freshman quarterback. He threw for the most yards and touchdowns ever by a freshman. NFL talent evaluator Gil Brandt said he could be drafted right now.
Lucky for college football fans, he has to stay around at least another year. That means FSU could chase a third straight ACC title (at least).
2. Tre Mason, RB, Auburn: This is what is known as a breakout season -- 868 yards, 13 touchdowns. Not bad.
Those are merely the numbers from Mason's past five games. Those totals alone would have tied him for 68th (rushing yards) and 15th (touchdowns) for the entire season.
Mason, like the rest of the Tigers, was miserable during a horrible 2012. Still, he rushed for 1,000 yards last season. Gus Malzahn unleashed him in a frightening rushing attack that hung 545 yards on Missouri in the SEC title game.
With 2,100 all-purpose yards, Mason surpassed Bo Jackson's single-season Auburn record. Mason broke out late but there has been no greater back in the country this season.
3. AJ McCarron, QB, Alabama: Who says there's no such thing as a lifetime achievement award?
McCarron came within a second of chasing a fourth national championship. As it is, he ends up with three rings (AJM got one as a redshirt in 2009).
He has got one more career loss (three) than national championships as a starter (two). McCarron was the nation's most efficient passer in 2012. His Heisman moment this year -- a 99-yard touchdown pass to Amari Cooper -- was lost because of a little thing called the "Kick Six."
Also, as the rules stand, McCarron will not be eligible for the College Football Hall of Fame. That is a tragedy.
He will go down as one of the all-time great quarterbacks at Alabama.
Show Comments
Hide Comments
Kirk Merritt claims 'jock itch' was the reason he exposed himself to two tutors

The former coach weighed in on the new NCAA recruiting rules

Wiggins has played more than 30 games in the ACC and SEC during his career
Our panel of experts drafted the best sports video games that have ever been created

The players allegedly conspired to steal belongings from another student's dorm room

Harbaugh handed the Pope a Wolverines helmet and special shoes