Dorial Green-Beckham could sit out 2014 season, enter NFL draft
Former Missouri receiver Dorial Green-Beckham might not play next year and prepare for the NFL draft while rebounding from legal trouble, according to sources.
• 1 min read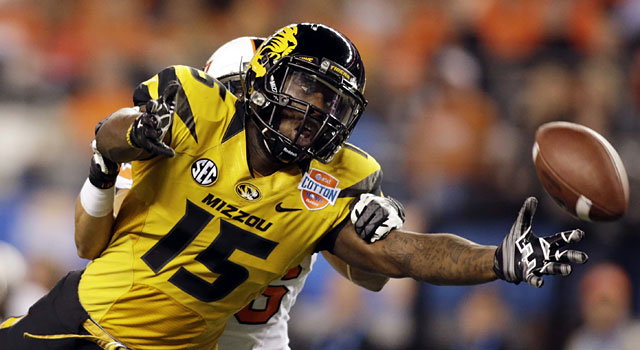 With the calendar approaching June and Dorial Green-Beckham still not signed with a school, questions persist about whether the talented former Mizzou receiver will take the path of Tyrann Mathieu.
Sit out a year of eligibility after a team dismissal, then enter the NFL draft.
Sources from FCS-level Eastern Illinois -- where Green-Beckham was rumored to play next year – said the Panthers have not had contact with Green-Beckham and have been led to believe he's leaning toward sitting in 2014.
As of earlier this month, the receiver hadn't been released from Mizzou, which has been unable to discuss details of Green-Beckham's enrollment, according to spokesman Chad Moller, because of the Family Educational Rights and Privacy Act. Efforts to reach Green-Beckham or his family have been unsuccessful.
Missouri dismissed the oft-troubled Green-Beckham on April 11 after he was reportedly the source of an investigation by Columbia, Mo., police. Green-Beckham allegedly forced his way into an apartment at 2:30 a.m. on a Sunday. A woman said Green-Beckham pushed her down at least four stairs, according to reports.
Green-Beckham reportedly had two marijuana-related arrests before the investigation.
The 21-year-old is considered one of the country's most explosive receivers, catching 59 passes for 883 yards and 12 touchdowns as a sophomore in 2013. The NFL draft's first round is attainable for him.
But catching passes shouldn't be Green-Beckham's short-term focus, Mizzou coach Gary Pinkel said in April.
"Dorial's priority going forward needs to be focusing on getting the help he needs," Pinkel said. "As we have all along, we will continue to do everything we can to assist Dorial and his family. We care deeply about Dorial and his well-being, but hopefully he can benefit from a fresh start."
Green-Beckham's family said in an April statement issued to the St. Louis Post-Dispatch that Green-Beckham shoulders the blame.
"I have been young and dumb," Green-Beckham said. "I want to be better. During my suspension I'm entering counseling. With help, I know I can be stronger emotionally and spiritually."
Mathieu took a similar path. Mathieu, now a standout defensive back with the Arizona Cardinals, entered rehab with John Lucas out of Houston before returning to LSU as a student and entering the 2013 draft.
Show Comments
Hide Comments
Our Latest Stories
TCU will have a new look for its blackout game against Oklahoma

Two of the favorites within their respective Big Ten divisions square off Saturday

The Cardinals and Tigers play what could be the game of the year on Saturday night
One of Alabama's best defenders was arrested on gun charges Thursday

Putting it all -- or just your hard-earned cash -- on the line with some confident calls for...

Expansion is on the table for the Big 12, but maybe it wouldn't be if a different decision...