Dorial Green-Beckham statement: I've been 'young and dumb'
Dorial Green-Beckham has announced in a statement that he will enter counseling during his current indefinite suspension.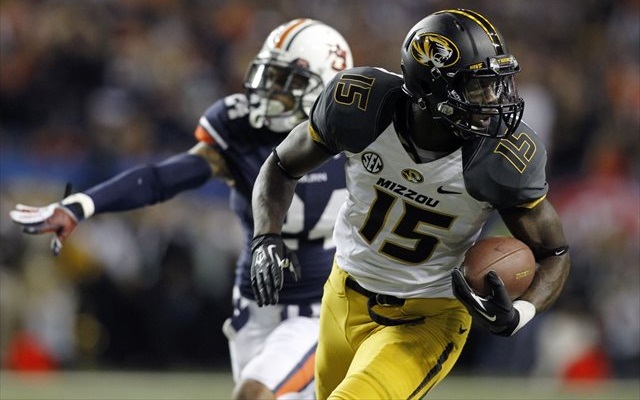 More Missouri: Pinkel gets extension | Hoch breaks ankle
Dorial Green-Beckham won't face any legal charges from the incident that brought police to a Columbia apartment complex last weekend after Green-Beckham allegedly forced his way into an apartment and pushed a woman down "at least four stairs."
But he remains indefinitely suspended, and in a statement provided Friday to the St. Louis Post-Dispatch by his father, John Beckham, Green-Beckham said he took "responsibility for my conduct and my mistakes" and would use the time away from the Tigers to focus on bettering himself off the field.
"I have been young and dumb," the statement reads in part. "I want to be better. During my suspension I'm entering counseling. With help, I know I can be stronger emotionally and spiritually. My relationship with God, my family, friends, teammates and coaches are most important in my life, not football. It may not be possible to fix everything, but it won't be for not trying."
Green-Beckham was suspended Monday by Gary Pinkel, citing multiple off-field issues. Green-Beckham was arrested in January on a marijuana possession charge that was later dismissed after another passenger in the vehicle in question took ownership of the marijuana.
"It's unfortunate, but it's the right thing to do for our football program, for the athletic department, and also for Dorial," Pinkel said in a statement. "We have high standards related to the expectations that come along with being a Missouri Tiger and Dorial has not met those recently ... It's been disappointing to have this, and other issues which have taken place lately. It's frustrating, because we work very hard to instill responsibility and discipline in our young men so that our program represents Mizzou the right way. These actions aren't representative of those expectations, and we are addressing these issues head on."
A former five-star, No. 1 overall recruit who represents the biggest recruiting victory of Pinekl's tenure, Green-Beckham enjoyed a breakout sophomore season in 2013 in which his 883 receiving yards and 12 touchdowns helped Missouri to a shock SEC East title.
Show Comments
Hide Comments
Ohio State is favored to win the Big Ten, but is it the best bet?

USC enters as the favorite, but are the Trojans the best bet?

Jim Harbaugh's Michigan staff will be at FAU on June 5
These five coaches will be hot names on the market after the 2017 season

The Big 12 could be wide open in 2017 ... we mean it this time

Rhule's stance on sexual violence is much-needed for a program that's been submerged in co...