Ex-Alabama football star gets help to pay $10,000 in student loans
Birmingham environmental cleanup company is creating the Tyrone Prothro College Fund Account after Prothro's testimony at the Ed O'Bannon trial.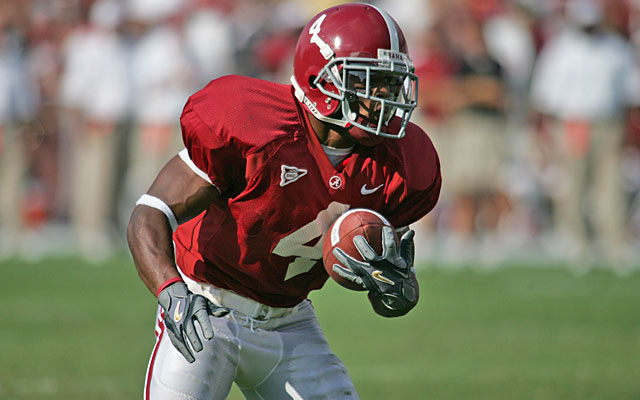 Former Alabama football star Tyrone Prothro, who testified at the Ed O'Bannon trial that he owes $10,000 in student loans, has help from an environmental cleanup company in Birmingham, Ala., to relieve the debt he says he accumulated in college.
Shannon Riley, CEO of One Stop Environmental, said she was moved by Prothro's story and her company plans to donate $5,000 into a fund to raise money for the former player. The company has created the Tyrone Prothro College Fund Account at Regions Bank in an attempt to raise at least $10,000 for Prothro.
Prothro, a named plaintiff in the O'Bannon lawsuit, appeared headed toward an NFL career until he broke his leg in 2005 and had a subsequent infection. The impact of the injury required 10 surgeries, all of which Prothro said was paid for by Alabama.
The image of Prothro making a famous catch against Southern Mississippi has been sold through the years and appeared in photographs and on TV broadcasts. Alabama received more than $100,000 in scholarship money from Pontiac for the play. Prothro acknowledged at the trial making $9,000 off his likeness after college by signing more than 200 autographs on canvases of artist Daniel Moore's paintings of the famous catch.
Prothro testified he took out student loans mainly for summer expenses, such as bills, food and items for his dorm, and figured he would be able to repay the money after reaching the NFL. Riley learned of Prothro's loan situation during the O'Bannon trial. The O'Bannon plaintiffs are attempting to end the NCAA's rules preventing them from being paid for use of their names, images and likenesses.
Riley, who went to undergrad at Furman and got a Master's degree at Alabama, said she can relate to the demands athletes face because her husband ran track at Auburn.
"I am not for paying college athletes just for being an athlete -- that is what scholarships are for," Riley said. "But when a company, such as X-Box, or the NCAA or a school makes money directly from the image of that athlete, they should be able to be paid a royalty from that. I think revenue between private industry and colleges is different and the NCAA should allow the private company to pay the athlete."
Prothro, who graduated from Alabama and is now an account manger for a Coca-Cola distributor, said he hasn't paid off any of the approximately $10,000 he owes in loans.
"So very grateful," Prothro said of One Stop Environmental's plans. "It's very nice of them to want to help me out with this matter."
Prothro also has claims over the use of his likeness in virtual avatars as part of the popular Electronic Arts college football video games. If the proposed $40 million EA settlement is approved, Prothro will receive $5,000. The NCAA settled for $20 million.
Riley said One Stop Environmental previously donated $10,000 to Furman students who are not athletes. One Stop Environmental will match every donation for Prothro and is trying to set up the account so donors can write off contributions for tax purposes, she said.
"If we need to step up and take care of the whole loan, we'll probably do that," Riley said. "Here was a guy who had done so much for the state of Alabama, both through his God-given talent and the way he entertained so many people by having all of us yelling and screaming on Saturdays, and yet his career ended in such a tragic way. To hear he ended up with remnants of a loan just seemed wrong. I'm sure there are thousands of other guys like him."
Shedrick Jackson is a three-star wide receiver

Nigerians are making waves in the U.S. due to their intensity, intelligence and athleticis...

Have fun with this, SEC defenders
Making plays on the over/under for all 12 teams in the Pac-12

Mike Gundy and the Cowboys know there's one monster they have to contend with in their own...

The initiative has been put forth to offset the burden of declining freshman enrollment