Ex-Auburn player Shaun Kitchens given three years in robbery case
Former Auburn Tiger Shaun Kitchens was sentenced to three years in prison after pleading guilty to first-degree robbery.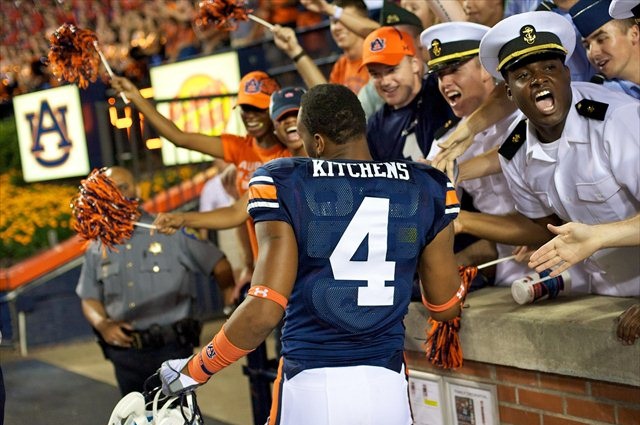 Another former Auburn Tiger has been sentenced to prison in the wake of the infamous 2011 armed robbery that saw four players arrested.
Lee County Circuit Judge Christopher Hughes ordered Shaun Kitchens to serve three years in jail Thursday as part of a 15-year split sentence after Kitchens pleaded guilty to first-degree robbery. The Associated Press also reported that Kitchens was fined $2,000 and will report to a probation hearing Sept. 9.
Kitchens, 21, saw limited time as a freshman for Auburn during the Tigers' 2010 national championship season before being arrested in March 2011 along with safety Mike McNeil, receiver Antonio Goodwin and tight end Dakota Mosley. All were charged with multiple counts of armed robbery, with Goodwin receiving 15 years in prison after being convicted of first-degree robbery in April 2012. McNeil received three years as part of a plea deal in April.  
Mosley is set to stand trial in June. The four teammates were arrested after being discovered by police with a handgun used in the robbery -- one that was later revealed to belong to then-Auburn tailback Michael Dyer -- and items reported stolen by the victims.
McNeil was the subject of a Roopstigo.com story published just before his trial date (and guilty plea) in which he vehemently proclaimed his innocence and accused Auburn of NCAA violations. Mosley and his family were then prominent sources in an ESPN story reporting that Auburn had hidden positive drug tests and failed to respond to widespread "spice" use on the 2010 team. Auburn and athletic director Jay Jacobs vigorously disputed the allegations made by both former players.
Show Comments
Hide Comments
Twenty-eight of 95 early entry prospects went undrafted

The SEC and Michigan each had great weekends in the 2017 NFL Draft

Rawleigh Williams III left the field on a stretcher after a neck injury
Jim Harbaugh wants more college football programs to embrace the international trip

It seems there's a lot of talent in the SEC

There are all sorts of drafts out there and these are my favorites