Ex-USC quarterback Jesse Scroggins signs with Arizona
Former USC quarterback Jesse Scroggins plans to enroll at Arizona in time for spring practice with the Wildcats, with two years of eligibility remaining and an eye on taking over for outgoing senior Matt Scott.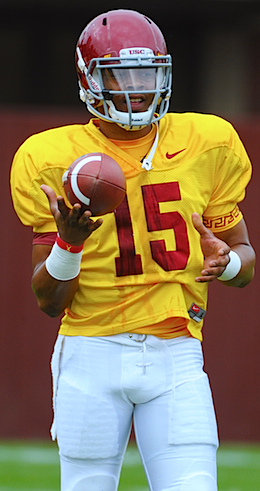 Scroggins was a high school All-American but took only one snap in two seasons at USC. (US Presswire)
It took three years and a detour through junior college, but Jesse Scroggins is reviving his college career the way it began, as the heir apparent to a starting quarterback job in the Pac-12. As expected, Scroggins signed a letter of intent Wednesday with Arizona, a little more than six months after transferring from USC. He plans to enroll in time for spring practice, with two years of eligibility remaining and an eye on taking over for outgoing senior Matt Scott.
"He's a talented guy," Arizona coach Rich Rodriguez told the Tucson Citizen. "He's probably a little hungry to go out and prove himself. We're trying to create competition at every position, and he'll certainly bring that."
Scroggins was one of the highest-rated quarterback prospects in the country in 2010 when he arrived at USC as a well-regarded, four-star pocket passer out of nearby Lakewood High. With the Trojans, though, recruiting hype only gets you in the door: After a redshirt year, Scroggins struggled through a preseason injury in 2011 and failed to separate himself from true freshmen Cody Kessler and Max Wittek, both of whom arrived with similar hype and designs on succeeding Matt Barkley as the starter in 2013. Technically, the race remained wide open last spring, but Scroggins was forced to direct most of his energy instead to crawling out of "a hole" in the classroom to remain academically eligible.
In fact, he succeeded on that front, according to coach Lane Kiffin, who congratulated Scroggins for "a very strong spring semester in the classroom." But with Kessler and Wittek progressing as expected, five-star prospect Max Browne expected to join the competition next year and the Trojans needing to shed scholarships to comply with the reduced cap mandated by NCAA sanctions, Scroggins' exit was no surprise.
At El Camino College in Torrance, Calif., Scroggins appeared in eight of 10 games this season with 1,148 yards passing, eight touchdowns and five interceptions. At Arizona, he'll join a crowded competition that includes Scott's top backup in 2012, senior B.J. Denker, as well as Nick Isham, a walk-on who started seven games at Louisiana Tech in 2011 as a true freshman. Looking beyond spring practice, there's also Anu Solomon, a four-star recruit from Las Vegas who is expected to arrive in the summer. Of that group, Scroggins may have the biggest arm, but he will have to overcome doubts about his athleticism in a system that (very much unlike USC's) puts a premium on mobility.
Rodriguez's quarterbacks do not all have to be Pat White or Denard Robinson in the open field -- Scott led the Pac-12 in total offense this season without eye-popping stats on the ground -- but they do have to run well enough to force the defense to account for the possibility. At 6 feet 3, 210 pounds, Scroggins is considered more of a pocket passer than a dual threat.
"I think he can make all the throws. And his arm is going to be stronger now than when he was out of high school, and his arm strength was good back then," Rodriguez said. "There will only be hand-wringing [over the starting quarterback] if we don't think we have two or three we think can play well enough to win."
Show Comments
Hide Comments
Ohio State is favored to win the Big Ten, but is it the best bet?

USC enters as the favorite, but are the Trojans the best bet?

Jim Harbaugh's Michigan staff will be at FAU on June 5
These five coaches will be hot names on the market after the 2017 season

The Big 12 could be wide open in 2017 ... we mean it this time

Rhule's stance on sexual violence is much-needed for a program that's been submerged in co...