FCS Coaches Poll has champion North Dakota State No. 1
The FCS preseason Coaches Poll has been released, and not surprisingly has two-time defending national champion North Dakota State on top.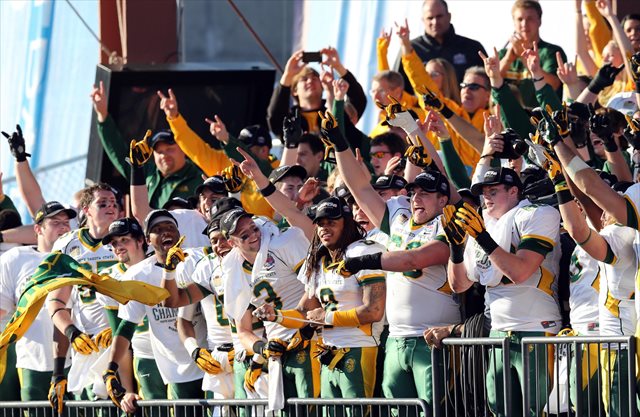 Is there another Appalachian State hiding in the FCS Coaches Poll preseason top 25, released Tuesday?
Probably not -- the only 2013 FBS opponent for the current version of 2007's Mountaineers, two-time defending national champion and No. 1 North Dakota State, is unranked Kansas State. But any FBS team facing any of the teams listed below should consider itself warned. Via the NCAA's official site:
Here's the others receiving votes: Wagner (87), Colgate (67), Tennessee State (52), Harvard (48), Delaware (47), The Citadel (39), Liberty (39), Arkansas Pine-Bluff (35), Indiana State (27), Stephen F. Austin (19), McNeese State (16), Penn (13), Alcorn State (12), Jacksonville State (11), Samford (10), Norfolk State (7), Alabama State (7), UC Davis (7), Southern Illinois (6), Maine (5), Albany (5), Tennessee Tech (5), UT Martin (4), Gardner Webb (4), Sacramento State (3), Hampton (3), San Diego (2), Jackson State (1), Missouri State (1), Brown (1).
And since you're wondering, here's the FBS opponents for each of the top 10 schools above (all games on the road, of course):
1. North Dakota State: Kansas State (Fri., Aug. 30)
2. Montana State: SMU (Sept. 7)
3. Eastern Washington: Oregon State (Aug. 31), Toledo (Sept. 14)
4. Sam Houston State: Texas A&M (Sept. 7)
5. Wofford: Baylor (Aug. 31)
6. Central Arkansas: Colorado (Sept. 7)
7. South Dakota State: Nebraska (Sept. 21)
8. New Hampshire: Central Michigan (Sept. 7)
9. Villanova: Boston College (Aug. 31)
10. Illinois State: Ball State (Thurs., Aug. 29) 
Show Comments
Hide Comments
Welcome to the world, Flynt Anderson-Foster Pruitt

Baylor should value faith over football and do what's right in the wake of seven Title IX...

The conference will adopt two divisions when it becomes a 10-team league in 2018
Like his brother, Lanard Fournette will be running the ball for the Tigers

Ranking the strength of schedule for each of the 12 teams in the Pac-12 entering the seaso...

Thomas Tyner will reportedly re-start his college football career at Oregon's biggest riva...