Fiesta Bowl Quick Hits: Oregon 35, Kansas State 17
The Ducks get a huge score before halftime and ride the momentum to a decisive victory.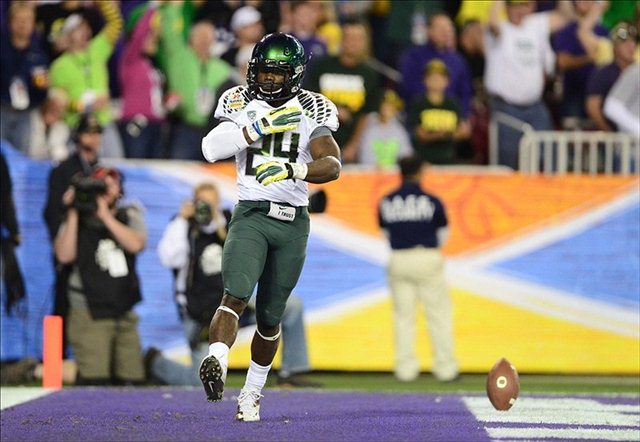 Kenjon Barner finished with 142 yards rushing and a receiving touchdown. (US Presswire)
OREGON WON. It wasn't quite a prototypical Oregon game, not with the Ducks sitting on less than 100 yards of offense when they took over with exactly 60 seconds left to play in the first half; Kansas State had ground out a pair of long scoring drives and the Ducks hadn't been able to get much of their trademark up-tempo game going. And even in the end, 393 yards and 35 points aren't what Chip Kelly sees in his dreams.
But between the start of that critical late-second quarter drive and the Ducks pulling their foot off the pedal in the fourth quarter, the Ducks did what the Ducks do, rattling off a 50-second drive touchdown drive to end the half, a 2 minute, 14-second field goal drive to open the third quarter, and a 2 minute, 34-second touchdown drive the possession after that. Result: a 15-10 lead that looked like it might not even survive to halftime ballooned to 32-10. Given how much work Kansas State seemed to need to score: game over. The Ducks only truly played like the Ducks for that 8-minute stretch of game time, but that's the beauty of Chip Kelly's Oregon; that was enough.
WHY OREGON WON. Kenjon Barner finished with 167 yards from scrimmage and a touchdown, Marcus Mariota was named offensive MVP after 166 yards passing and two touchdowns to go with 62 yards and a touchdown rushing, and De'Anthony Thomas gave the Ducks a lead they would never relinquish by returning the opening kickoff for a score.
But the game belonged first and foremost to the Oregon defense, which never let Collin Klein become the player he was for most of the 2012 regular season and his distinguished career. Harried in the pocket, his receivers regularly blanketed, his running lanes routinely shut down -- the Wildcats' opening drive ended in a stuffed Klein rushing attempt on 4th-and-1, setting the tone for the game -- Klein finished averaging just 4.7 yards per pass attempt and 2.3 yards per-rush. (The primary Duck culprits? Defensive MVP Michael Clay, with 9 tackles and a sack, and omnipresent linebacker Kiko Alonso.)
The Kansas State defense had its moments. But there was never going to be enough of them with the Wildcats' one true superstar bottled up so badly.
WHEN OREGON WON. Down 32-17 with under 8 minutes remaining i nthe game, Kansas State faced 4th-and-9 at their own 28. Long odds or not, two possessions for the Wildcats' glacially-paced offense meant they couldn't afford to give the ball back to Oregon ... which they did anyway. A handful of easy Barner-driven first downs later, the game was finished.
WHAT OREGON WON. Their second straight BCS bowl game after the 2012 Rose Bowl breakthrough and a 12th game for the third consecutive season. This is universally expected to have been Chip Kelly's last game before moving to the NFL; he may have never won Oregon a national title, but after Thursday, it's fair to say he did everything else he possibly could for the program in his four short years as head coach.
WHAT KANSAS STATE LOST. No one at Kansas State will mourn slipping from 11-1 to 11-2 too intensely, not after the Big 12 title has already been won and Bill Snyder's collection of diamonds-in-the-rough had already overachieved so dramatically to make the Fiesta in the first place. But sending Klein and many other fantastic seniors off on such a sour note stings, and it stings all the more for the Wildcats now having lost their last five bowl games. Great regular season or not, winning this one would have been big.
FINAL BOWL GRADE. The first half was entertaining, with big plays on either side and some trickeration deployed by both coaches. But Oregon's 17-0 run over the second and third quarters sucked the life out of the game as the Wildcats never looked like they'd do more than nab some late consolation points. Grade: B-.
For more college football news, rumors and analysis, follow @EyeOnCFB on Twitter, subscribe to our RSS Feed, college football newsletter, and get the Eye On College Football Podcast from iTunes. You can follow Jerry Hinnen on Twitter here: @JerryHinnen.
New odds to make the College Football Playoff have been released by Bovada.LV

The former Penn State kicker served as the Nittany Lions' kickoff specialist

Delany will reportedly receive $20 million in 'future bonus payments' from the Big Ten
Tom Allen welled up when speaking about Hugh Freeze and his resignation at Ole Miss

Oatis is a very large child prodigy

Chip and Barton break down the scandal leading to Hugh Freeze's resignation