Final AP Top 25 poll: Stanford, Ohio State rewarded for big bowl wins
Alabama, Clemson, Stanford, Ohio State and Oklahoma round out the top five of the final Associated Press Top 25 college football rankings.
• 1 min read
An onside kick, the much-awaited emergence of an immensely talented tight end and a back-breaking 95-yard kickoff return from Kenyan Drake were the difference for Alabama Crimson Tide in a 45-40 win against Clemson in the College Football Playoff National Championship. 
Nick Saban told ESPN's Scott Van Pelt it was the toughest win of the five National Championships he has participated, and college football fans everywhere relished in the thrill of the game's best quarterback at the moment, Deshaun Watson , showing up with a historic performance against the best defense in the country. 
Alabama finished No. 1 in the final Associated Press Top 25 of the season, followed by a very worthy Clemson Tigers team at No. 2. Fans and coaches are always interested to see where their team fell in this final poll, thanks to the contractual bonuses and months of bragging rights on the line. Stanford and Ohio State were rewarded for their top-notch bowl performances with a top five finish, and Ole Miss crept into the top 10 after its Sugar Bowl win against Oklahoma State. 
Check out the final full AP Top 25 below: 
1. Alabama (14-1) -- 61 first-place votes
2. Clemson (14-1)
3. Stanford Cardinal (12-2)
4. Ohio State Buckeyes (12-1)
5. Oklahoma Sooners (11-2)
6. Michigan State Spartans (12-2)
7. TCU Horned Frogs (11-2)
8. Houston Cougars (13-1)
9. Iowa Hawkeyes (12-2)
10. Ole Miss Rebels (10-3)
11. Notre Dame Fighting Irish (10-3)
12. Michigan Wolverines (10-3)
13. Baylor Bears (10-3)
14. Florida State Seminoles (10-3)
15. North Carolina Tar Heels (11-3)
16. LSU Tigers (9-3)
17. Utah Utes (10-3)
18. Navy Midshipmen (11-2)
19. Oregon Ducks (9-4)
20. Oklahoma State Cowboys (10-3)
21. Wisconsin Badgers (10-3)
22. Tennessee Volunteers (9-4)
23. Northwestern Wildcats (10-3)
24. Wisconsin Badgers (12-2)
25. Florida Gators (10-4)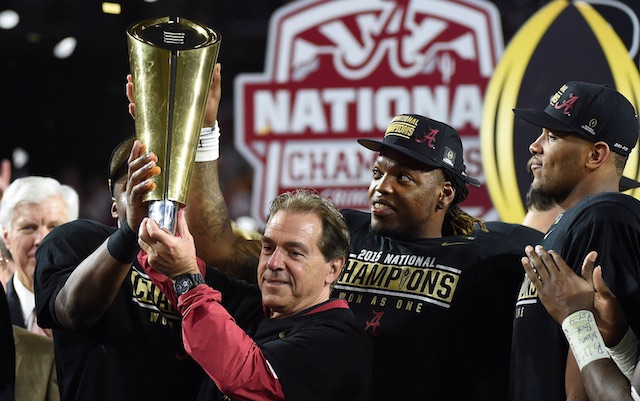 Show Comments
Hide Comments
Our Latest Stories
North Carolina's HB2 law has led to the ACC and NCAA moving events out of the state

Blake Barnett took the first snaps of the season

Tennessee heads to Georgia for a key SEC East matchup this Saturday on the SEC on CBS
The Tigers are elite ... for now ... but they weren't always that way

The coin will be used at all seven Big Ten games this weekend

The SEC ruled Powell eligible for Vanderbilt after getting ejected for throwing a punch