Five current, former Middle Tennessee players arrested in brawl
A club employee described the scene to emergency dispatchers as 'an all-out riot' and said 'we have all hell breaking loose right now.'


Anthony Amos, Marcus Henry, Jerrold Frazier, Jared Singletary, Adam Stickel. (Rutherford County Sheriff)
Five current and former Middle Tennessee football players were among eight people arrested over the weekend in an early morning brawl at a local club, including All-Sun Belt Conference wide receiver Anthony Amos. All five played for the Blue Raiders in 2012, and three are on the projected roster for 2013.
According to Murfreesboro police, the fight began inside the club early Sunday morning but eventually spilled outside, where more than 300 people were reportedly involved. A club employee described the scene to emergency dispatchers as "an all-out riot" and said "we have all hell breaking loose right now," although there were no reported injuries.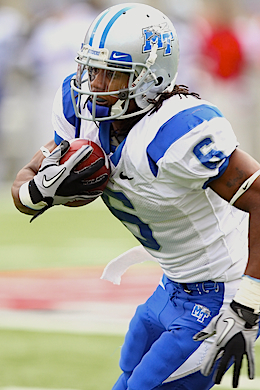 Amos was a 2012 All-Sun Belt pick. (USATSI)
Amos, 22, was charged with disorderly conduct, a misdemeanor. As a senior, Amos led the Blue Raiders with 72 receptions for 992 yards and nine touchdowns -- most notably, a leaping, one-handed grab against Georgia Tech that made national highlights -- good enough for a first-team all-conference nod from Sun Belt coaches and an invitation to January's East–West Shrine Game for NFL hopefuls, in which he scored a touchdown.
Amos' roommate, sophomore wide receiver Marcus Henry, 20, was charged with disorderly conduct, evading arrest and resisting arrest. A third roommate, Oakland University basketball player George Stanberry, 18, was charged with disorderly conduct and underage consumption.
Cornerback Jared Singletary, a 19-year-old redshirt freshman from Green Cove Springs, Fla., was also charged with disorderly conduct. Offensive lineman Adam Stickel, an 18-year-old freshman from Kissimmee, Fla., was charged with disorderly conduct as well as underage consumption, resisting arrest and public intoxication.
On top of disorderly conduct, former MTSU defensive lineman Jerrold Frazier was charged with assaulting an officer and resisting arrest. Frazier, 19, was recently released from the team for unspecified reasons after accounting for 12 tackles last season as a redshirt freshman.
All five players were reportedly free on bond. Henry, Singletary and Stickel haven't been officially suspended. In a statement released on Tuesday, coach Rick Stockstill said he was "disappointed" in the arrests and stressed that the incident was not a reflection of the program. "We will react accordingly after gathering all the information," he said. "We always try to represent our university to the highest standards, and matters like this are taken very seriously."
Show Comments
Hide Comments
Former Aggie Antonio Armstrong, and his wife Dawn, were shot in their home by their 16-year...

A golf career is not in Bret Bielema's future

Screw what the AAC -- created to save some of these schools -- thinks: It's Big 12 or bust...
In this week's Friday Five we rank five teams who might not be as successful in 2016

The Head Ball Coach is heading home to Gainesville, Florida, with a new role in the athletic...

From being undecided on expansion to most expecting them to hold tight at 10 to suddenly considering...