Five Lessons We Learned: Duke is in driver's seat in ACC Coastal
It's time to give Duke its due after its takedown of Miami. The Blue Devils are headed back to a bowl -- and in the driver's seat of the ACC Coastal.
The reason that college football is the best game in the world (I know the NFL is more popular, but that doesn't mean it's better) is that it provides a weekly drama that never disappoints.
Don't believe me? Go back and look at two games: Georgia Bulldogs at Auburn Tigers and UCF Knights at Temple Owls .
It's drama as thick as it gets.
And here's the good news: The drama will only build and get more intense in the final three weeks to come.
Here are Five Things We Learned in Week 12:
Georgia-Auburn was one for the ages
I saw my first Georgia-Auburn game in 1971 when Auburn quarterback Pat Sullivan locked up the Heisman Trophy with a magnificent performance in a 35-20 win in Athens.
I was at Auburn in 1996 when Georgia scored to tie the game on the final play of regulation (Mike Bobo to Corey Allen) and then won it in four extra periods, 56-49. It was the first overtime game in the SEC.
I was watching from another press box in 2002 when David Green e hit Michael Johnson on one of the most famous plays in school history (70 X Takeoff), a 19-yard TD pass on fourth down that gave Georgia a 24-21 victory. That win clinched the SEC East and two weeks later Georgia won its first SEC championship in 20 years.
I have watched video of, and interviewed Fran Tarkenton about, his 13-yard touchdown pass to Bill Herron to beat Auburn 14-13 and win the SEC championship in 1959.
I have either witnessed or interviewed people about every classic game played between Auburn and Georgia since the 1940s.
Saturday's 43-38 win by Auburn was the best game in my lifetime. I'm not big on absolutes, but think about what was on the line. Auburn had blown a 20-point fourth-quarter lead when its fans were already thinking about the Iron Bowl on Nov. 30. Georgia stormed back and took the lead, 38-37 with 1:49 left, thanks to yet another magnificent performance by Aaron Murray . In the last 12:39 of the game Murray completed 11 of 17 passes for 150 yards with two touchdowns passing and another running.
And just as it looked like Georgia had broken the hearts of the Auburn nation, a bounce of the ball handed Georgia one of its most devastating losses ever. It's one of Auburn's biggest wins because now the Tigers, after going 0-8 in the SEC a year ago, get to host Alabama Crimson Tide on Nov. 30 with EVERYTHING on the line.
It was a great, great game and the perfect example of why we love college football.
Duke is no joke
Here is a sentence we thought we would never write: "After a decisive win over Miami, Duke now controls its destiny in the ACC Coastal Division."
Yep, there it is, and it's 100 percent true. The Duke Blue Devils of David Cutcliffe (8-2, 4-2 ACC) controlled the fourth quarter to beat Miami 48-30 in Durham. Now the Blue Devils have a bunch of "firsts" they can accomplish:
They are surely headed to their second straight bowl game, something the school has never done. If they can win at Wake Forest Demon Deacons (4-6, 2-5 ACC) this week and North Carolina Tar Heels (5-5, 4-3) Nov. 30, the Blue Devils will play in their first ACC championship game against Florida State.
The last time Duke won an ACC championship in football was 1989, when Steve Spurrier was coaching his final season before heading to Florida. Duke's two losses have been to Georgia Tech Yellow Jackets (38-14) and Pittsburgh Panthers (58-55).
Cutcliffe, in his sixth season at Duke, always believed that the Blue Devils could be consistent in football.
"It's about recruiting the right people and coaching them up to their maximum," Cutcliffe said. "We have a great situation here at Duke and we've certainly got something to sell in a Duke education. It is our job to find the young men who want the best of both worlds."
Coach O sure is making it tough on Pat Haden
When it comes to coaching, we tend to focus way too much on schemes and the X's and O's of one guy trying to outthink another. Because at the end of the day the most important thing a coach can do is convince his guys to play hard for every single play of the 60 minutes. After watching USC beat Stanford Cardinal 20-17 Saturday night, it is obvious this group of players loves taking the field with Ed Orgeron as its leader.
The Trojans have now won five of six games since the Boy Wonder (a.k.a Lane Kiffin) was let go. The same group of players that lost 10-7 to Washington Huskies State and gave up 62 points to Arizona Wildcats State held Stanford to just 17 points. The difference? The Trojans play hard for this guy.
Conventional wisdom (with which I happen to agree) is that Orgeron will not be named the permanent head coach after this season. His three-year experiment as the head coach at Ole Miss Rebels did not go well. Orgeron is a great recruiter and a very good position coach. Kids like him.
But what if he beats Colorado Buffaloes and UCLA Bruins and finishes 9-3? I still say Haden has to go out and find an established head coach. But Orgeron isn't going to make it easy on Hayden.
It's Baylor-Oklahoma State for the Big 12 championship
Baylor Bears (9-0, 6-0 Big 12) fell behind Texas Tech 20-7 before it blew by the Red Raiders 63-34 Saturday night. Oklahoma State Cowboys (9-1, 6-1) basically toyed with Texas before winning 38-13 and handing Mack Brown his worst home loss ever.
I know what the schedule says. It says that Texas Longhorns and Oklahoma Sooners are still mathematically in this thing. Because if Baylor beats Oklahoma State on Saturday and Texas (7-3, 6-1) wins its last two games over Texas Tech Red Raiders (Thanksgiving night) and on the road at Baylor (Dec. 7), then the Longhorns would win the Big 12 title.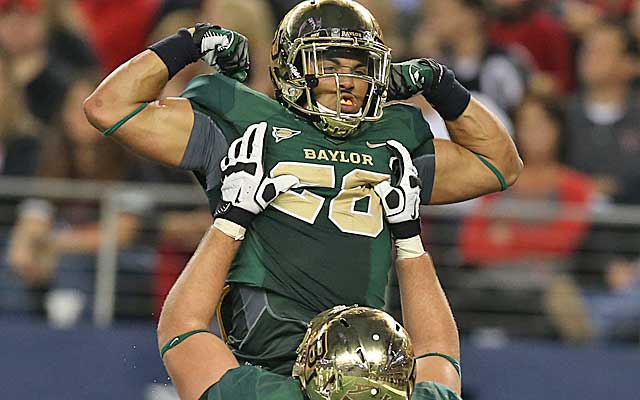 But that's not what is going to happen. The winner of Saturday night's Baylor-Oklahoma State game in Stillwater is going to represent the Big 12 in the BCS, probably the Fiesta Bowl.
It seems like a million years ago since Oklahoma State laid an egg at West Virginia who, by the way, lost to Kansas Jayhawks on Saturday. But the Cowboys and Bears are the best two teams in the Big 12 and Saturday they will decide it. It should be fun.
Now the Gamecocks must wait
Mizzou, the floor is yours: Georgia's loss to Auburn and South Carolina Gamecocks 's 19-14 nail-biter over Florida cleared up the SEC East race considerably.
The Gamecocks are done in SEC play with a 6-2 record (losses to Georgia and Tennessee Volunteers ). They host nonconference Coastal Carolina on Saturday and finish with state rival (and No. 7 ranked) Clemson Tigers on Nov. 30.
Missouri Tigers (9-1, 5-1 SEC) had Saturday off. The Tigers finish with two tough games at Ole Miss (7-3, 3-3), which has won four straight, and then close out the season by hosting Texas A&M (8-2, 4-2), which is trying to get to 10-2 and the at-large BCS berth.
Missouri has to win them both to get to Atlanta, because the Tigers' only loss was to South Carolina in overtime back on Oct. 26.
It's a tall order but if Missouri wins both games to finish 11-1, there is no doubt they deserve to take on either Alabama or Auburn for the championship. If not for Gus Malzahn at Auburn, Missouri's Gary Pinkel would be your SEC Coach of the Year.
Show Comments
Hide Comments
Our Latest Stories
The feature includes interviews with Dabo Swinney and Nolan Turner

Want to play in Super Bowl LI? Play football down south ... or in New Jersey

Sunday's Arkansas Democrat Gazette featured an angry ad from a fan
David Reaves has been suspended indefinitely and will be terminated after a DUI charge

The former Arizona State play caller will replace Rhett Lashlee as Auburn's offensive coor...

Players' overloaded schedules don't need added activities but changes in how games are sch...