Florida G Jon Halapio, RB Matt Jones out for opener
Will Muschamp confirmed Friday that RB Matt Jones and guard Jon Halpaio would not be available for the Gators' season opener vs. Toledo.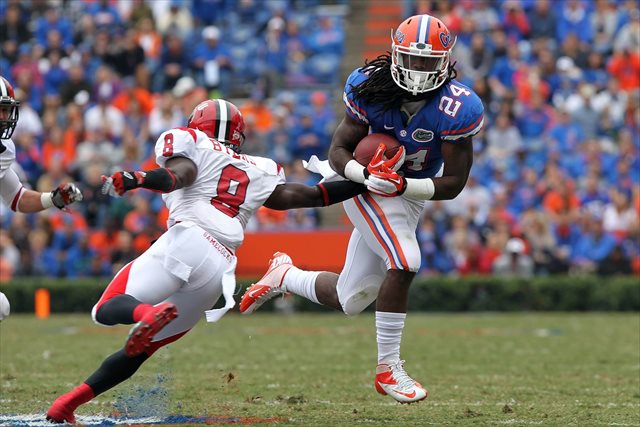 It's no secret that even if Jeff Driskel and the much-maligned Florida receiving corps dramatically improve in 2013, the Gators will still rely -- and rely heavily -- on their running game. So you can forgive Will Muschamp if he seems a little testy Friday, since he also had to announce that two key components of that running game won't be available for the season opener.
Muschamp confirmed that the viral infection that has sidelined starting tailback Matt Jones for nearly all of fall camp would also prevent him from seeing the field in the Gators' Week 1 matchup with Toledo. He added that Jones would have more blood work done this Monday and be "questionable from there on out," per the Orlando Sentinel.
The insult to that injury happens to be, well, another injury: Muschamp also confirmed that senior guard Jon Halapio's torn pectoral muscle will keep him out until at least the Gators' Sept. 21 SEC opener against Tennessee -- meaning he will miss both the Toledo game and the trip to Miami the following week.
The loss of Halapio is arguably an even bigger blow than losing Jones; the 6-foot-3, 321-pound senior has started 33 games in his Florida career, including every game in both the 2011 and 2012 seasons. But that's not to say that Jones won't be missed, either, with the sophomore enjoying a huge spring and tabbed by many Gator observers as the offense's most likely breakout star.
Jones will likely be replaced by junior Mack Brown, who rushed for 102 yards with a 4.1 yards-per-carry average. Per gatorzone.com, Muschamp has not made a decision yet on whether highly-touted freshman running backs Kelvin Taylor (a 247Sports composite five-star) and Adam Lane will be redshirted or thrown into the mix. 
Whoever gets the call at tailback will also have to deal with a line damaged by Halapio's absence. Against the Rockets, it might not matter, though Matt Campbell's team did begin 2012 by taking Arizona to overtime, went 9-3 the rest of the season, and return 9 starters on what should be an explosive offense. Against the Hurricanes, all bets would be off.
The Florida running game was supposed to be the one thing Muschamp's offense could hang its hat on. But with only eight days before the season starts, it suddenly looms as one of the team's bigger question marks.
Show Comments
Hide Comments
Twenty-eight of 95 early entry prospects went undrafted

The SEC and Michigan each had great weekends in the 2017 NFL Draft

Rawleigh Williams III left the field on a stretcher after a neck injury
Jim Harbaugh wants more college football programs to embrace the international trip

It seems there's a lot of talent in the SEC

There are all sorts of drafts out there and these are my favorites