Florida State opens up as 7-point favorite vs. Auburn
The matchup won't be official until Sunday night, but you can already wager on it in Las Vegas.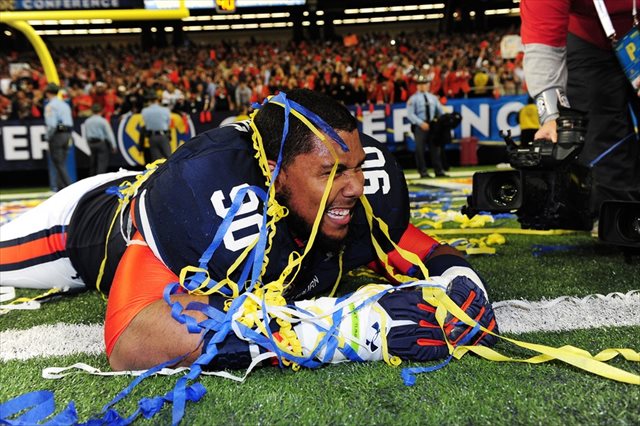 The BCS Championship Game matchup between Florida State and Auburn won't be officially official until later Sunday night. But naturally, that doesn't mean you can't wager on Seminoles vs. Tigers already.
And for all the SEC's BCS success -- the conference has never lost a BCS Championship Game to a team from another league, going a collective 8-0 -- it's the ACC champion that will enter as a heavy favorite. Per R.J. Bell of pregame.com, the Las Vegas Hilton opened Florida State as a full seven-point favorite over Auburn.
And that line seems likely to shift even further in the Seminoles' direction. Bell reported that one offshore oddsmaker had already moved the line all the way to Florida State -9.5, with other offshore books currently listing the game at either Seminoles -8 or -8.5.
Auburn supporters will, of course, find plenty of reason to believe their team is undervalued here; in addition to the SEC's spectacular BCS track record, the Tigers have played a quantifiably more difficult schedule than Florida State, have the accompanying better wins, and have gone a perfect 5-0 against the spread as an underdog this season with (you've figured this part out already) four straight-up victories.
But the numbers that will loom larger where oddsmakers are concerned are 42.3 and 16.2 -- the 'Noles and Tigers' respective average margin of victory. The Tigers may have gone 12-1 against one of the most difficult schedules in the country, but they needed six victories by eight points or fewer to manage it, while the Seminoles didn't win any of their 13 games by fewer than two touchdowns.
That will suggest to Vegas -- and the power rankings of number-crunchers like Jeff Sagarin, whose Predictor ratings have FSU at No. 1 and Auburn No. 11 -- that whatever the difference in strength-of-schedule, the 'Noles are the clearcut superior team. 
While the college football world will have to wait until January to discover if that's the case, it's enough to place your best right now.
Show Comments
Hide Comments
Former Aggie Antonio Armstrong, and his wife Dawn, were shot in their home by their 16-year...

A golf career is not in Bret Bielema's future

Screw what the AAC -- created to save some of these schools -- thinks: It's Big 12 or bust...
In this week's Friday Five we rank five teams who might not be as successful in 2016

The Head Ball Coach is heading home to Gainesville, Florida, with a new role in the athletic...

From being undecided on expansion to most expecting them to hold tight at 10 to suddenly considering...