For none of the Tostitos! Brand ends Fiesta Bowl sponsorship
After 18 years, Frito-Lay has reportedly ended the Tostitos brand's title sponsorship of the Fiesta Bowl.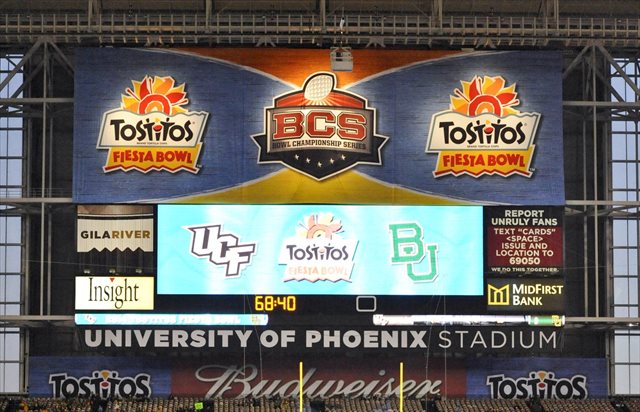 More college football: Jon Solomon | Dennis Dodd | Jeremy Fowler | Latest news
One the longest-standing and most recognizable bowl-and-sponsor partnerships in college football is reportedly coming to an end.
The Sports Business Journal reported Monday that parent company Frito-Lay will not renew the Tostitos brand's title sponsorship of the Fiesta Bowl, ending an 18-year association. Per the SBJ, College Football Playoff rights holder ESPN is currently looking for a new Fiesta sponsor.
The report was confirmed minutes later by ESPN:
Frito-Lay confirms it has ended Tostitos' 18-year association w/the Fiesta Bowl to "steer its marketing & growth strategies differently."

— darren rovell (@darrenrovell) June 9, 2014
The Tostitos decision is just one of several major moves in the world of bowl sponsorships reported by SBJ. Citing sources, the publication indicates Discover has pulled out of its four-year sponsorship of the Orange Bowl, and is set to be replaced by credit-card competitor Capital One. Capital One would, in turn, end its sponsorship of the Capital One Bowl, leaving the game formerly known as the Citrus to find a new title sponsor. 
The reports come on the heels of Northwestern Mutual's May announcement that it had become the presenting sponsor of the Rose Bowl, replacing Vizio.
The SBJ writes that ESPN's asking price for title sponsorships has increased from the $15-to-$20 million per-year range to near $25 million after the establishment of the College Football Playoff, and that "the price increase ... could have played a role" in the Tostitos decision.
Whichever sponsor does replace the popular corn chips, those who remember his 2010 reaction to Oregon's BCS championship berth will join us in hoping it's one that Puddles can photogenically stuff down his plush gullet:
Photo credit: Getty Images
Show Comments
Hide Comments
Ousted by a school despite not being charged with a crime, Faulk is clawing his way to the...

Sometimes spring practice is about avoiding the negatives as much as it is building moment...

Baylor is moving to dismiss the lawsuit, filed in January, on a two-year statute of limita...
USF senior Hassan Childs was injured in a shooting on Saturday night

It looks like LSU is moving towards having a beer garden for its home games

HB1249 would allow Arkansans with a certain permit to carry guns almost anywhere in the st...