For some top QBs spring break was no vacation
When Tajh Boyd showed up in California last month for his spring break to train with George Whitfield, the private QB coach got an an idea of why the Clemson star often throws the way he does.
When Tajh Boyd showed up in California last month for his spring break to train with George Whitfield, the private QB coach got an an idea of why the Clemson star often throws the way he does.
"Physically, he looks like a WILL 'backer with those big shoulders and traps," Whitfield says of the 6-1, 225-pounder. "Sometimes with guys like that, they tend to wear it like, 'This is who I am.' So he wouldn't really step into the throw because he felt like he didn't need to. He'd just gun it."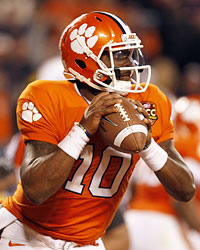 To remedy that, Whitfield worked on Boyd's footwork and base, while incorporating more of the Tiger's lower body into his delivery. The coach rigged a bungee chord to the front of Boyd and would pull him forward to prompt the QB to stride toward his target. If Boyd didn't, Whitfield says, the Clemson star couldn't help but fall forward. 
"His arm is huge," says Whitfield, adding that because of that Boyd is "less inclined to be detailed with his legs." Guys who aren't as physically impressive or blessed with such a powerful arm tend to do a better job of incorporating their entire body into their delivery to maximize what they do have. "I keep telling him to 'work like you're 5-11, 185.'" 
It also helped that Boyd got a chance that week up at Stanford to observe and work with Andrew Luck and Oklahoma's Landry Jones, a guy who has thrown 93 touchdowns in his three seasons as the Sooners' starter.
"Maybe the biggest thing for Tajh was that he got to watch how Andrew and Landry and see how they approach the game," Whitfield says. 

 
Jones and Boyd would work with Whitfield in the mornings. Then, they'd get a break and come back when the coach trained Luck. "If I stressed something to Andrew, I could I see Tajh doing it on air 30 feet behind us," Whitfield says. "I was really impressed with how hard of a worker he is and how humble and determined. It wasn't like some alpha (male)-alpha (male) deal."

 
Clemson coach Dabo Swinney said that just the fact that Boyd opted to spend his spring-break training across the country with Whitfield, an outside coach, is an indication of the QB's attitude. (As I mentioned
in the feature on Whitfield
Monday he charges $200 a day, which is a fee that Boyd had to cover.) 
"That's just Tajh trying to get better," Swinney told reporters. "The fact that he chose to improve his craft is a testament to his work ethic." 

If Boyd gets much better in Year II as a starting QB -- and you figure he probably will -- the Tigers offense should be scary, especially since Sammy Watkins and a dynamic group of young receivers should be poised for a big jump themselves now that they too have some added seasoning. In 2011, Boyd threw for almost 4,000 yards to go with 33 TDs and just 12 INTs. But there is still some aspects of his game that need plenty of refinement, and Boyd was well aware of them.

 
Before Whitfield starts working with a college quarterback, he asks them to list six things they want to work on. Boyd said he wanted to throw better on the run and hone his accuracy on the deep ball, but also knew he needed work on ball security, game management and pocket presence. (He was sacked 31 times last season.)

Jones, too, wanted to develop his pocket presence, and also get better at being able to throw with crowds around his feet and become more adept at evading pressure coming through the line-of-scrimmage. In addition, the Sooner standout had the opposite issue of Boyd mechanically, Whitfield said. Jones needed to get better at driving off his back foot to gain more "horsepower."

 
To get Boyd and Jones better acclimated to coping with pressure in the pocket, Whitfield lined up 6-foot high tackle bags in random sequences, setting them one-and-a-half feet apart. In the drill, Whitfield would have the quarterback maneuver through the bags, while a set of receivers were lined up downfield. When one of the receivers would be signaled as open, if the QB happened to be behind a big bag, he had to immediately scoot out and make the throw. "It really is about getting them to work in traffic," Whitfield said.

 
Another drill, which you may have noticed from Luck's Pro Day, involved Whitfield throwing a small bean bag towards them. That would prompt the quarterback to react on the fly, whether the QB had finished his five or seven-step drop or not. "You're forcing him to make an adjustment as soon as the bag hits the ground," Whitfield explains. "You want the ball out immediately, so before he can hit the last step of his drop, I'm firing (the bag)."

 
Whitfield would throw the bag anywhere, in front of the QB, behind him, wherever. "We call it a green zone. They're moving towards where the bean bag goes, and I want him to re-set, and get there with a base that he can throw from. It's the QB's responsibility that he's not getting caught standing straight-legged or with his belt buckle facing the line-of-scrimmage. They have to stay on guard."

Whether defenses will be ready for them in 2012 is a whole other story. 
The loaded Alabama running back depth chart is losing one name

Give the first-year coach of the Tigers a little bit of time, and he'll be fine

What if, Nick Saban wonders, recruits start skipping their senior year of high school foot...
These three teams could surprise in 2017

The redshirt senior was one of just four returning starters on the Gators' defense

With changes at Texas and Oklahoma, the guys preview the Big 12 in 2017