Former BYU, Raiders star Todd Christensen dies at 57
A five-time Pro Bowler and two-time Super Bowl champion, Todd Christensen passed away Wednesday morning from complications from surgery.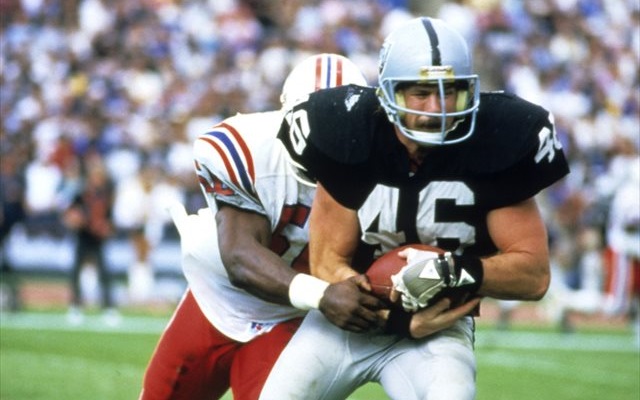 Former BYU standout and Oakland/Los Angeles Raider tight end Todd Christensen died Wednesday morning due to complications from surgery, BYU announced.
Christensen was 57 and, per the Salt Lake Tribune, had battled liver disease and other illnesses.
As a Raider, Christensen won two Super Bowls (1980, '83), attended five Pro Bowls (1983-87) and twice led the NFL in receptions. In 1983, Christensen caught 92 passes for a career-high 1,247 yards and 12 touchdowns, helping lead the Raiders to a 38-9 win over the Washington Redskins in Super Bowl XVIII.
Christensen retired from football in 1988.
Following his football career Christensen also gained fame as a broadcaster, working as an NFL analyst for NBC in the early 1990s, briefly co-hosting the fondly remembered American Gladiators with Mike Adamle, and appearing as a color analyst for ESPN, the mtn., and CBS Sports Network. 
A Pennsylvania native who grew up in Eugene, Oregon, Christensen earned a scholarship with the Cougars and played from 1974 to 1977, starring as an all-purpose running back. Christensen led the team in receiving three times and finishing with 152 career receptions for 1,568 yards and 15 touchdowns.
The Dallas Cowboys took Christensen in the second round of the 1978 draft, with Christensen moving to the Raiders -- and to tight end -- in 1979.
He was inducted into the BYU Sports Hall of Fame in 1992.
Show Comments
Hide Comments
Have fun with this, SEC defenders

Making plays on the over/under for all 12 teams in the Pac-12

Mike Gundy and the Cowboys know there's one monster they have to contend with in their own...
The initiative has been put forth to offset the burden of declining freshman enrollment

How will the Big 12 shape up in 2017? Let's take a team-by-team look

Kush went 176-54-1 in 22 seasons at Arizona State