Former Florida State quarterback Clint Trickett talks Seminoles, Tigers
West Virginia quarterback Clint Trickett, a former FSU QB, knows a lot about the two programs playing in the BCS Title Game. Trickett shares his thoughts on what it's like watching the team he left go play for a BCS title.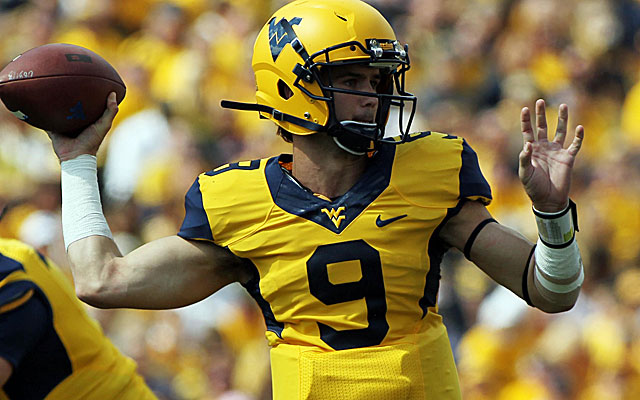 Clint Trickett was in a truck with some buddies driving to Arkansas to go duck hunting when we spoke on the phone. It was the day after Christmas and the West Virginia QB was enjoying his winter break even though it included 36 hours of driving in his Silverado. Part of his vacation will be spent in California with his family, where his dad, Rick, an assistant with FSU is hoping -- after some 30 years in coaching -- to win a national title.
The younger Trickett could've been part of that national championship-bound Florida State team. He was for three seasons and even started two games, but opted in the spring for the Mountaineers. The school that WVU edged out to get him? The Auburn Tigers, FSU's opponent in the BCS Title Game. While the Noles -- led by redshirt freshman QB Jameis Winston -- steamrolled their way to a 13-0 record, Trickett's Mountaineers sputtered to a 4-8 record. It's no a stretch to think Trickett might have some regrets but said that's not the case.
"Regrets? No. Absolutely not," Trickett said. "This was my dream, you know, to play for West Virginia. I think it all worked out. Hell, I coulda gone to Auburn, Florida State, or West Virginia. Two of the three are playing in the National Championship, but you know, I think I'm in the right spot, as far as playing and everything else in my personal life. I love the people up there, so it worked out for everyone."
Most folks assumed that when Trickett transferred out of FSU last spring it was because he figured freshman Jameis Winston was ready to take over the starting job for the Noles. But that rationale wasn't exactly the case. It was more the awkward dynamic that prompted the move. "The working environment was uncomfortable with my dad on staff," he said.
The younger Trickett is still very close to most of his old FSU teammates. He says he speaks to Sean McGuire, Nick O'Leary, Jacob Coker, Kenny Shaw, Christian Jones and deep snapper Philip Doumar often. He popped into the Seminoles locker room after one of their bowl practices and said it felt like a "big, ol' family reunion." Trickett's feeling for his old teammates and the team comes through in his tone quite a bit. He sometimes reverts to using "we" or "our" when talking about FSU.
"Well, they're still my boys, so I call them 'our,' " he said. "It's just bad habit I guess."
More than anything, he wants his dad to win a national title. "That's the biggest thing for me right now," he said. "He's been building it for 30-some odd years. I really want him to get this. Of course I want it for my old teammates and everything, but I mainly want it for him.  Everything he's done for me. I want him to have something he can can hold onto, too. I'd like him to get that ring because that's what you play the game for--to win the national championship."
Rick Trickett, a Vietnam War veteran who served in the Marines, has coached on some great teams, included the 1993 Auburn team that went 11-0, but the Tigers were out of the national title picture because of NCAA sanctions. Clint was only three or four years old back then, but his childhood around Auburn also made him pretty fond of that place too. In fact, when he was trying to determine his next move once he left FSU, Trickett almost picked Auburn.
"I was really close to going there," he said. "They were a close second."
He opted for West Virginia because he was so comfortable there and was close to a lot of folks in the area.
"My grandma lives up there, and then my dad's best man in the wedding, we call him my uncle -- my uncle Ike -- he's one of the main reasons why I went up there. Plus, it fit. You know it's my dream school, and the offense fit, and Geno (Smith) just left, so everything was perfect, it worked out for everyone.
"I don't regret it at all, people ask me that, I don't regret (leaving FSU for WVU) one bit. I'm just looking forward to next year and starting off on a positive note versus Alabama.
"It definitely was tough to leave FSU. It would've been tougher if I wasn't going to a place I was familiar with, like West Virginia, but since I was so familiar with it, that made it a lot easier. Still, you know leaving those guys that I've grown to love and then of course my family, you know that's that's never easy."
Despite the Mountaineers' rough season, Trickett had some good moments. His best: sparking WVU's 30-21 upset of No. 11 Oklahoma State as he threw for 309 yards despite leaving the game with a shoulder injury. It's been since diagnosed as a torn labrum, he said.
"I just found that out like a couple weeks ago that I've been playing with torn labrum in my throwing shoulder along with a Grade 2 AC sprain," said Trickett. "It was a rough year, but we'll get that fixed, and be ready for next year."
While in California he's meeting with Dr. Andrews to determine whether he should have surgery or not.
WVU coach Dana Holgorsen is excited to see what Trickett can do after he gets healthy now that he has some experience in the system.
"It's so tough for any first-year quarterback to come in and join the team in August and actually be ready to play," Holgorsen said. "You have to read the signals and then process all of it. That's really hard to have much of a handle on till about the fifth or sixth game of the season."
Last season it wasn't just the Mountaineers were breaking in a new QB, they also were missing Tavon Austin and Stedman Bailey, so there were growing pains all over the offense. That certainly wasn't the case with Trickett's former team in 2013.
"They had everything aligned, and they just needed the final piece (Winston) to come together," Trickett said. "I mean, look at 'em. Name a better offensive line in the country. Name a better wide receiver group. Name a better running back core. And look at the Heisman Trophy winner at quarterback and that defense! I mean it's ridiculous. They're the most well-rounded team in the country."
Trickett's also impressed by how Winston has blossomed.
"He carries himself well," he said. "He's, very very confident.
"He was great (in the quarterbacks room in 2012). E.J. (Manuel) really took him under his wing last year and helped him out. I think he learned a lot from E.J. about how to handle everything, whether it be criticism or praise, because E.J. did a wonderful job at that."
The younger Trickett has learned a lot about the game and about coaching over the years. He plans on getting into the business after his playing career, much like his older brother Travis, the offensive coordinator at Samford, did. First, though, he'd like to finish his college career with a big 2014, a year that starts with his old man finally getting a national championship ring.


 
Show Comments
Hide Comments
These five coaches will be hot names on the market after the 2017 season

The Big 12 could be wide open in 2017 ... we mean it this time

Rhule's stance on sexual violence is much-needed for a program that's been submerged in co...
The former Oregon coach was most recently the coach of the San Francisco 49ers

Gales suffered a neck injury against Georgia in 2015

The television schedule announcements are rolling in for Week 1 in college football