Former Longhorns QB Vince Young arrested, charged with DWI
Former Texas quarterback Vince Young was arrested on a DWI charge early Monday morning.
Update at 8:00 p.m. ET: Vince Young released a statement on Facebook following his DWI arrest on Monday. 
On Sunday, January 24th, just before 11:45 p.m., I was stopped and later arrested on suspicion of driving while intoxicated. The legal process will run its course in due time. 

Regardless of the outcome of the pending investigation, I would like my friends, family and fans to know that I do not condone drinking and driving in any way whatsoever. I am very disappointed in myself and am sorry for any conduct that has made this legal process necessary. I specifically want to apologize to the young men and women who look up to me as a role model and to my employers at the University of Texas and the Longhorn Network. Please let this be a lesson to you all and a moment for you to learn from. As a public figure, I take very seriously my obligation to set an example for others to learn from. 

I understand the seriousness of the situation I am in and take full responsibility for not having met my own standards of personal conduct. Thank you to everyone who has reached out to me for your love and support. 

Vincent P. Young, Jr.

Monday January 25, 2016
Original story:
Former Texas quarterback Vince Young was arrested and charged with DWI early Monday morning.
The Austin-American Statesman, citing police records, reports that Young was booked into Travis County Jail at 12:46 a.m. Monday morning. Young has already appeared before a judge and had his bail set at $2,000.
Young is one of the greatest Texas players in history, as he led the Longhorns to a national title in 2005, putting on a spectacular performance against USC in the 2006 Rose Bowl. Young threw for 267 yards and rushed for another 200 yards, totaling three touchdowns in what is widely considered to be one of the greatest college football games of all time -- if not the best.
Young then left Austin for the NFL, where he was taken by the Tennessee Titans with the third pick of the 2006 NFL Draft, but his NFL career never lived up to his college career due to both on- and off-the-field issues.
Young is currently working at Texas, where he's the diversity and community engagement officer in the Division of Diversity and Community Engagement at the school.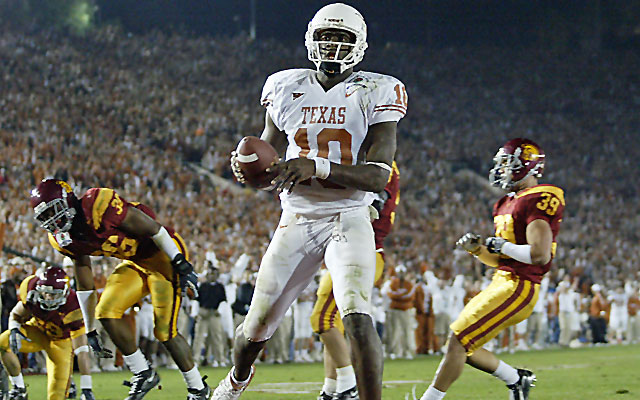 Show Comments
Hide Comments
Our Latest Stories
The Cardinals and Tigers will show down in what could be the game of the year on Saturday...

One of Alabama's best defenders was arrested on gun charges Thursday

Putting it all -- or just your hard-earned cash -- on the line with some confident calls for...
Expansion is on the table for the Big 12, but maybe it wouldn't be if a different decision...

North Carolina's HB2 law has led to the ACC and NCAA moving events out of the state

Blake Barnett took the first snaps of the season