Former Miami players will be considered guilty if they don't cooperate with the NCAA
Friday deadline for players who have left Miami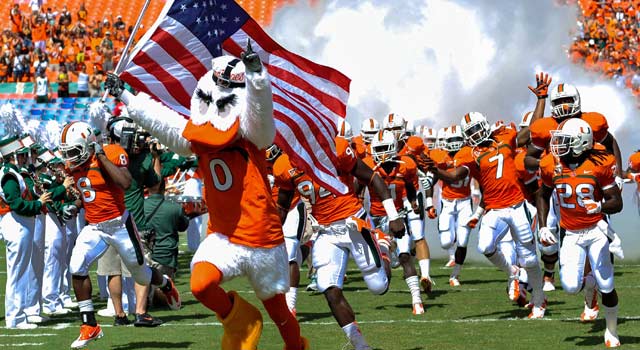 Miami is still waiting for the NCAA's penalties in the Nevin Shapiro scandal.
(Getty Images)
CBSSports.com has confirmed the existence of a letter from the NCAA that it will consider former Miami players guilty of violations in the Nevin Shapiro case if they do not cooperate with the association's investigation.
The Miami Herald first reported the letter – apparently sent to the players' attorneys -- that sets a Friday deadline for the players to contact the NCAA or the association "will consider the non-response as your client's admission of involvement in NCAA violations."
While the NCAA cannot penalize the former players, the implication is that non-cooperation could lead to harsh -- or harsher -- NCAA penalties. It is not known if the tactic has been used previously by the association. The NCAA has no jurisdiction over players who have exhausted eligibility or coaches no longer employed by NCAA member institutions.
The former Miami players are either out of football or in the NFL. It would be solely up to them to cooperate with the NCAA. 
CBSSports.com's Bruce Feldman spoke with a compliance expert Wednesday morning who has worked on several NCAA investigations that have involved multiple major violations about the letters.
"I've never heard of anything like this before," said the source. "This seems like a total bullying tactic and sounds like a desperate move. They're basically saying they're taking the word of a billion-dollar ponzi schemer over some guys who may have taken a few steak dinners? It looks like the NCAA has spent a ton of money and time investigating this and they're trying to cover their investment."
Former NCAA infractions committee chairman Jo Potutuo replied in an email that she doesn't believe the NCAA overreached on its power in this situation:
"Players still in school have an obligation to cooperate. Those not in school had an obligation to play by the rules when in school, and to cooperate. In these circumstances, I don't think treating silence as evidence of complicity is overreaching, at least as a general matter.
"The enforcement staff has given notice to the players and former players that it will allege silence is evidence confirming case of violations . Ultimately it will be up to the Committee On Infractions to decide if silence should be so treated on the specific facts of particular players and former players and the overall case." 
Another source also reminded that it will be up to the infractions committee to consider the complicity of the former players. 
The letter does seem to indicate some level of desperation by the NCAA in the Shapiro case. The NCAA was alerted to widespread extra benefits violations by the former booster and began investigating in February 2011. Yahoo! Sports exposed the extent of the violations in a series of stories last year. The investigation is ongoing. The school this week removed itself from bowl consideration for a second consecutive season in order to mitigate future NCAA penalties.
Previously, the NCAA gave limited immunity in the Shapiro case to former Miami players who had transferred elsewhere.
Here is a copy of the letter published by the Herald:
"The purpose of this letter is to apprise you that the NCAA enforcement staff is requesting to schedule an interview with your clients regarding their knowledge of or involvement in possible NCAA violations concerning the University of Miami, Florida, football program.
"Interviewing your clients is important in order for the enforcement staff to conduct a thorough investigation, and both the staff and the institution request you and your clients' cooperation in this matter. However, at this time, all attempts to schedule and execute interviews with [blank] have been unsuccessful. As a result, this letter serves as a formal and final request by the NCAA enforcement staff for interviews with [blank] to be completed by Nov. 23, 2012.
"If we do not hear back from you or your clients by that time, the staff will consider the non-response as your client's admission of involvement in NCAA violations. You may contact me at [blank] in order to arrange this interview. Your assistance in this matter is appreciated."
Sincerely,
Molly Richman,
Assistant Director of Enforcement
Show Comments
Hide Comments
Kush went 176-54-1 in 22 seasons at Arizona State

That's a lotta rock chalk

How will the AAC shape up in 2017? Let's take a team-by-team look
Doing well at an AAC school can lead to a big job, but it's easier to win at some than oth...

A script Ohio showed up in a Michigan fan's lawn when he needed some help with lawn care

Johnson Jr. was cited for marijuana possession and possession of drug paraphernalia in Jun...