Former USC defensive lineman Armond Armstead sues school over painkiller injections
Former USC defensive lineman Armond Armstead has filed a lawsuit against school over painkiller injections that gave him a heart attack and ended his collegiate career prematurely.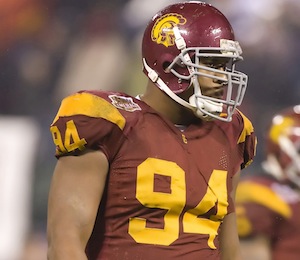 Former USC defensive lineman Armond Armstead has filed a lawsuit against the school over team doctors' treatment that eventually caused a heart attack and led to a premature end of his college career, the Sacramento Bee reports.
The suit, filed in L.A. Superior Court on Thursday, claims doctors injected Armstead with the painkiller Toradol 10 different times as he recovered from shoulder injury in 2010. The injections were apparently called "mandatory" for the 6-foot-5, 295-pounder and he was later told they were a "substantial" factor in a heart attack he suffered in February 2010 during workouts.
Armstead also claims the school blocked his attempts to transfer elsewhere and cost him a shot at playing in the NFL. According to the report, damages were not specified but could be several million dollars.
"Such a level of financial success depends on fielding superior players game after game," said the suit filed by Sacramento attorney Roger A. Dreyer, in reference to the millions of dollars USC made off its football program.
Officials from the school did not comment on the lawsuit. Armstead is currently playing in Canada while his younger brother, Arik, is a freshman defensive lineman at Oregon this season.
Show Comments
Hide Comments
Rawleigh Williams III left the field on a stretcher after a neck injury

Jim Harbaugh wants more college football programs to embrace the international trip

It seems there's a lot of talent in the SEC
There are all sorts of drafts out there and these are my favorites

It's time to say goodbye to so many great players

What colleges and conferences had the most first-round picks in the 2017 NFL Draft?