Fun with win totals: 5 over/unders we like
For your weekend enjoyment, five over/under college football win totals we think might be wise investments. (We said "might be.")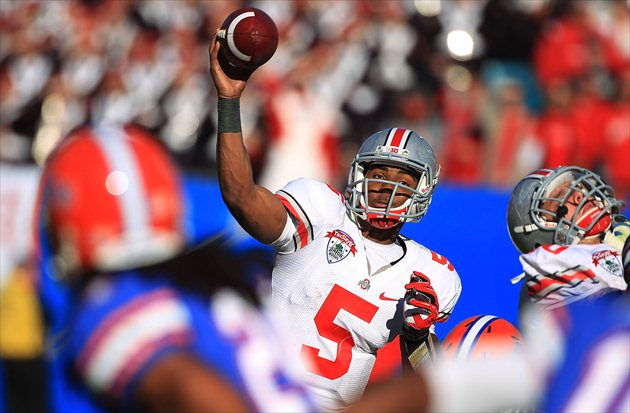 Can Braxton Miller get Ohio State to double-digit wins in Urban Meyer's first year? (Getty Images)
Earlier this summer we broke down the early over/under win totals in the SEC by division, liking Ole Miss's under and Alabama Crimson Tide 's over in the West, and Florida Gators 's over and Missouri Tigers 's under in the East.
But with the first live college football action of the 2012 season now less than two weeks away, those lines aren't "early" anymore, and there's far more of them. 10 days ago we posted a set of win totals from offshore sportsbook Bovada, and earlier in August Beyond the Bets printed a set of offshore totals for every team in the country. So we thought it might be time to spread our horizons beyond the SEC, and look at a few other lines that might be worth, well, a look.
Keep in mind that these totals and prices are subject to change from week-to-week and, of course, from sportsbook to sportsbook. Lines are from Bovada when available and BtB when not.
(Also keep in mind that this is for fun, and that if you're looking for rock-solid expert gambling advice, you should get a second opinion--at the minimum. If you're a gambling novice, the "-XXX" number along each total is the "juice," i.e., how much you have to wager to earn $100. "-140" means you have to bet $140 to get $100 in return; "+140" means a $100 bet earns you $140. Oh, and all totals are for regular season wins only.)
Here we go, with teams in alphabetical order:
Navy Midshipmen , over 6.5 wins (-165).
This would be an expensive play, but maybe not once you get a good look at the Midshipmen schedule: home games vs. VMI, San Jose St., Indiana Hoosiers , FAU, and Texas Longhorns St., plus entirely winnable road dates at Central Michigan Chippewas " data-canon="Michigan Wolverines" data-type="SPORTS_OBJECT_TEAM" id="shortcode0">, East Carolina Pirates , and Troy Trojans . There might be seven wins in those games alone, even before we get to the Commander-in-Chief's trophy games (one of which, Army West Point Black Knights , Navy hasn't lost in decade) or the trip to vulnerable Penn State Nittany Lions .
The bottom line is that 2011 was the first season in the past nine where Navy didn't hit 7 wins, and it's difficult to see that trend continuing against a schedule this soft.
Ohio State, over 9 wins (-145).
Another juiced line, but one that seems to offer much less risk than reward with the Buckeyes needing to lose four games to lose the bet. With two of Ohio State's road games very, very likely wins at Indiana and Penn State, even an upset home loss somewhere and road defeats at Michigan State Spartans and Wisconsin Badgers  wouldn't be enough to keep the Buckeyes from at least reaching a push.
The flip side is that they'd need 10 wins to win the bet, but we like their chances of getting there. Barring a major upset loss at the Horseshoe, a split between the home date vs. Nebraska Cornhuskers and the trip to East Lansing -- entirely doable -- would send the Buckeyes into their Nov. 10 bye week at 9-1, needing only one more win (either at Camp Randall or, more likely, home to Michigan) to hit the over. With Urban Meyer and Braxton Miller handling the offense and the defense poised to rank alongside the Spartans as the best in the Big Ten, that's a win they should get.
But not all of the Eye on College Football team feels that way. Here's a second opinion from our Tom Fornelli, who feels very strongly against taking the Buckeyes at 9 wins:
"My problem with this Ohio State pick isn't that I don't think Ohio State can win 10 games. It can. My problem is that when the over/under is set at 9 wins, pretty much the only way you're going to win that bet is if the best-case scenario takes place.
Could that happen? Sure, but with a third head coach in three seasons, an offense that wasn't exactly explosive having to learn a new scheme, and a team that has nothing to play for this season. I'd say 9-3 is the most likely scenario here, and I don't see the point in risking money on a push."
He's wrong.
Stanford Cardinal , over 7.5 wins (-105).
Finally, here's an over that's both highly appealing and cheap. Maybe they don't have Andrew Luck or all their behemoths from the 2011 offensive line, but the Cardinal are still stocked with Jim Harbaugh-recruited talent across the board, have one the country's best running backs in Stepfan Taylor , and one of the Pac-12's most experienced and talented defenses. It might not be the Cardinal of the last two years, but it won't be that far off, either.
And as for the schedule, it could be worse; home games vs. San Jose State Spartans , Duke Blue Devils , Arizona Wildcats , Washington Huskies State and Oregon Ducks State should all be wins, and drawing Colorado Buffaloes and UCLA Bruins out of the Pac-12 South could be two more. Even a 6-1 mark in those seven games would leave the Cardinal needing just two wins from games vs. USC and at Notre Dame Fighting Irish , Washington, Cal, and Oregon--opponents they finished 4-1 against in 2011.
Troy, over 5.5 wins (-110).
Was there a more shocking 2011 season in all of college football than Troy's cratering to a 3-9 mark and the lower reaches of the Sun Belt? We don't think so, but we also think this line may be an overreaction--this is still the same program that entered last year having won six games or more in seven of the previous eight seasons. They still have quarterback Corey Robinson , 14 other returning starters, and an experienced (and now highly motivated) coaching staff.
The Southern California Trojans ' Sun Belt schedule makes things ever rosier, as projected heavyweights FIU, Western Kentucky Wildcats , and Louisiana all come to Troy while the Trojans get road dates at expected also-rans South Alabama Jaguars , FAU, and North Texas Mean Green as well as rivals Middle Tennessee Blue Raiders " data-canon="Tennessee Volunteers" data-type="SPORTS_OBJECT_TEAM" id="shortcode0"> State--themselves coming off of a 1-7 Sun Belt season. Even with the Navy game and two dates against SEC opposition, there's too many chances for Troy wins not to expect them to get back to .500.
UNLV Rebels , under 4.5 (-180).
The highest-juiced line yet, but in UNLV we're talking about a team that's won a total of four games the past two seasons, lost to FCS Southern Utah Utes 41-16 last year, and dropped its seven 2011 road games -- including one at New Mexico Lobos (!) -- by an average of 33 points. We can give the Runnin' Ole Miss Rebels and star running back Tim Cornett two wins out of home dates vs. Northern Arizona, New Mexico, and Wyoming Cowboys , and maybe there's a third lurking out there either in a sweep of those games or a shock road upset. But five wins seems utterly out of the question.
And just for the heck of it, five more bets that also caught our eye:
Michigan, under 9 wins (-160): The reverse of the Ohio State bet, the Wolverines may be able to reach 9, but with their losses on the defensive line, grueling schedule, and fewer breaks in close games, 10 seems well out of reach.
South Florida Bulls , under 7.5 wins (+125): The Buffalo Bulls have plenty of experience and were better than their 2011 record, but have a tough nonconference slate (at Nevada Wolf Pack , vs. Florida State Seminoles , at Miami) and lost talented defensive coordinator Mark Snyder. Is B.J. Daniels really up to quarterbacking this team to 8 wins?
Florida Atlantic Owls , under 3.5 wins (-120): Big improvements aren't unheard of in the Sun Belt, but the Temple Owls were truly dreadful last season -- 1-11 overall, 0-8 SBC, 3-9 against the spread -- and have three certain losses on the nonconference schedule. Carl Pelini getting his talent-starved team to 3-5 in conference would be quite the (unlikely) accomplishment.
UCF Knights , over 8.5 wins (-115): Hitting this over would mean a four-win improvement for the Knights, but with arguably most talented team among C-USA contenders, no quarterback controversy, and a schedule with several winnable road games ( Akron Zips , Memphis Tigers , Marshall Thundering Herd UTEP), it's an improvement we're expecting to happen.
Arizona, over 5.5 wins (-125): Mike Leach has gotten most of the attention among Pac-12 coaching newcomers, but we like Rich Rodriguez to post the better 2011 record when all is said and done. Matt Scott gives him the perfect fit at quarterback, Jeff Casteel is along to run the defense, and home games vs. Toledo Rockets , South Carolina Gamecocks State, Oregon State Beavers , Colorado and Arizona State Sun Devils could get the 'Cats within a win of this over on their own.
Show Comments
Hide Comments
The three players attempted to rob a fellow student but claimed it was a prank gone wrong

Unique Brissett was pretending to be a WR with scholarship offers from multiple Power Five...

These are the players who college football coaches simply can't live without
Welcome to the world, Flynt Anderson-Foster Pruitt

Baylor should value faith over football and do what's right in the wake of seven Title IX...

The conference will adopt two divisions when it becomes a 10-team league in 2018