Gee just one part of the problem in reform, not the solution
Ohio State president Gordon Gee, who was among the influential college CEOs at the NCAA summit, has plenty of company when it comes to high-level people in college leadership positions who have gotten themselves in trouble.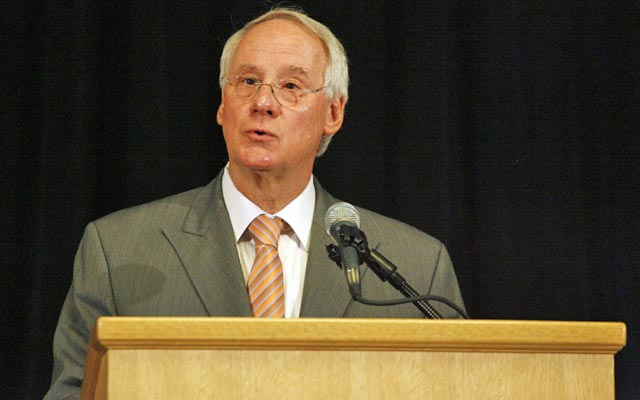 Gordon Gee "retired," imagine that.
Hard to believe after sticking his tassled loafer in his mouth all these years, Ohio State's soon-to-be former president had room left in his gob to utter the "r" word. But after spending much time in "self-reflection" and "deliberation" (his words), the equivalent of the crazy uncle at family reunions telling fart jokes stepped down on Tuesday.
Voluntarily. Off into the sunset.
Yeah, right.
Yes, Gordon Gee "retired" and the what-took-so-longs are gladly accepted in this space. His ability to raise money was finally outstripped by his low-brow attempts at humor. What you probably don't know is that his departure put a new, different face on a much-celebrated presidential reform summit organized by the NCAA's Mark Emmert 22 months ago.
In August 2011, 57 administrators -- presidents, ADs, commissioners -- gathered in Indianapolis, announcing a wave of sweeping changes in the NCAA. They'd had it up to here with corruption.
Gee was among them, which was a bit of a giggle, since at the time his football program was embroiled in a football scandal that cost Urban Meyer a bowl game in his first season. But Central Florida's John Hitt was also in Indy in a similar situation. Three months after that summit, Hitt fired AD Keith Tribble amid an NCAA scandal that cost the football program a bowl. (It later "won" back the game on appeal.)
North Carolina chancellor Holden Thorp was dealing with his own embarrassing academic scandal. Miami's Donna Shalala was there. That month, her professional life would change forever because of two words. Nevin. Shapiro. Oregon State president Ed Ray, who helped oversee the Penn State penalties as an NCAA board member, was recently sued by the Joe Paterno family.
Charges are pending in that Penn State case against summit attendee Graham Spanier. Surely, you've heard of the former Penn State president. Also at the summit was then-Louisville associate AD Julie Hermann, representing the National Association of Collegiate Women's Athletics Administrators. You hadn't heard of her then. You have now. At Rutgers.
These were some of the faces of NCAA reform. Don't blink -- a lot of them aren't even around less than two years after being charged with cleaning up the NCAA. About one-fifth of them have either resigned, retired or are in the process of resigning or retiring. That list includes former Big 12 commissioner Dan Beebe. You're going to love this irony, fans: Beebe now has a small business consulting with schools on how to avoid scandals such as Penn State's.
This is the face of reform, if you can call it that. The stipend issue (paying players) has been stymied. The membership hasn't been able to agree on how to cut a mere 25 pages (5.8 percent) from the NCAA Manual. Blame Emmert if you wish. I blame a system that has to rely on educators who are being sued, being run out of office or "retiring," to clean up college athletics.
These are the best and brightest?
The point is, some of those distinguished educators responsible for reforming college athletics haven't been able to turn a corner without stepping in it themselves. Eight of those administrators at the summit guided their schools to more money in new leagues amid conference realignment. That group included Maryland's William Kirwan, who oversaw an athletic department bathed in red ink and then moved it to the Big Ten to solve that problem.
It's sometimes difficult to find an honorable man or woman in the midst of what was supposed to be the largest reform movement in NCAA history. The word "hypocrisy" might be fitting when first glancing at the roster. I was able to find at least six college CEOs or ADs on the summit roster who were in charge of athletic departments during NCAA major violations at their schools. Thorp kind of summarized the current presidential dilemma when he told the Raleigh News and Observer that managing athletics "can overwhelm" a chancellor. 
Even righteous, competent ones.
Personally, I liked the old Gee -- the charming one who raised millions, the one who made cameos in flash mobs, the one who was a card-carrying member of the Bow Tie Revolution, even the one who deferred to the Almighty Tressel. None of us liked the Gee who slandered nationalities and religions.
And that's the problem. One of the NCAA's best and brightest was purged on Tuesday. Gee literally talked his way out of a job.
When it comes to scandal, there are, it seems, different ways to reform.
The senior tailback for the Georgia Bulldogs is as strong as ever

New odds to make the College Football Playoff have been released by Bovada.LV

The former Penn State kicker served as the Nittany Lions' kickoff specialist
Delany will reportedly receive $20 million in 'future bonus payments' from the Big Ten

Tom Allen welled up when speaking about Hugh Freeze and his resignation at Ole Miss

Oatis is a very large child prodigy