Georgia kicker Marshall Morgan to sit out against South Carolina
Marshall Morgan will miss Georgia's SEC opener against South Carolina, likely a result of an offseason boating under the influence charge.
• 1 min read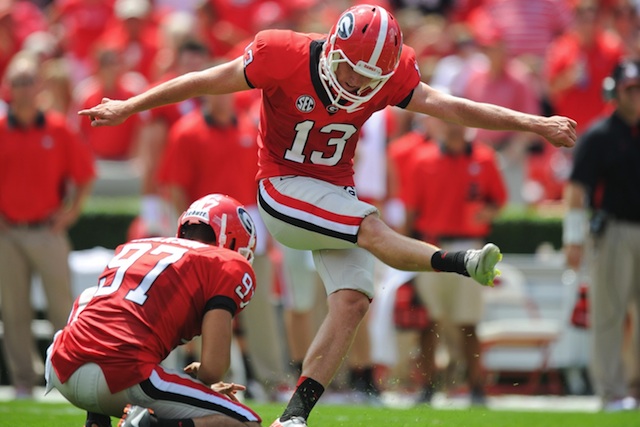 Georgia's suspension for placekicker Marshall Morgan will one more week, Bulldogs coach Mark Richt announced Monday.
"We probably will because marshall will not be kicking again for us [this] week," Richt said during his Monday radio show. "That's a news flash for the show. How about that?"
Morgan did not play against Clemson, possibly a result of pleading guilty to a pair of boating under the influence charges from the summer. The school did not issue an official suspension, much less disclose a timetable for his return.
Morgan's uncertain suspension may stem from the fact that BUI, or boating under the influence, is not officially covered in the school's student-athlete handbook. The standard punishment for driving under the influence calls for a suspension from 20 percent of competition dates, or two games in football.
Morgan made the trip to  Clemson with the team and was listed as the starter on the game week depth chart, but walk-on sophomore Patrick Beless started and handled the kicking duties.
Beless connected on all five of his kicks -- all PATs -- in the 38-35 loss. Georgia fans cringe at what could have been following a mishandled snap on a field goal attempt inside the 20 in the fourth quarter, but that miscue falls on Nathan Theus and holder Adam Erickson. 
Show Comments
Hide Comments
The three players attempted to rob a fellow student but claimed it was a prank gone wrong

Unique Brissett was pretending to be a WR with scholarship offers from multiple Power Five...

These are the players who college football coaches simply can't live without
Welcome to the world, Flynt Anderson-Foster Pruitt

Baylor should value faith over football and do what's right in the wake of seven Title IX...

The conference will adopt two divisions when it becomes a 10-team league in 2018