Gone stale in 2012, Hokies may struggle again unless TB emerges
Frank Beamer made some offseason changes after his Hokies went 7-6 last year, but Virginia Tech must still find a running back.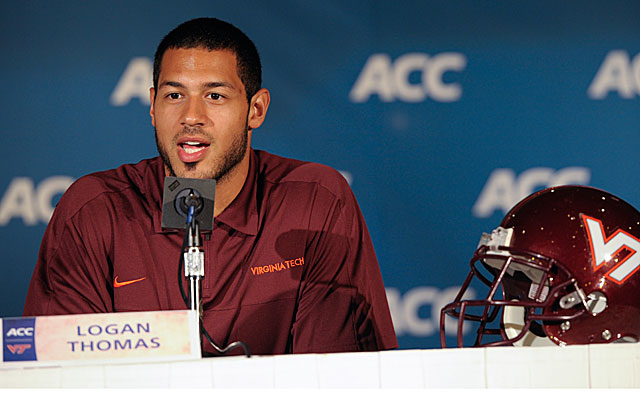 GREENSBORO, N.C. -- Logan Thomas has heard the whispers. Actually what he's heard had been a lot louder than whispers.
"Yeah, we have one little blip last season and now everybody's saying that Virginia Tech is on the downside," said the Hokies' quarterback. "Well, all I can say is you haven't dethroned us yet. Coach Beamer knows what he is doing."
Frank Beamer is about to begin his 27th season as the head coach of his alma mater. In his time in Blacksburg he has turned Virginia Tech from a program of sporadic and modest achievement into a consistent national power:
• After joining the ACC in 2004, Beamer's teams put together eight straight seasons of 10 wins or more with four conference championships.
• His 1999 team, which played in the Big East, went undefeated in the regular season and lost to Florida State for the BCS national championship.
• He has taken the Hokies to 20 consecutive bowl games.
• Virginia Tech's Lane Stadium has been sold out for 93 consecutive games.
Virginia Tech's consistent excellence under Beamer, who will turn 67 on Oct. 18, is why last season's 7-6 record was such a jolt to the Hokie Nation. In October and November Virginia Tech lost three straight games to Clemson (38-17), Miami (30-12) and Florida State (28-22) to go 4-6. Then the Hokies won their last three against Boston College (30-23 OT), Virginia (17-14) and Rutgers (17-14) in the Russell Athletic Bowl.
"It was a frustrating year, but in many ways I was proud of that team," said Beamer, who enters this season as the winningest active coach in FBS with 258 career victories. "When we were 4-6 people weren't saying good things about us. But we stuck together and won our last three. There are some good life lessons in that."
The reality is that Virginia Tech wasn't a very good team in 2012. The offense finished ninth in the ACC because the running back position, always a strength under Beamer, could not overcome the loss of David Wilson, who turned pro after this junior season. As a result more pressure was put on Thomas and he simply did not play well. Thomas completed only 51 percent of this passes for 18 touchdowns and 16 interceptions. He also carried the ball 174 times and was the team's leading rusher with 524 yards.
"A lot of that was on me. I've always been the leader on my team and I tried to put it all on my shoulders," said Thomas. "I can't do that."
In a private conversation at this week's ACC media days, Beamer conceded that he felt some of the components of his program -- always the model of stability -- were starting to get stale.
"What you have to be careful about when you've been in one place a long time is doing the same things over and over again," Beamer said. "Maybe we had gotten a little predictable in some things. That's why I had to make some changes."
In 32 years as a head coach Beamer has built a strong reputation for being fiercely loyal to his assistant coaches. It has been said by some pundits that he is loyal to a fault. But in the offseason Beamer shook up his offensive coaching staff, bringing in Scot Leoffler as coordinator, veteran Jeff Grimes (who spent the past four seasons at Auburn) as line coach, and Aaron Moorehead as wide receivers coach. Beamer's son Shane continues to coach the running backs and serve as associate head coach.
Virginia Tech linebacker Jack Tyler told The Roanoke Times that bringing in the three new assistants was a "culture shock" to the program.
"We really needed to shake things up," Thomas said.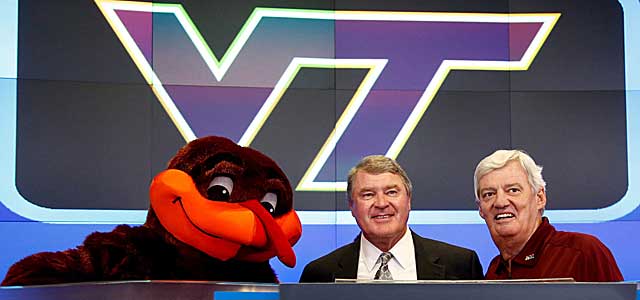 "It was a really hard thing to do," Beamer said of the changes. "But our program needed a jolt. We needed something different. We punted the ball too many times last season. These guys are good coaches. The ones we had were good coaches. But these new guys are different and hopefully we'll get the results we want."
Loeffler, who played at Michigan, has tutored some pretty good quarterbacks. He worked with Tom Brady, Brian Griese, Chad Henne, Drew Henson, and John Navarre as a graduate assistant and assistant coach at Michigan. Urban Meyer brought him to Florida to work with Tim Tebow on his mechanics. He spent a single, forgettable season at Auburn in 2012 after which Gene Chizik and the entire staff were relieved of their duties.
Now Loeffler takes on the task of grooming Thomas (6-6, 260) whose physical gifts are evident.
"I'd say Logan is a lucky guy," Beamer said. "Scot and Logan kind of hit it off. Logan wants to be coached hard. He wants to be a great player."
But the reality at Virginia Tech is that the offense is probably going to struggle again unless a big-time tailback emerges.
J.C. Coleman was the team's second-leading rusher (Thomas was first, but Coleman first among RBs) a year ago with a paltry 492 yards and appears to be the starter. Michael Holmes, who had 280 yards rushing a year ago, was dismissed from school after being involved in an altercation.
Senior Tony Gregory and redshirt freshman Chris Mangus could be in the mix. Trey Edmunds (6-1, 215) almost got on the field last season as a true freshman but was redshirted. He was a Parade All-American as a senior at Dan River High School in Danville, Va. He could be the answer.
"The reality is that we have a good defense (nine starters return from the No. 18 unit in the country), a good quarterback and some good kickers," Beamer said. "That's a good foundation. The one concern is that we're going to have to play a young running back."
Beamer knows the critics are out there. He knows that in our culture there is a demand for the quick hook when the program shows the first sign of slippage. He knows this is probably not the best year to open the season with Alabama (in Atlanta), which has won three of the past four BCS Championships and is favored to do it again in 2013.
"This is one of those deals where you know you are playing the very best," Beamer said. "But you hope by playing a team like Alabama your program will be better overall as you get into the season."
Virginia Tech was picked to finish second to Miami in the ACC Coastal earlier this week by the media. The Hokies go to Miami on Nov. 9.
Virginia Tech's down season did not cause Beamer to lose his sense of humor. When the players wanted Beamer to participate in Virginia Tech's version of the "Harlem Shake," he reluctantly agreed.
"I wasn't quite sure what it was but my football operations guy, John Ballein, told me that it would be good to show off our new dressing rooms," Beamer said. "He told me that it would be good for recruiting so I went for it."
The old coach showed some pretty good moves. Beamer said he couldn't take credit for the dance steps.
"I told J.C. Coleman to stand behind the camera and show me his best stuff," Beamer said. "Then I just tried to copy what he did. So I just did my part and got out. There was some wild stuff going on there. But it was blast. We had fun."
Beamer is a Hall of Fame coach regardless of what happens from this point on at Virginia Tech. But it is easily to tell from his demeanor that he is determined to get things turned around in Blacksburg.
"We have some talent," Beamer said. "We just have to get our young guys ready to play better than they should early in their careers. But that's the challenge. That is what drives me."
It's not great, but it isn't necessarily bad, either

From bio pics to comedies and documentaries, here are the college football movies you can't...

Suspended junior Grant Perry pleaded guilty to resisting arrest
Pepsi will limit its usage of blue -- outside of its logo -- on Utah's campus for Holy War...

Will Sunderland allegedly stole and tried to sell video game systems

National powerhouse Alabama joins the throng of schools trying to lure five-star QB Justin...