Haith petition looking at how bank records were obtained
Missouri coach Frank Haith wants to know whether his bank records were accessed as part of the NCAA's Nevin Shapiro probe into Miami.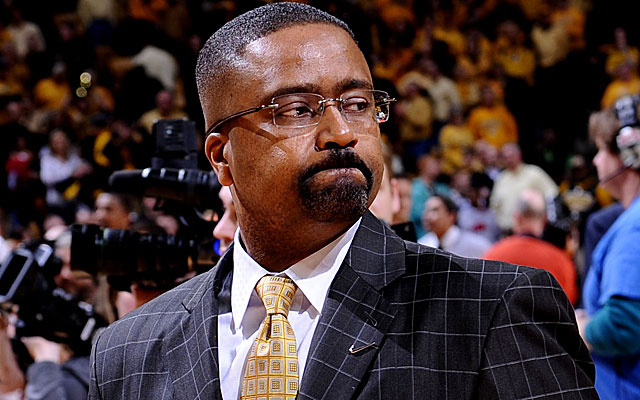 A court petition filed Monday seeks to determine how detailed bank records of former University of Miami men's basketball coach Frank Haith were accessed during the NCAA's ongoing Nevin Shapiro case.
Haith's lawyer, Michael Buckner, is trying to determine whether information from canceled checks in the coach's account were improperly -- and possibly illegally -- obtained.
Some of Haith's bank statements were voluntarily turned over to NCAA investigators as part of the two-year old investigation of the Miami Hurricanes athletic department. The petition states that certain information could have been obtained improperly by accessing the actual microfiche reproductions of the checks. Those microfiche copies were not turned over to the NCAA, according to a source.
If the petition is granted, Buckner will subpoena Bank of America employees who had access to Haith's account between Oct. 1, 2011 and Oct. 31, 2012. The petition was filed in the Southern District of Florida federal court. Bank of America is expected to be served with the petition this week.
A judge will determine if there will be a hearing on the merits of the petition. In such a hearing, the judge will then determine whether Haith and his company -- Frank Haith Enterprises Inc. -- can issue subpoenas to the bank and depose witnesses. If the petition is granted, Bank of America will have 30 days to respond.
The petition states "... Bank of America may have permitted or allowed an unknown person or persons to gain access to, or to acquire, non-public information into [Haith's] Checking Account without authorization ..."
The petition alleges Bank of America has failed "to conduct a thorough investigation into the breach and provide [Haith] with specific information to identify the person who gained access to [the checking account] without authorization ..."
The petition also states Bank of America's "unwillingness to share information is an attempt to conceal the illicit act."
Copies of three cashed checks drawn on FHE -- each for $3,200 -- made out to former Miami assistants are included as exhibits in the petition.
The Rule 27 petition is common in cases where a party has not yet filed a lawsuit but seeks to get testimony and evidence at a later time. Such a petition bars defendants from destroying possible evidence such as emails, documents or other communications that could be pertinent in a lawsuit.
The Haith camp became aware of possible improprieties when it sought microfiche copies of the checks at the request of the NCAA, according to Buckner. It was told by a Bank of America official that those microfiche copies -- which contain more detail than bank statements -- already had been "viewed or ordered" by another party.
After a second Haith interview with the NCAA on September 5, 2012, Haith and her husband became "suspicious" of information the NCAA had in its possession, according to an affidavit filed by Pamela Haith in support of the Rule 27 petition.
" … specific information that we could not locate from the bank statements and check images in our possession," the affidavit stated.
Also from the affidavit: The Haiths were told by NCAA on or about October 22, 2012 that a "source" had informed the enforcement staff that a microfiche copy of the checks was available. The NCAA refused to disclose the identity of "sources" according to the petition.
During that same time period, Pamela Haith contacted Bank of America customer service. The customer service rep "implied" the microfiche copies had been previously viewed or ordered.
Her affidavit details a lengthy process with the bank attempting to find out if the account had been accessed. At one point she is told because of "strict bank policies" she may not be told if or when actions would be taken against a person who had committed wrongdoing.
Haith, now the head coach at Missouri, has been charged by the NCAA with failure to promote an atmosphere of compliance within the Miami program for parts of 2010 and 2011. In its notice of allegations against the coach, the NCAA says that Haith failed to alert officials when Shapiro, the former Miami booster, threatened to reveal that Haith allegedly provided money to recruit a prospect. That prospect is believed to be former player DeQuan Jones.
There is no monetary amount stated in the NCAA allegations against Haith. However, media accounts put the amount at $6,000-$10,000. The checks in question total $9,600.
Haith's "failure to promote" charge is less serious than an "unethical conduct" charge that could have impacted his current and future employment.
The lesser charge in general makes it more unlikely Missouri would fire Haith. With an unethical conduct charge -- if it stuck in the final NCAA report -- Missouri could theoretically fire Haith with cause.
The filing could result in the latest blow against the NCAA's much-criticized investigative tactics in the case. Miami, as well as four former assistant football coaches, have filed motions to dismiss the case with the NCAA. In its 45-page filing on March 29, Miami attorneys say NCAA investigators lied and misled interview subjects. It also reiterated the NCAA's use of "self-corroboration." If Shapiro, a convicted Ponzi schemer, said something twice to investigators it was considered to be reliable testimony.
The NCAA enforcement department responded recently to the infractions committee, saying the filing motion deflects attention from "significant allegations." The association in February charged Miami with lack of institutional control. The charge could result in major penalties for Miami.
Miami president Donna Shalala issued a strident rebuke after the notice of allegations saying her school deserves no additional penalties.
The unprecedented filing by Miami seeks that the NCAA drop the case and accept the school's self-imposed penalties that include a two-year bowl ban, missing out on last year's ACC title game and player suspensions.
Three former Miami assistants charged with misleading the NCAA have found it difficult to find work, according to their attorney. In January, their attorney filed a "notice to preserve evidence" with the NCAA in the event the coaches sue.
NCAA president Mark Emmert has been criticized for his handling of the case. One example: The NCAA president at times spoke openly about it, seemingly violating the NCAA's confidentiality principle.
"The Miami issue had some enormous foul-ups in it," Emmert said last month at the Final Four. "We've acknowledged that. We've addressed those issues. The enforcement staff and all the people that work in enforcement are continuing to do their jobs, and they do a terrific one."
The external review concluded that former enforcement director Julie Roe Lach was chiefly at fault for using South Florida attorney Maria Perez to extract information from witnesses who otherwise would not have been compelled to speak to the NCAA. The $20,000 she sought to pay Perez was approved directly by NCAA chief operating officer Jim Isch, according to the investigative external report.
The NCAA investigator who worked closely with Perez, Ameen Najjar, was fired last year for unrelated reasons.
Emmert referred to the scandal at "missteps" that was centered on that one portion of the case. Since then, though, a series of revelations have opened the NCAA investigative process -- and Emmert -- to further criticism.
It was revealed that Najjar wrote Shapiro's sentencing judge seeking to reduce Shapiro's time in jail. Najjar suggested that Shapiro had been so valuable to the NCAA that he could be used as a consultant. The NCAA quickly responded by saying Shapiro would never be hired.
The external review stated former investigator Rich Johanningmeier provided Shapiro with a cell phone and that $4,500 had been deposited into Shapiro's prison account.
NCAA investigator Stephanie Hannah also worked with attorney Maria Perez -- after Najjar was fired -- to extract information from Shapiro's bodyguard, according to Miami's motion to dismiss. When asked why that fact wasn't included in his report, NCAA-commissioned investigative attorney Ken Wainstein said Hannah wasn't aware Perez was being paid.
Florida state senator Joseph Abruzzo asked the Florida attorney general to look into the NCAA's tactics. He told CBSSports.com "the whole system needs to be revamped."
Miami football coach Al Golden is not named in the allegations. Meanwhile, Miami and Missouri basketball have thrived with Haith's help. Some of his former players contributed to Miami's best season ever in 2012-13 under Jim Larranaga. In his first two seasons at Missouri, Haith has won 53 games and taken the Tigers to consecutive NCAA tournaments.
The Miami allegations first came to light in August 2011 in a series of stories by Yahoo! Sports. The report detailed widespread influence by Shapiro within the Miami football program. Shapiro, backed by records and documents, told Yahoo! Sports he provided lavish extra benefit to recruits and current players.
All indications are that the NCAA intends to proceed with the case to its conclusion. Miami reportedly will appear before the infractions committee June 14-16 in Indianapolis. Additional penalties, if any, would be announced in the following few months.
Shapiro is currently serving a 20-year sentence in a federal penitentiary for his part in a $900 million Ponzi scheme.
Show Comments
Hide Comments
It seems there's a lot of talent in the SEC

There are all sorts of drafts out there and these are my favorites

It's time to say goodbye to so many great players
What colleges and conferences had the most first-round picks in the 2017 NFL Draft?

Myles Garrett and Leonard Fournette were top-rated prospects coming out of high school

Ohio State and Washington will play in Seattle in 2024 and Columbus in 2025