Harbaugh on Michigan recruiting, critics: 'We don't hide how we operate'
Jim Harbaugh defended his recruiting tactics after backlash following multiple decommitments from recruits.
• 2 min read
Jim Harbaugh has come under fire recently for his recruiting tactics after some recent Michigan decommitments brought to light part of the darker side of big-time college football recruiting. 
One three-star who recently decommitted said he was no longer guaranteed a scholarship spot and felt he was being made a "Plan B" by Harbaugh. Long-time Michigan commits, some dating back to Brady Hoke, have found that Harbaugh, like many top college football coaches, is ruthless in trying to bring in the best talent to Michigan -- even if that means their status becomes uncertain. 
Harbaugh responded to the criticisms of his recruiting tactics -- things he is certainly not alone in doing -- on Friday afternoon when speaking with reporters. 
"We're very much out there, we don't hide how we operate and with what we do," Harbaugh said, according to MLive.com. "It's a meritocracy. In everything we do in our program. It's going to continue to be that."
Harbaugh did not make any apologies for how he handled recruits and commitments, instead pointing to the recruits as the ones with the responsibility to stay at the proper level athletically and academically to warrant being given the scholarship. 
"It's a meritocracy," Harbaugh added. "They've got to continue to perform when there's early commitments. Both in the classroom, on the field and as a citizen in the community. That's how we're going about it. I don't hide from that at all and I won't. That's what we demand."
With how college football at the highest level operates, Harbaugh's not necessarily in the wrong in thinking this way. However, the problem lies with the ability of coaches to make offers -- and recruits to make commitments -- so far from their actual signing day. 
A recruit may have an offer and make his commitment as a sophomore but not develop the way a coach expects him to. There's no penalty for a school to pull that offer prior to signing the player, so there isn't a deterrent for coaches to not oversaturate the market with scholarships and then pull them -- or find other creative ways of keeping a player off scholarship. 
It seems to be a disservice for the recruits, who certainly do have a responsibility to maintain a certain quality of performance on the field and in the classroom. The problem is that all the negative consequences land on the recruit, who may have stopped talking with other programs following his commitment. 
Harbaugh, like so many coaches at top programs, is right to view recruiting and building his team as part of the business. However, there need to be enhanced protections for players that keep them from being punished by the process and force coaches to be more responsible with scholarship offers.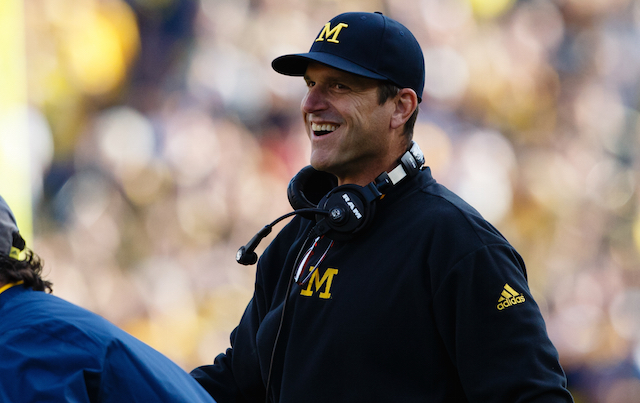 Show Comments
Hide Comments
Our Latest Stories
The Sabanization of the SEC is now entirely complete

The Tigers have an opening -- in September -- which means we need to figure out who will fill...

From Tom Herman to Jimbo Fisher, there are more than enough great candidates to coach the...
Miles was in his 12th season with the Tigers

The Tennessee safety and Florida linebacker were honored by the SEC on CBS in Week 4

Announcing the latest National, SEC and Freshman Players of the Week from CBS Sports