Harvey Updyke pleads guilty, gets six months in jail
Citing expense, district attorney agrees to deal rather than go to trial in the Harvey Updyke tree-poisoning case.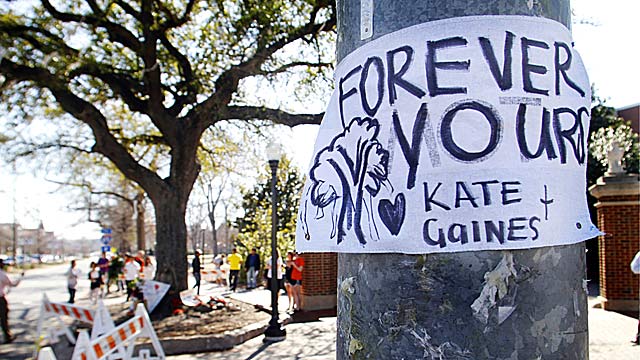 Harvey Updyke has pleaded guilty to poisoning Auburn's famous Toomer's Corner oak trees, reaching a deal with prosecution that will see him spend six months in jail and five years on supervised probation.
Updyke pleaded guilty to a charge of criminal damage of an agricultural facility, a Class-C felony in Alabama. In a statement announcing the plea deal, Lee County District Attorney Robbie Treese said, "We have a significant number of violent felonies awaiting trial in Lee County, and I could not in good conscience justify financing a three-week trial merely to arrive at no better a resolution." 
Updyke had previously pleaded not guilt by reason of mental disease or defect to charges of criminal mischief, desecration of a venerated object and unlawful damage to a crop facility charges. Other conditions of his plea deal include a 7 p.m. curfew, a ban from attending any collegiate sporting event, a ban from speaking to media, and a ban from setting foot on Auburn's campus. 
Updyke's trial had been scheduled to begin April 8 in nearby Elmore County. 
Al.com reported that, according to Updyke's attorney, Andrew Stanley, Updyke has already served most of the six-month jail sentence and will spend only 76 more days behind bars.  
Auburn announced in February that the decades-old live oaks Updyke poisoned would be rolled according to Auburn tradition for the final time after Auburn's spring game, April 20. After that event they will be removed, with Auburn installing a temporary system of poles and wires across Toomer's Corner for Tigers fans to roll for the immediate future.
A diehard Alabama fan, Updyke poisoned the oaks in late 2010 with a powerful herbicide. Although extensive efforts were made to save the landmarks, Auburn admitted in February the school had no choice but to remove them.
PDF HT: @AUPPL
The Buckeyes are big favorites to win the Big Ten's East division as well as the conference...

A look at the where the Nittany Lions stand five years later through the eyes of four unique...

Freeze resigned as Ole Miss coach, and the insider team at OMSpirit.com breaks down the im...
Freeze left a fastball over the plate and The Oxford Eagle took advantage of it

Tim Tebow joined the show right after a baseball game to chat about football and more

Tebow joined the 247Sports College Football Podcast this week to discuss a variety of topi...