Holiday, Fight Hunger Bowls announce B1G-Pac-12 matchups
The Big Ten and Pac-12 will meet in two more California bowls as the Holiday and Kraft Fight Hunger Bowls prepare to announce agreements.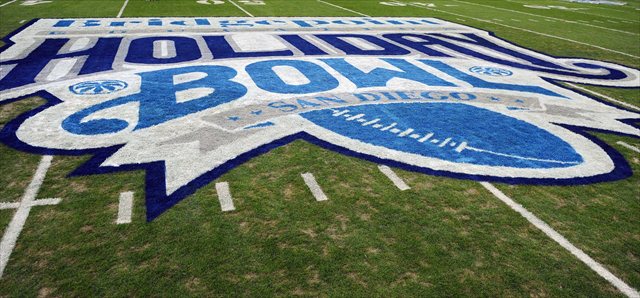 The Big Ten and the Pac-12 squaring off in California has worked for the Rose Bowl for nearly a century. So why not see if it can work for two more Golden State bowls as well?
That might be the thinking for Jim Delany, Larry Scott and both the Holiday and Kraft Fight Hunger Bowls, who announced new Big Ten affilations for both games on Monday. Both games will keep their Pac-12 affiliations, creating two more Big Ten vs. Pac-12 matchups each postseason.
Both bowls have teleconferences scheduled for Monday. The new affiliations will go into effect for the 2014 season, with the agreements running for six years.
The Holiday Bowl, played in Qualcomm Stadium in San Diego, is slated to match the Pac-12's third-choice team with the Big 12's fifth-choice team on Dec. 30, 2013. The Kraft Fight Hunger will pair a Pac-12 team vs. either BYU or an ACC team in San Francisco on Dec. 27.
But the reshuffling with the Big Ten isn't the only change coming to the Pac-12's postseason slate. Citing a "person familiar with the decision," the AP reported that the Kraft Fight Hunger Bowl would move up to the fourth slot in the conference's pecking order, behind the Rose, Alamo Bowl and Holiday, bumping the Sun Bowl down a notch.
The AP reports the Big Ten "is not locking in a selection order with its bowl partners in the hopes of keeping the process flexible and giving more teams a chance to play in more places." Both bowls said Monday that no Big Ten team would be selected for their game more than twice in a six-year span. (But it might not be wise to expect the Holiday to settle for .500ish leftovers; the Cedar Rapids Gazette reported in May that the Holiday Bowl would have the Big Ten's third selection outside the playoff. That seems unlikely to ever become official, but it might be a factor behind the scenes.)  
The moves are another step in Delany's efforts to provide the Big Ten with a more national postseason footprint, to create "relationships on both coasts" during bowl season.
This month, Delany and the Big Ten announced an eight-year agreement with the Pinstripe Bowl, displacing the Big 12's slot in the game -- meaning the Holiday will be the second bowl in which the Big Ten will have replaced the Big 12, which the AP reports is looking to move its affiliations towards the Southeast.
Show Comments
Hide Comments
Hurd left Tennessee during the 2016 season

But it worked, and that's what matters

TV viewing and live stream information for the 2017 Alabama spring game
The Dawgs wrap up spring practice with G-Day on Saturday, April 22

The race with his namesake has sold out again, bringing thousands to support his charities

Auston Robertson's charge stems from an alleged incident on April 9