Hot Seat Rankings: You don't want to be in these guys' shoes
Will Muschamp and Charlie Weis are no surprise near the top of the Hot Seat Rankings. But Kyle Whittingham and Brady Hoke better get it together too.
More Hot Seat: See where Dennis Dodd ranks the coach of your favorite team
The dentist, Rachel Ray, the Little League World Series.
Some things just can't be avoided. Such is the case with the annual Coaches' Hot Seat Rankings.
Hot Seat Rating Key
Rating
What it means
0-0.5
Can't be touched
1-1.5
Very safe, change unlikely
2-2.5
Safe, but you never know
3-3.5
Starting to feel the pressure
4-4.5
Warm, better start winning
5
Hot seat! Win or be fired
The number of those on the warmest cushions -- rated 3.5 or higher on a scale of 5 -- is up slightly. Eleven this year compared to 10 last year. Still, with millions at stake -- in conference network revenue alone! -- a rise in temperature cannot be ignored.
What is Will Muschamp's magic number to retain his job at Florida? Kansas' Charlie Weis has fewer wins (four) than his predecessor Turner Gill (five) after two seasons. Brady Hoke's job security might have improved in some small way Tuesday because of nothing he did at all.
Last year was hit -- and miss. Five of the 10 coaches rated 3.5 or higher are gone. Fond farewells to Mack Brown, Lane Kiffin, Ron English, Charley Molnar and Rich Ellerson. Three of the five who survived return to hot seat status -- Illinois' Tim Beckman, Maryland's Randy Edsall and Florida International's Ron Turner.
We sympathize with the subjects. They're good men with families, some of them with championship rings. But like a trip to the dentist, loud-mouthed, talentless cooks and, ugh, overexposed pre-adolescents clutching aluminum bats, some things can't be avoided.
Might as well get it over with ...
Ron Turner, Florida International, 5.0 (2013 ranking, 3.5)
Best-case scenario: Mario Cristobal never should have been fired in the first place.
Worst-case scenario: We're living it. There is absolutely no buzz around the program following a 1-11 debut. Turner, 60, last had a winning record as a college head coach in 1992.
In the best of circumstances FIU is a tough job. But the facilities aren't terrible and it is South Florida. Cristobal capitalized on that. Turner's days already seem numbered.
Charlie Weis, Kansas, 4.5 (2013 ranking, 3.0)
Best-case scenario: KU rehires Mark Mangino. Assuming that's not happening, it would be nice if sophomore quarterback Montell Cozart develops as a dual threat.
Worst-case scenario: Again, it may be happening before our eyes. This week Weis lost his top two running backs to season-ending injuries within a 24-hour period.
Mike London, Virginia, 4.5 (2013 ranking, 3.0)
Best-case scenario: An upset of UCLA at home in the opener, a win at Duke in October and the Cavaliers finish ... fifth in the Coastal.
Worst-case scenario: In his fifth season and coming off a 2-10 record in 2013, London's fate seems sealed. There needs to be dramatic improvement.
Will Muschamp, Florida, 4.0. (2013 ranking: 0.5)
Best-case scenario: Beat Georgia. New offensive coordinator Kurt Roper is the answer. Jeff Driskel is healthy and stops turning it over.
Worst-case scenario: More injuries, bad showings against Georgia, South Carolina and Florida State. AD Jeremy Foley has a decision to make at 8-4.
Norm Chow, Hawaii, 4.0. (2013 ranking 3.0)
Best-case scenario: Recruits buy AD Ben Jay's "clarification" about Hawaii dropping football.
Worst-case scenario: Recruits read Jay's original statement to the school's regents -- "there's a very real possibility" of Hawaii football going away. Geography, a budget crunch and a fading football legacy have conspired to put this program at a crossroads. Chow's championship chops at USC have not transitioned.
Tim Beckman, Illinois, 3.5 (2013 ranking 4.0)
Best-case scenario: Pretend that road trips to Washington, Nebraska, Wisconsin and Ohio State are really Washington State, Kearney State, Wisconsin-Stevens Points and Ohio Wesleyan. Also, quarterback Wes Lunt does something he couldn't do at Oklahoma State -- stay healthy and hold onto the job.
Worst-case scenario: Reality. The Illini may be better but the schedule is a crusher.
Brady Hoke, Michigan, 3.5 (2013 ranking, 2.5)
Best-case scenario: The Wolverines suddenly run the ball consistently behind a consistent offensive line. That and hope J.T. Barrett is inconsistent.
Worst-case scenario: The Michigan band continues to perform better at halftime than the Wolverines sometimes do during games. With Michigan State and Ohio State ascending this could be a big blue year for Hoke.
Randy Edsall, Maryland, 3.5 (2013 ranking, 3.5)
Best case scenario: Edsall wakes up and it's all a dream. The Terps are back in the ACC. Just kidding, the future is now and the future looks, well, not good. Just when it was finding its feet, Maryland is stepping up in class in the Big Ten.
Worst-case scenario: Quarterback C.J. Brown spends more time staring up at the clouds. (Maryland was tied for 74th in sacks allowed. Brown also missed time with concussion issues.) Receiver Stefon Diggs isn't healthy -- again. He missed the final six games of 2013.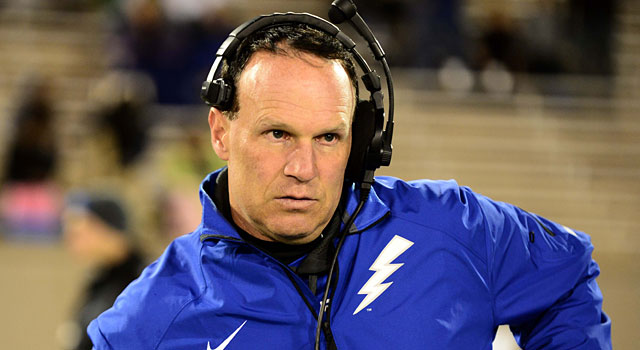 Troy Calhoun, Air Force, 3.5. (2013 ranking, 1.0)
Best-case scenario: The Falcons bounce back in a big way from a depressing 2-10 season. Eight wins would be nice. Air Force hasn't reached that level since 2010. Calhoun remains one of the most respected coaches in the country.
Worst-case scenario: A troubling scandal has legs.
Kyle Flood, Rutgers, 3.5 (2013 ranking, 1.5)
Best-case scenario: The Knights upset Michigan in Piscataway on Oct. 4 on the Big Ten Network.
Worst-case scenario: Rutgers is more BTN inventory than legitimate Big Ten program. The rest of a daunting schedule includes Penn State, Navy, Ohio State, Nebraska, Wisconsin and Michigan State. A 2-10 season is a definite possibility.
Kyle Whittingham, Utah, 3.5 (2013 ranking, 3.0)
Best-case scenario: The upset of Stanford last season was a sign the Utes can compete in the Pac-12. Quarterback Travis Wilson beat out Oklahoma transfer Kendal Thompson. That gives the offense hope.
Worst-case scenario: Utah keeps looking like a Mountain West program playing up. The record has gotten worse in Pac-12 play each season (4-5, 3-6, 2-7). The Utes are 10-14 overall the last two seasons. The time is now for Whittingham to prove his program is Pac-12 worthy.
Show Comments
Hide Comments
Twenty-eight of 95 early entry prospects went undrafted

The SEC and Michigan each had great weekends in the 2017 NFL Draft

Rawleigh Williams III left the field on a stretcher after a neck injury
Jim Harbaugh wants more college football programs to embrace the international trip

It seems there's a lot of talent in the SEC

There are all sorts of drafts out there and these are my favorites