Houston fighting, scratching to be nationally relevant once again
The odds of Houston reaching the top four in the playoff might be long. But from its president down to the players, the Cougars believe anything is possible.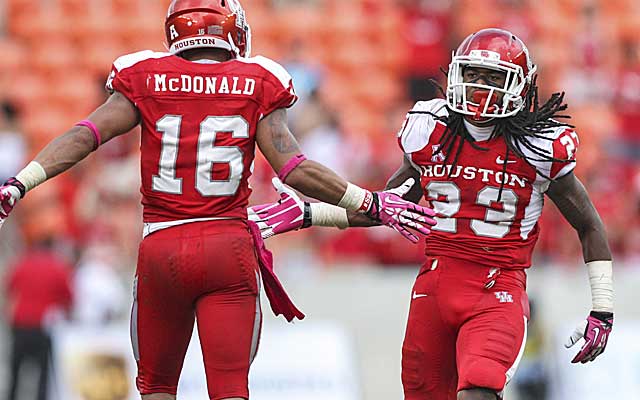 CBSSports.com this week explores the new class separation in college football. Decades in the making, it now threatens to cut off the bottom 60 schools from the top 65 in power conferences. Many think it's happened already. Is that a good thing, a bad thing or just gridiron evolution?
Tuesday: Is Cinderella dead?
Wednesday: 1) Houston goes all in on football. 2) Will Chris Petersen's Boise magic work at Washington? 3) Five Cinderellas to watch in 2014.
HOUSTON -- Trevon Stewart is the kind of college kid you want to wrap your arms around and hang onto for the ride.
Houston's junior safety just won't stand still. Check his highlights. He's always doing something before the snap. Rocking back and forth, shuffling, sometimes putting himself out of position. The coaches have gotten on him about that even when he blows up a play.
But this being Houston football and this being the time of their lives, Stewart has plenty of company. None of them can stand still.
"We're out here in the urban area," Stewart said. "A few places around here you can't go by yourself. We just like the area we're in. We're in kind of a bad area, we're bad boys. We just go for the old school Raiders."
The administration may not like the image being projected. But the nickname of the surprisingly effective unit -- Third Ward Defense -- isn't going away. It is taken from the depressed area that borders the campus. But there is no discouragement of free speech here.
"We all have one goal," Stewart said, "that's to go undefeated. Wherever that takes us, it's very possible."
It's a dream shared by all of college football's underclass. Houston is one of 60 schools trying to grab the golden ticket in this first year of the playoff. The highest-ranked from among those Group of Five conferences -- as decided by the selection committee -- will play in a New Year's Six bowl.
The odds of that team reaching the top four in the playoff is long, but at Houston they aim high. The school's president, Renu Khator, arrived at Purdue 40 years ago at age 18 with no knowledge of the language. By age 20, Khator had her master's and a philosophy that she brings to work daily.
There's always a way.
That includes free tuition for those in-state students whose families make less than $45,000 annually.
"I want to see fire in your belly," she added. "It's amazing to see those students at age 18. If you expect more, they will give more."
That includes an overall graduation rate that has shot through the roof. That includes the death of a perception. Commuter school? Only Texas A&M has more on-campus housing in the state of Texas. During her six years on campus, Houston has become a Tier One public research institution.
That includes $120 million in annual giving. That includes a new $100 million-plus football stadium. That also includes Stewart's top 20 defense and all the swag that goes with it. Khator is reminded all of it has the ring of a Big Ten school.
"It must be the Purdue-fever training," she said.
It's more than that. It's a belief that in this little corner of the have-nots, Houston isn't going to fade away in the playoff era. It's a similar belief held by those 59 other conference schools (MAC, American, Conference USA, Sun Belt, Mountain West) outside of the Power 5 (Big 12, Big Ten, SEC, ACC, Pac-12). They have to try, spend and preen a little harder.
That brings us back to Stewart. He's a 5-foot, 8 3/4 inch, dreadlocked force of nature. The defense he loves promoting led the nation with 43 turnovers last season. Stewart led all players nationally, responsible for 10 by himself (six fumble recoveries, four interceptions).
At a school with a long offensive history -- and a Heisman to prove it -- this goes against the grain.
"I'll be walking down the hall and [teammate] Adrian McDonald will hit the ball out of my hand," Stewart said. "He'll jump on it. That's how we practice."
"We feel like we don't want anyone scoring on us."
When was the last time you heard anyone from the Group of Five believing like that? Under the guidance of coordinator David Gibbs, Houston went from 107th in scoring defense to 20th in 2013. In the last three years only eight programs playing in non-BCS leagues at the time finished in the top 20. The Cougars were one of them.
"The defensive backs are the Jack Boys," Stewart continued. "Anything the quarterback puts in the air, we're jacking it. It's ours."
Oh yeah, and the dreads. Don't forget the five-year old dreadlocks.
"That's my little 'Predator' look," Stewart said. "Transformation to my 'Predator mode.'"
If Houston ever does make another run this is going to be rollicking fun. Stewart was in the 12th grade when Case Keenum and Co. went 12-1 in 2011. The Cougars missed out on a likely BCS bowl spot and undefeated regular season after losing to Southern Miss in the Conference USA championship game.
The run launched Kevin Sumlin to Texas A&M and Keenum to the NFL. What it left behind was a belief that it could happen again here -- and often.
"I'm an optimist so I'd like to think we're going to have a great shot at playing in one of those New Year's Six games," said AD Mack Rhoades. "One of the unknowns will be strength of schedule."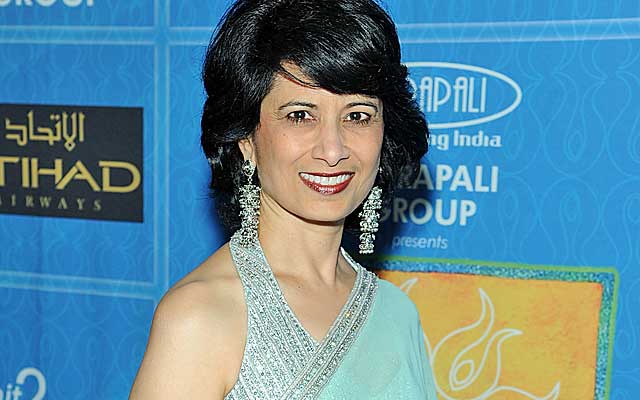 That playoff selection committee has told us only in vague terms about schedule strength. No one really knows how a 13-0 Houston will be compared to an 11-2 Auburn when it comes to snagging a playoff spot.
But that's getting way optimistic. The money, odds and Power 5 are stacked against the Group of Five. None of the 60 schools currently in that group ever reached the top four during the BCS era (1998-2013).
The narrative being pushed by American Athletic Conference commissioner Mike Aresco is that his league is grooming itself to one day move into the high-rent district.
"… If there is an Equity Six league, we're that conference …," AD Mack Rhoades said. "I think we're at a time in college athletics where you can never say never. My gut tells me there's going to be some additional change in the next couple of years."
Rhoades is doing his best to preen. Rhoades, 48, became the first AD to hire Kelvin Sampson following his NCAA show-cause exile. That puts long-dormant Houston basketball on better footing in the suddenly formidable -- in hoops -- American.
A saxophone-playing former Minnesota walk-on receiver is his football coach. Tony Levine is 13-12 in two seasons since replacing Sumlin.
"What Kevin and Tony have given us is the word 'hope'," Sampson said.
Levine, 41, has provided continuity to a program that was on the brink of that BCS bowl in 2011. When Rhoades removed the interim tag after Sumlin's departure, Levine was playing touch football in the street with his kids.
"Then I think I slept at the office the next two weeks," Levine said.
He now admits that was part of a larger mistake that first season. Working harder didn't necessarily mean working better. Adding to the whirlwind were injuries, transfers and graduations that contributed to a 5-7 dip in 2012.
Levine let go a little bit. He thought back to his first job -- making $976 a month at Texas State -- no car -- living in a funeral home.
Describing himself as "one of the top saxophone players in the country," (at one time), he ran into the school band one day, picked up the sax and wailed.
Better not harder. Post-Keenum, the Houston quarterback tradition is alive and well thanks to sophomore John O'Korn.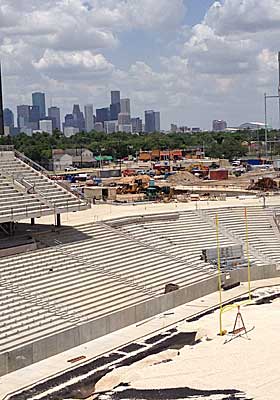 Levine personally recruited him because he saw something. The quarterback committed as a high school junior despite not starting for Fort Lauderdale (Fla.) St. Thomas Aquinas.
"He took a big chance," said O'Korn who threw for almost 3,200 yards and 28 touchdowns as a freshman, "a big leap of faith. He really wanted me to make him look good."
Levine helped flip receiver Deontay Greenberry from Notre Dame. The Fresno native became the only five-star recruit in the history of the program.
One-hundred twenty-nine career catches later, Greenberry said: "To be honest I never really heard of Houston. I came out there, took a visit and fell in love with the place."
If the likes of Utah, TCU, Boise State and Cincinnati can make BCS noise, certainly Houston can be a factor in the playoff era.
"I've seen grown men cry in the middle of campus staring at Kirk Herbstreit and Lee Corso when 'ESPN College Gameday' was on campus," Levine said. "I never thought I'd see the day."
It has, though, been a while -- about three years. There is a tradition to fall back on, to inspire. They still revere Bill Yeoman who won four Southwest Conference titles. Andre Ware won the Heisman under Jack Pardee in 1989. In three short years, John Jenkins (1990-92) upset the establishment with a take-no-prisoners offense that once scored 95 against SMU.
"I think that's the reason we're not in the Big 12 right now," O'Korn said. "I think that ticked a lot of people off when they formed the Big 12."
That's ancient -- almost forgotten -- history. Since 1996, Houston has had one more winning season (nine) than losing (eight). Only lately, suddenly, have fortunes shifted.
Art Briles first became a college head coach here in 2003. Rhoades led the bold step of building an entirely new facility rather than refurbish 70-year old Robertson Stadium. TDECU Stadium is the $120 million investment that keeps Houston in the conversation in the next iteration of whatever big-time football is going to be.
None of it would've gotten done without a $10 million lead gift from boosters. The students approved a $45-per-semester fee that will ad $3.5 million to athletic coffers per academic year.
"I think the key is we've got to keep pushing and getting bigger," student body president Charles Haston said.
Ground is about to break on a basketball practice facility.
Yes, Houston is part of the arms race. In this case a shorter arms race. The school is in the middle of FBS with $42 million in annual athletic revenue. Its spending per scholarship football players is seventh among non-BCS schools according to a Knight Commission database.
"We're fighting, scratching, clawing to compete," Rhoades said. "We're doing more with less. I'd like to get to a point where we're doing more with more."
It comes back to Khator who -- refreshingly -- will say anything at anytime to further the cause. You've got to accept all this is going to lead to something. Mostly because none of them -- Khator, Stewart, Levine, Sampson and Rhoades -- will stand still.
If so, "you're basically telling them tie their hands behind their back," Khator said, "because anything is possible in Houston."
Show Comments
Hide Comments
What colleges and conferences had the most first-round picks in the 2017 NFL Draft?

Myles Garrett and Leonard Fournette were top-rated prospects coming out of high school

Ohio State and Washington will play in Seattle in 2024 and Columbus in 2025
Kirk Merritt claims 'jock itch' was the reason he exposed himself to two tutors

The former coach weighed in on the new NCAA recruiting rules

Wiggins has played more than 30 games in the ACC and SEC during his career