How the SEC grapples with a post-Obama concussion world
Sixteen months ago, President Barack Obama impacted the concussion conversation. He reinserted himself again Thursday at a time when college football is trying to sell changes to a violent and popular game.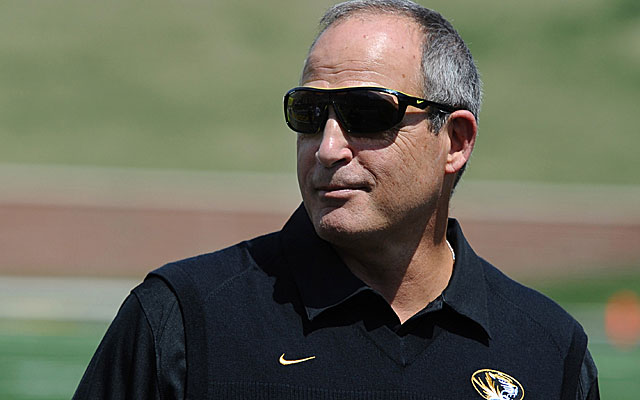 More SEC: Bama having trouble filling schedule | SEC may tweak tiebreaker rules
DESTIN, Fla. -- The statement resonated across the country in January 2013. When President Barack Obama said that if he had a son, "I'd have to think long and hard before I let him play football," the concussion issue for football crossed into new territory.
With that statement, Obama touched on a conversation that many parents ask themselves as youth football participation declines. (Other team sport participation rates are down as well, not just football.) Obama also directly called out the NCAA and expressed more concern for college players than NFL players, who have unions to negotiate health conditions.
"You read some of these stories about college players who undergo some of these same problems with concussions and so forth and then have nothing to fall back on," Obama told The New Republic in 2013. "That's something I'd like to see the NCAA think about."
Sixteen months later, college football continues to grapple with the new realities of a world where player safety -- a concept no one actually opposes -- increasingly has legal and political consequences. The juxtaposition of evolving to a safer game while keeping football popular is never more apparent than in the SEC, the home of rabid football fans, high-priced coaches and an ultra competitive mentality that breeds national championships.
"I think when the president comes out and makes a statement the way he does without even adding more to it than that, I was just disappointed in the way he came out," Missouri coach Gary Pinkel said. "Certainly, pee wee football is going to analyze (concussions), and that's good. In terms of making all the safety precautions and helmets checked out, that's good. I played pee wee football and I don't ever remember a player getting hurt in pee wee football. If they want to do more investigation and study, I think that's fine, that's good. You want to be transparent. But this is a great game and it helps so many people."
Obama held a youth sports safety summit on Thursday at the White House in an attempt to use the presidency to elevate a national conversation about concussions in youth sports. White House press secretary Jay Carney said he has a son who wants to play football but added, "I'm a little concerned about that." 
Part of the White House initiative is a $30 million research effort by the NCAA and Defense Department to create a concussion database of college athletes. Indiana University, the University of Michigan and the Medical College of Wisconsin will lead the research.
Last year at these spring meetings, the SEC asked the NCAA to take the lead about possible revisions to playing rules and to collect national data. The SEC stopped short at the time of offering specific ideas. In the past year, the SEC has mostly let the NCAA and other conferences take the lead publicly on concussion initiatives.
In the next month, the NCAA is expected to release best practices standards regarding concussion management, conflict of interest issues with medical personnel, and a national standard on full-contact practices.
Alabama coach Nick Saban said he supports player safety but questions how practices can be reduced without lowering the number of plays in games. That's an issue he brought up during the controversial debate over the proposed 10-second rule to slow tempo.
"It's just everything we do is based on exposures -- how many plays, how many hits, how many contact practices," Saban said. "But we act like the game doesn't matter and it's more physical in a game than in practice. We just have a longer game now and when you play 85 to 90 plays game -- we used to have 65 plays a game. That's three more games over the course of a season. So I guess it's not logical at all to think guys are playing three more games -- 15 instead of 12 -- that there would be a chance for more injuries."
Pinkel, whose team won the SEC East last season, said NCAA hitting standards will be helpful. He said Missouri uses full pads for "thuds" during the season but doesn't allow players to be taken down to the ground.
"What we do after September is we're in shoulder pads on Tuesday and Wednesday," Pinkel said. "From the beginning of October on, we don't go full pads. We found out we stay healthier, we're fresher and our players have a great attitude about it, and more importantly, I think it's safer."
Can college football do more?
The NCAA has said in court documents over concussions that it doesn't have a legal duty to protect college athletes. That position is why the NCAA hasn't enforced concussion management plans by schools, only requiring that schools have such a policy.
"NCAA schools have placed a priority on improved concussion management, but we still have many unanswered questions in this area," NCAA President Mark Emmert said in a statement Thursday.
The NCAA instituted a targeting rule last season in which a player deemed to be targeting the head of a defenseless player is automatically ejected. If the ejection occurs in the second half of a game, the player must sit out the first half of the next game.
"The rules are in place because of safety and that's the right reasons for having those in place," Florida coach Will Muschamp said. "I do think it's a little much to have an ejection on a targeting foul where it's not a malicious targeting foul. … I think we've put way too much on officials on judgment with those bang-bang decisions. It's a fast-moving game and I think it's tough on those guys."
Pinkel said the targeting rule was needed because "my fear was there's going to be a hit someday that was so violent that somebody might not ever get up again. … A lot of coaches say how can we play football if we can't hit? What we found out is we can do that and you can protect the integrity of the football game."
The American Football Coaches Association has connected itself to the "Heads Up" program associated with USA Football. The idea is to teach better tackling techniques in an attempt to limit head injuries.
Critics of the NCAA say college football can still do more regarding concussions.
Among the areas cited by Chris Nowinski, executive director of The Sports Legacy Institute, which researches concussions: stronger guidelines about head exposures; possibly cutting the length of the season; more education to get informed consent from players; more scholarship protections for injured players; and removal of conflict-of-interest concerns when medical officials evaluate players. Some of those ideas may be coming from the NCAA.
"I think there will be some changes. I don't know if they'll be enough," Nowinski said. "In the long term, I think we have to acknowledge now with the money in the game there needs to be some sort of fund that's going to be inevitable for former players. I can't imagine (schools) would want to put the money in there if they weren't forced to."
The NCAA is currently in settlement talks with concussion plaintiffs. A deal would likely include a medical monitoring fund for all college athletes.
The unionization attempt by Northwestern football players is in part over health care. The College Athletes Players Association (CAPA), which is behind the union efforts, wants a portion of new College Football Playoff revenue to be used for research and support of current and former players.
"The reason you haven't heard of what happens with the new playoff revenue is there's too much at stake," said Ramogi Huma, founder of CAPA and a former UCLA football player. "That money will go into these people's playgrounds and their pockets. They don't want people asking what's going to happen with this new revenue."
At the White House youth sports summit on Thursday, Obama called for more research into youth concussions and said there remains a lot of uncertainty over the scope and longterm impact on kids, according to The Associated Press.
"We have to change a culture that says, 'suck it up,'" Obama said.
That's easier said than done for America's favorite violent sport.
Show Comments
Hide Comments
It seems there's a lot of talent in the SEC

There are all sorts of drafts out there and these are my favorites

It's time to say goodbye to so many great players
What colleges and conferences had the most first-round picks in the 2017 NFL Draft?

Myles Garrett and Leonard Fournette were top-rated prospects coming out of high school

Ohio State and Washington will play in Seattle in 2024 and Columbus in 2025